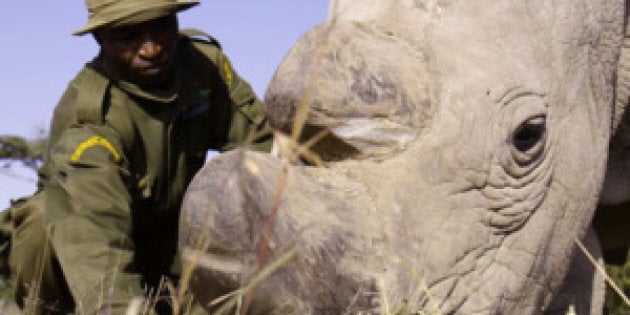 Hearing Zachary Mutai speak about the three critically endangered rhinos in his care is like listening to a doting dad extoll the virtues of a beloved child.
"I know when they are happy, when they are nervous," he said. "[These rhinos are] my passion."
Mutai is the head keeper of the northern white rhino at the Ol Pejeta Conservancy in Kenya. He oversees a trio of them: Sudan, a 42-year-old male, and two females, Najin and Fatu. They are the last three of their subspecies left in the world.
In a video uploaded by Great Big Story this week, Mutai and Dr. Stephen Ngulu, a wildlife veterinarian at the conservancy, discussed the enormous efforts that have been undertaken to keep Sudan, Najin and Fatu alive -- and to save their kind from impending extinction.
The three rhinos, who were moved from a zoo in the Czech Republic to Kenya in 2009, remain under 24-hour armed guard at the conservancy. Poachers were largely responsible for decimating the species, and they continue to be a threat.