Cut carbs without cutting flavor.
For SELF, by Audrey Bruno.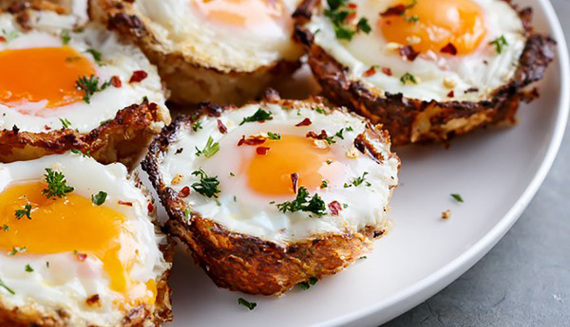 Photo: Karina Carrel via cafedelites.com
Breakfast is more than just a meal -- it's a way of life. The right recipe will help keep you feeling happy and full straight on through to lunchtime. And having something tasty planned for your morning routine can give you the push you need to actually, you know, get out of bed in the morning. Crazy, right?
A well-rounded breakfast is one that packs in all the right nutrients -- protein and fiber for satiety, and complex carbohydrates for energy. Unfortunately, a lot of recipes tend to go heavy on the simple carbs, while neglecting to fill those protein and fiber quotas -- pancakes, waffles, and donuts are just a few of these culprits. According to Rebecca Clyde, M.S., R.D.N., C.D., "Eating just carbohydrates will provide you with quick energy, but won't hold you over until lunch." It's the balance of nutrients that will keep you in tip-top shape into the afternoon, she says.
If you want to avoid accidentally eating too many carbs for breakfast, or are simply interested in cutting down on carbs in general, these 12 recipes are some that you should definitely have on hand. They're tasty and easy to make, and they've got all the nutrients you need, without a ton of carbs.
1. Western-Style Breakfast Burritos from Kim's Cravings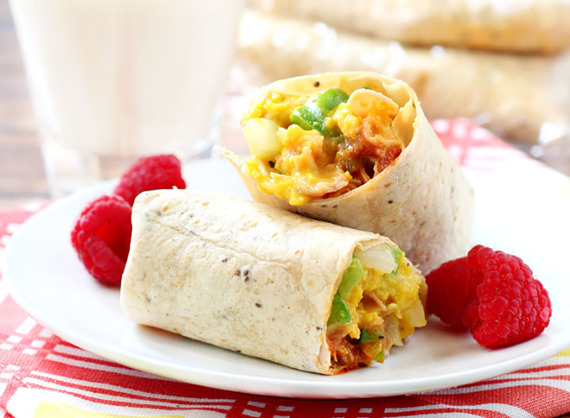 Photo: Kim Lee via kimscravings.com
This recipe is already low on carbs, but if you're looking to cut back even further, consider swapping out the flour tortillas for ones made with corn (or even cauliflower). Chopped veggies, a handful of diced ham, and eggs make this a satisfying, well-rounded breakfast. Get the recipe here.
Per One Burrito: 220 calories; 25 grams carbs
2. Hash Brown Egg Cups from Cafe Delites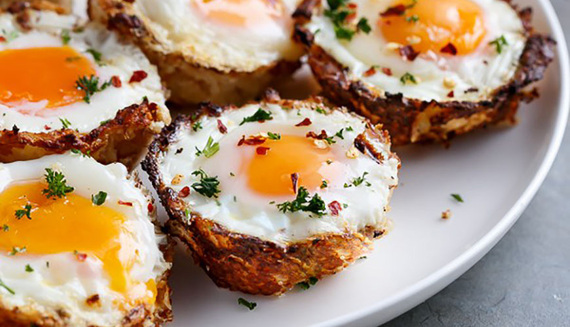 Photo: Karina Carrel via cafedelites.com
Cauliflower is the secret ingredient behind these low-carb egg cups. The fibrous veggie gets a crust-like texture from a quick pop in the oven. Eggs also provide that hit of protein. Get the recipe here.
Per One Egg Cup: 88 calories; 2 grams carbs
Related: 8 Ways To Use Cauliflower To Cut Carbs
3. Ricotta Avocado Toast With Poached Egg from Joyful Healthy Eats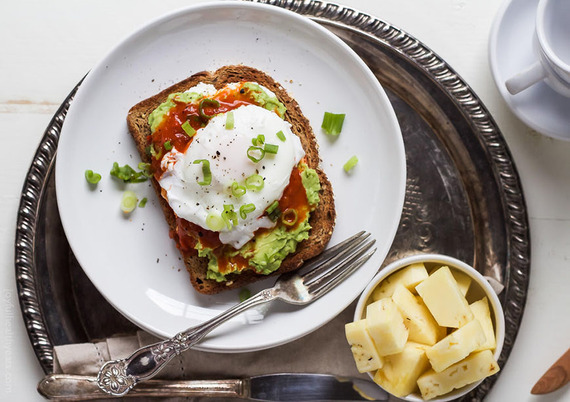 Photo: Krista Rollins via joyfulhealthyeats.com
Opting for open-face sandwiches is a great carb-cutting trick. This avocado-ricotta toast packs all the flavor of any good breakfast sandwich, but by eliminating that other slice of bread, you're slicing the amount of carbs in half. Avocado provides a healthy amount of fiber and fat, and a poached egg delivers the protein punch. Get the recipe here.
Per One Serving: 269 calories; 17 grams carbs
4. 6-Ingredient Sausage-Potato Pie from Pinch Of Yum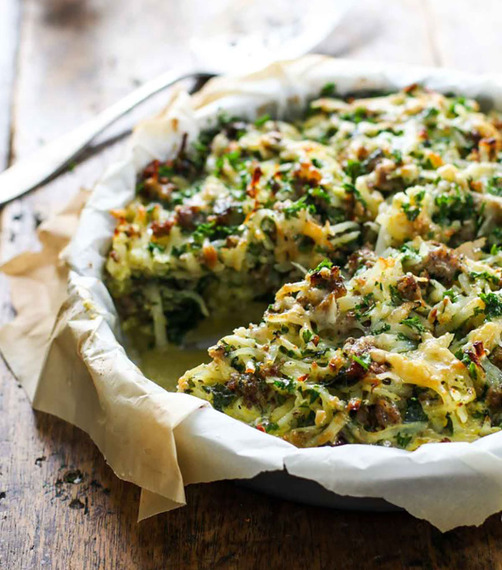 Photo: Jenna Arend via pinchofyum.com
This bake is a great savory option.If you're up for something sweeter, try swapping in sweet potatoes, which have more fiber and less of an effect on blood sugar. Protein-heavy sausage and fibrous kale round out the dish. Get the recipe here.
Per One Serving: 293 calories; 14 grams carbs
5. Peanut Butter And Jelly Chia Pudding from Minimalist Baker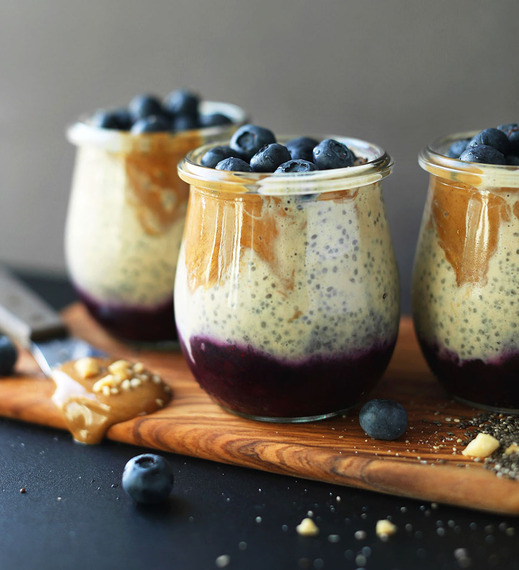 Photo: Dana and John Shultz via minimalistbaker.com
Chia pudding is like a magic trick--simply mix all your ingredients together the night before, and in the morning it's ready to eat. You'll often see these overnight pudding recipes made with oats. This version cuts back on carbs by opting to exclusively use chia seeds, which are high in protein and fiber. Get the recipe here.
Per One Serving: 211 calories; 19 grams carbs
Related: How Bad Is It To Eat Carbs At Night If You're Trying To Lose Weight?
6. Kale Veggie Mini Frittata from Two Purple Figs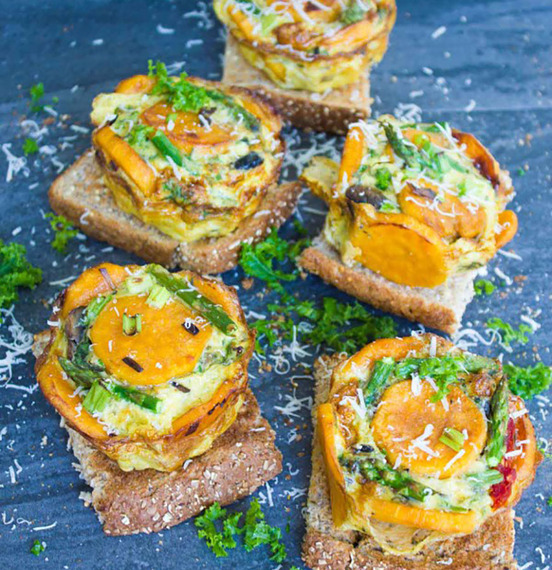 Photo: Mahy Elamin via twopurplefigs.com
Frittatas are always a great low-carb, high-protein breakfast option, if you have the time to make one. Thankfully, that eggy baked dish doesn't always have to be so theatrical. Instead of slaving over a hot stove, you can make these mini frittatas by simply tossing them in a muffin tin and popping them in the oven. Get the recipe here.
Per One Serving: 157 calories; 9 grams carbohydrates
7. Open-Face Omelet With Feta from SkinnyTaste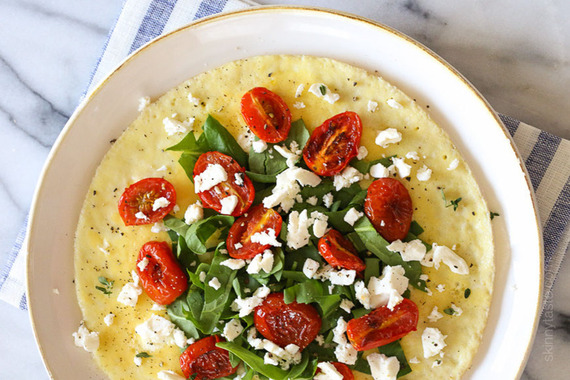 Photo: Gina Homolka via skinnytaste.com
Love open-face toast? Then prepare to meet the open-face omelet. Like a frittata, it's easy to pack with lots of veggies, but it's much easier to make. Simply grill a plain omelet (seasoned to taste, natch), slide it onto a plate, and top it with whatever other ingredients you like. This recipe gets topped with leafy greens and goat cheese--another good source of protein. Get the recipe here.
Per One Serving: 183 calories; 5 grams carbs
8. 4-Ingredient Seaside Paleo Breakfast Salad from Eating Bird Food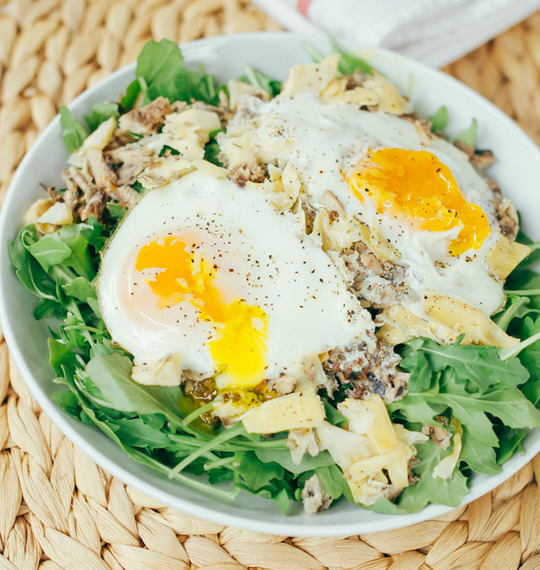 Photo: Brittany Mullins via eatingbirdfood.com
Salad for breakfast may sound weird, but it's actually a tasty and easy way to sneak a bunch of veggies into your morning meal. This recipe comes together in just 15 minutes, requires only four ingredients (canned sardines, arugula, artichokes, and eggs), and has 21 grams of protein. Get the recipe here.
Per One Serving: 237 calories; 4 grams carbs
Related: 21 Unexpected Ways To Eat Fewer Carbs Without Even Noticing
9. Coconut Lemon Chia Seed Muffins from The Iron You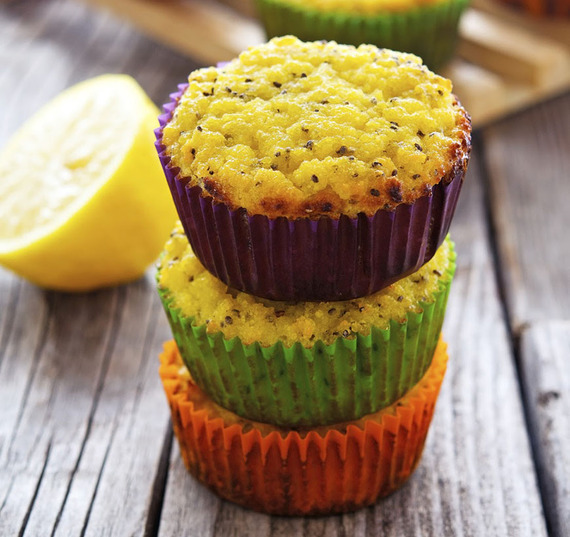 Photo: Mike Brosio via theironyou.com
These muffins keep the carb count low with the help of coconut flour, which has only 17 grams of carbs per 1 ounce compared to the 21 grams of carbs per 1 ounce of wheat flour. High-protein favorites chia seeds and almond milk give these sweet treats a little nutritional oomph. Get the recipe here.
Per One Muffin: 92 calories; 3 grams carbs
10. Herbed Baked Eggs from Inquiring Chef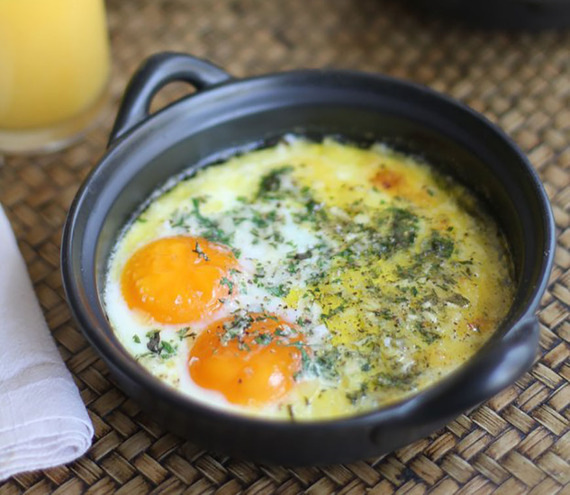 Photo: Jess Smith via inquiringchef.com
This dish is all about the protein (it is just eggs and cheese, after all). For a well-rounded breakfast try pairing it with a complex carb like whole wheat bread. Get the recipe here.
Per One Serving: 227 calories; 1 gram carbs
11. Autumn Apple Pancakes from That Healthy Kitchen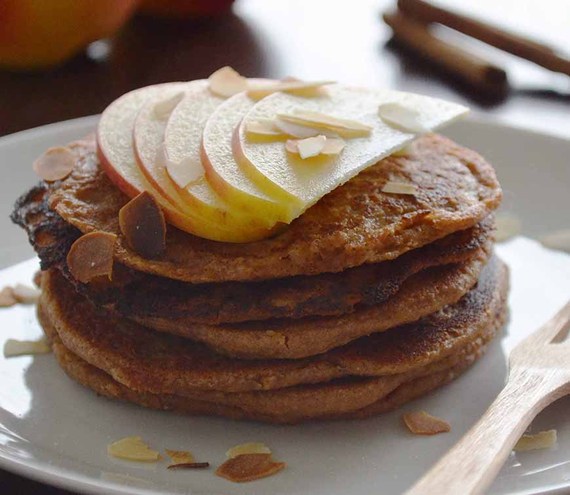 Photo: Emma Mouthaan via thathealthykitchen.com
If you're on a low carb diet, pancakes may seem like the first thing you'd want to avoid. This stack is the exception to that rule--flax meal, oats, apple sauce, and coconut oil give these flapjacks that same delicious texture, but with half of the carbs and double the nutrients. Get the recipe here.
Per One Serving: 117 calories; 15 grams carbs
12. Mediterranean Scrambled Eggs from Amuse Your Bouche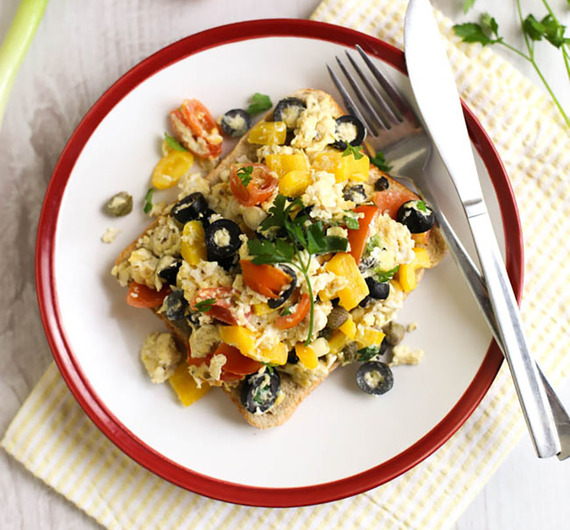 Photo: Becca Pusey via amuseyourbouche.com
Here's another open-face toast you're going to love. It's stacked to the max with zesty veggies like olives and peppers, and scrambled eggs make it just the nourishing, protein-packed meal you want in the morning. Get the recipe here.
Per One Serving: 249 calories; 13 grams carbs
More from SELF:
7 Things To Know About Buying The Right Olive Oil
The One Thing That Will Make Your Sunday Meal Prep So Much Easier
5 Ways To Make The Best Eggs Every Single Time
11 High-Protein Breakfasts You Can Make In 15 Minutes Or Less
7 Completely Doable Tips for Your Best At-Home Blowout Ever