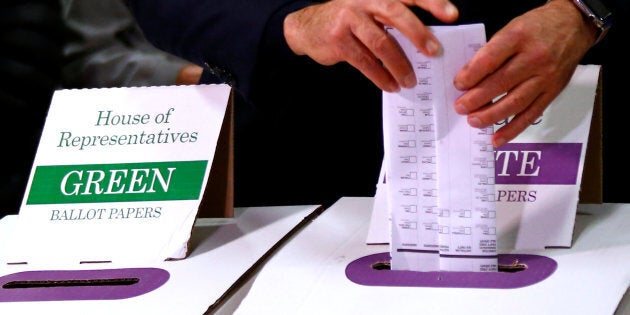 Prime Minister Malcolm Turnbull says he's "quietly confident" the coalition can form a majority government after postal and prepoll votes are factored in.
But opposition leader Bill Shorten has labelled the PM a loser who ran an out of touch campaign and has been punished for it at the polls.
The outcome of Saturday's election is still too close to call and the count will resume on Tuesday, while an official tally is expected to be a number of days away.
Speaking on Sunday afternoon, Turnbull said he believed the coalition would have the numbers once the final vote was tallied, but conceded only "time would tell".
"The reason the result was not clear last night was that around a third of Australians voted in prepolling or via a postal vote," Turnbull told reporters in Sydney.
"That will determine the result in as many as 12 undecided seats, and there may be recounts in other close contests.
"Our experience is that these postal votes and prepoll votes, indeed, traditionally favour Liberal and National Party candidates, especially when they are incumbents.
"If that trend were to be manifest again here, that is likely to deliver majority Government to the Coalition."
He said he would work with crossbenchers, if necessary, to deliver the "stability and leadership" that Australians expected and would not be drawn on whether a follow-up election could be needed.
Soon afterwards, Shorten fronted media in Melbourne and said while the election winner was unclear, it was obvious who had lost.
"What I'm very sure of is that while we don't know who the winner was, there is clearly one loser -- Malcolm Turnbull's agenda for Australia and his efforts to cut Medicare," Shorten said.
He said the Australian public soundly rejected Turnbull's plans for the nation.
"I think Mr Turnbull is seriously out of touch and his agenda reflected that," he said.
"Who dreams up as a core economic plan to $50 billion tax cut for the big banks and large companies? Why on earth was he so determined to prevent the Royal Commission into the banking sector? Why on earth did he think it was a good idea to freeze their GP rebate for six years."
As Australia waits for a clear winner to emerge from Saturday's federal election, and in the abence of anything else to talk about politically, speculation has erupted about the futures of Turnbull and Shorten.
There are reports Turnbull has called a number of crossbenchers to shore-up support, with Dension MP Andrew Wilkie confirming he talked with the PM via telephone this morning.
There are likely to be big questions asked about Turnbull's position after the coalition's disappointing showing yesterday. It suffered a swing of almost 3 percent, meaning more than 10 coalition MPs could lose their seats.
Liberal insiders have already criticised Turnbull's campaign for being too low-key and not going negative enough on Labor, according to the ABC.
Speaking on Sunday morning, Resources Minister Josh Frydenberg said Turnbull was still a "popular figure for the broad number of Australian people" and believed he would remain leader through 2016.
"I'm very confident he will be," Frydenberg told the ABC.
Sportsbet has former PM Tony Abbott installed as favourite to be next Liberal leader at $2.50, followed by Foreign Minister Julie Bishop at $4.00.
There were also reports on Sunday that Labor's Anthony Albanese could be shaping for a tilt at Shorten's job.
Responding to the rumours, Shorten said he had "never been more certain" of his leadership position than he was on Sunday.
Former Queensland premier Peter Beattie also hosed down the Labor leadership talk.
"If Anthony Albanese thinks he can move against Bill Shorten he's out of his cotton picking mind," Beattie told Fairfax Media.
With postal votes due to be counted in coming days, the results in a number of seats around the country remain in doubt. Many of those seats like Capricornia, Forde, Dickson and Flynn are in Queensland.
At last count, with over 75 percent of the vote recorded, Turnbull's coalition government was in line to claim 67 seats -- reduced from 90. Labor was forecast to take 65 seats. Five seats in the lower house are projected to go to minor parties. The Greens are expected to retain one seat.
Here's what's known in the wash-up of Saturday's vote.
The AEC said most of the vote count would resume on Tuesday because postal and absentee votes had to be collected and sorted, before an official count could proceed.
The AEC's Phil Diak called that a "very sizeable task".
"Only once the declaration votes are received and processed in the home division can the counting of these votes begin," the AEC said in a statement on Sunday.
"Any counting today will be limited to the small numbers of votes collected by AEC mobile teams."
Speaking on Saturday night, Turnbull said he backed the coalition to form government in a speech that has been criticised for being angry and ungracious.
Shorten, meanwhile, told Labor faithful that the ALP was back.
"Three years after the Liberals came to power in a landslide they have lost their mandate," he said in Melbourne on Saturday night.
"Whatever happens next week Mr Turnbull will never be able to claim that the people of Australia have adopted his ideological agenda.
"I promise Australians that the Labor Party I lead will endeavour to find common ground with people of goodwill in the 45th parliament."