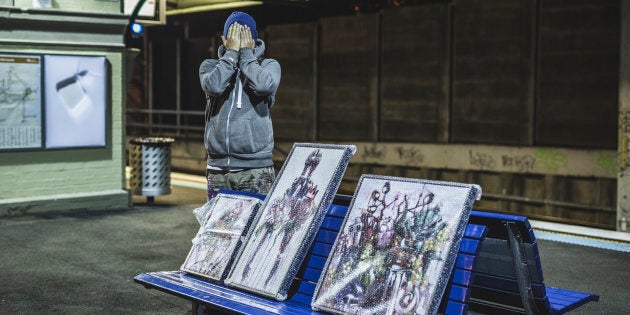 If you're based in Sydney, you've probably seen heaps of Scott Marsh's art without even realising it.
Those further afield will no doubt be familiar with some his more notorious works, including the infamous 'Kanye Loves Kanye' mural and 'Casino Mike', his depiction of Mike Baird which saw the NSW Premier holding a glass of red wine and a cigarette, with a stack of casino chips and a bottle of Penfold's Grange Hermitage.
While both artworks, (in particular 'Kanye Loves Kanye') made headlines around the world, Marsh has actually been a prominent name in the street art scene for years, recently holding his fourth solo exhibition in Sydney and opening a new online store in which you can purchase small original works and a selection of limited edition prints.
The street artist took some time out of his schedule to talk to The Huffington Post Australia about what inspires him, how the graffiti scene has changed in Australia over the years and, of course, how the idea for 'Kanye Loves Kanye' originally came about.
What drew you to making this sort of art originally?
"When I was 12 years old I returned to school after Christmas break to find someone had tagged all of the school grounds, and from that point on I was completely absorbed by graffiti.
"That was almost 20 years ago. The work I produce now is worlds away from those tags but remains heavily informed by my back ground in graffiti."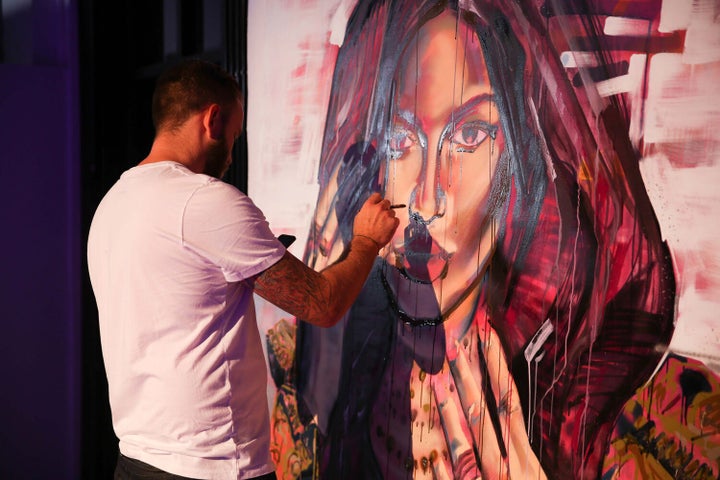 Does the same reason attract you now?
"Yes, I just had an exhibition on a moving Sydney train so I'm still completely absorbed by graffiti and I don't think that will ever change."
When did art stop becoming a hobby and become a career?
"In 2009, I had just finished studying and spent the next two years being a full time graffiti bum, couch surfing and painting throughout Europe, USA and Australia.
"I spent most of 2010 living in Brisbane in an artist squat type situation with a number of other graffiti writers. We all kind of made the transition from graffiti into art around the same time and in late 2010 we had an exhibition in Sydney together called 'Love street bandits", Love street being the name of the street in Brisbane we lived on.
"The show was very successful and I realised maybe this could work as a career, prompting me to shift my focus from graffiti to my art practice."
How have you seen the Australian graffiti landscape change over the years?
"Like anything it evolves over time. In the 90s, when I was first got involved in the graffiti community, it was super insular and had a strong criminal element, the public hated graffiti and any avenues to pursue it legally didn't really exist.
"20 years later people have grown up in cities surrounded by graffiti and now accept it as part of the urban landscape which it is. It's far more accepted and appreciated by the public and I love that."
What do you think is a misconception many people have about this kind of art?
"In terms of graffiti in Australia many of the public's only eyes into the graffiti world is the negative news stories you find on TV shows. They are always pretty one sided stories and generally portray graffiti writers as criminals and dole bludgers which couldn't be further from the truth.
"Graffiti transcends all cultural and socio economic barriers and it participants really come from all walks of life. They can be anyone from a school teachers, doctors, tradies and everything in between."
In your opinion, what makes a good piece of graffiti art?
"Nothing I can put my finger on, if something speaks to me it seeks to me, my taste is pretty all over the place when it comes to art."
Is there anything you don't like to see around in terms of graffiti art? Or graffiti art that gives the medium a bad name?
"When you speak to people, they generally say 'I like all the colourful stuff but I hate those damn taggers', [whereas] I love tags! But the analogy I use is, if everyone who paints pictures in their spare time hung their paintings in the street you would probably begin to hate painting. There is a lot of bad art out there and there is a lot of bad graffiti, the only difference is the bad graffiti is in the street for all to see. I love graffiti so the more the merrier for me personally."
Who and what inspires you?
Your 'Kanye Loves Kanye' piece is probably your most famous. Were you expecting it to garner the attention that it did? What gave you the idea to paint that in the first place?
"I definitely didn't expect to be as crazy as it was, it was just a joke for people in the area and somehow became a global story, I was getting emails from press on every continent.
"It was really a last minute decision to fill an empty space on the wall with something that would get a laugh. I did some hunting online and found that meme as reference, a meme I now know was created by artist Jen Lewis. It was a great image so I'm not surprised people loved it."
Do you have a favourite piece of public art? If so, why is it your favourite?
"It's really hard to say, there is so much public art these days which is great, I'm a little spoilt for choice.
"There is a mural on the corner of Station Street and Enmore Road in Sydney by artist Fintan Magee, I drive past it on the way to my studio each day and it's an absolute banger! Also any of the recent Os Gemeos murals that have been popping up online the past year."
How long does it typically take to paint a mural (obviously depending on size, but a rough idea)?
"Anywhere from a day to a week, for me personally."
Does it upset you if someone else graffitis over your artwork, or is that the name of the game?
"I would prefer that they didn't, but years of painting illegal graffiti and having it removed the next day has stopped me from being too precious about it.
"If I finish and get a photo I'm happy. There will always be drunk people who like to draw penises on murals (I have encountered a few of those) and ignorant graffiti writers on a graffiti verse street art rampage so it's just part of the territory really."
Why did you decide to open an online store?
"I have had a small online for a few years just selling the occasional print edition, but I have recently revamped it and have a lot more for people on there now including small original works, print editions and other stuff. I'm fortunate that the people who like my work is super varied so I like to be able to provide something a lower price point on there so my art is available to everyone."
If you could describe your artwork in a couple of sentences, how would you describe it?
"I like to think my work exists right in the middle of highbrow and lowbrow art movements as I draw inspiration from them both. It pairs elements and techniques associated with graffiti culture with traditional motifs in high art."
Anything else you would like to add?
"Last week I held my fourth solo exhibition in Sydney named 'Australian Graffiti'. It was not a traditional art show set in a gallery but rather a pop up installed and viewed in a moving Sydney train carriage.
"The show was held in two stages, first there was a give away of artworks valued at thousands of dollars in a treasure hunt. The paintings were affixed to Sydney trains and sent into service, through social media clues and timetables for the trains in question were sent to my social media followers, The response was incredible, and a bit chaotic with a lot of people running through trains yelling 'marshy marsh', ha-ha."
"The second part was an exhibition installed and viewed in a moving Sydney train, none of it was I guess 'legal' so it was a logistical nightmare for me but it all went super well, no cops rocked up and I don't think you could have fit another person in the train carriage.
"I just wanted to say thanks to everyone who got in involved in the treasure hunt and came to the exhibition, the response was amazing and I had a ball watching everyone's reactions to my works. Its pretty humbling when you have people telling you they waited on a train platform for hours in the rain hoping to get their hands on one of your paintings, much love!"