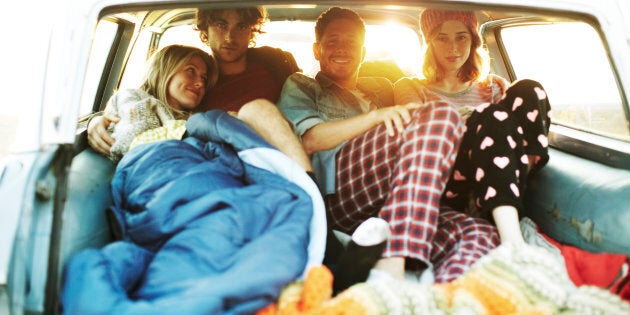 Millennials, Gen Y, the Facebook generation -- whatever label you choose the negative connotation that comes with it is undeniable.
According to headlines from the past decade it's a generation riddled with indecisiveness, laziness and entitlement. In other words, we like things on a silver platter (and don't forget the selfie on the side).
But according to new research from Westpac, Australian millennials are far more concerned with their future than the latest iPhone, particularly when it comes to providing for their family.
The findings revealed more than half (55 percent) of students define financial success as having enough money to provide for one's family, and two in five defining it has having a comfortable retirement fund.
Students are less materialistic than originally thought with family and financial security top priorities.
This was compared to two in 10 students (23 percent) defining financial success as having enough money to fund a luxurious lifestyle.
The Westpac Student Finance Report surveyed 1,094 Aussie students aged 18 to 30 throughout January 2016 who were currently studying or had recently graduated from a tertiary education institution.
"Students are less materialistic than originally thought with family and financial security top priorities," Gray said.
As well as moving away from spending, Gray said today's students are showing more awareness of the need for a budget and financial planning early in life.
The results align with recent findings out of the U.S. which showed a strong majority of Millennials continue to shun credit cards.
Millennials and retirement

"One in four female students (43 percent) believe having a comfortable retirement fund defines financial success, compared to only 39 percent of male students."

Westpac Student Finance Report, 2016
Bankrate surveyed more than 1,000 American adults and found two in three people (67 percent) aged 18 to 29 don't own a credit card.
Blame it on the experience of watching parents drown in debt following the Great Recession or perhaps a more rounded understanding of interest rates, but for Gen Yers in the States at least, credit cards aren't a part of the vocab.
In Australia, home ownership comes before splurging on material things with the majority of Millennials believing owning a home is still the Australian dream and is just as important to them as it was to their parents.
According to a survey of 1,006 18-34 year olds conducted by REST Industry Super, four in five millennials are concerned they're not on track to achieving the Australian dream, with 52 percent blaming this on the increasing cost of living and rapidly rising house prices.