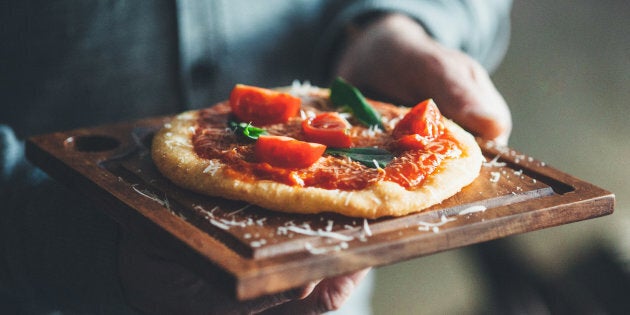 Pizza is arguably the king of all foods. I mean really, what's better than a giant circle of carbs the size of your head topped with cheese and your favourite toppings?
Because everyone in the whole entire world loves pizza (and because not everyone can afford to go to a pizzeria every night, *sigh*), what a better time to master the art of pizza making yourself.
This easy-to-follow recipe by Mauro Marcucci, the man behind Italian Street Kitchen, does require a bit of forward planning, but we can promise you the result is totally worth it. All you need is some flour, olive oil and a touch of yeast, and your base is ready for the Margherita topping.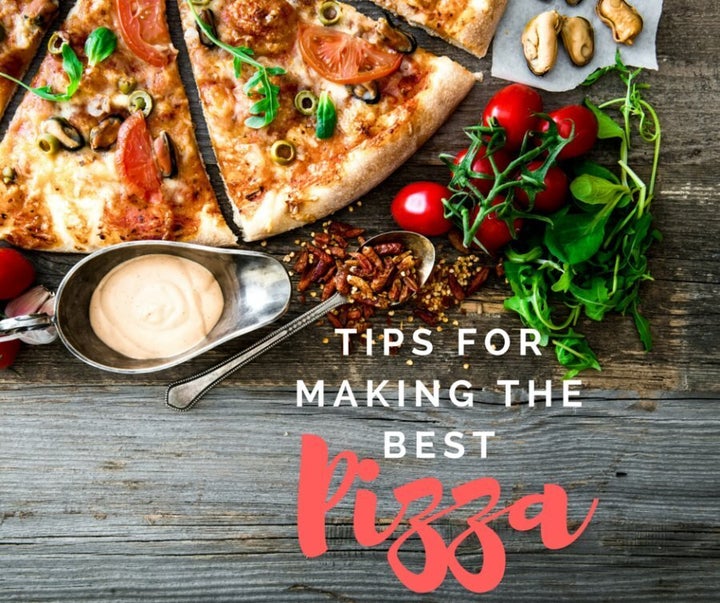 Top tips for making perfect homemade pizza
The key thing to remember when making pizza from scratch -- whether it be Margherita or not -- is to treat your pizza delicately. Don't go rolling your dough to oblivion or piling on six different types of meat. Roman style pizza should be light and crispy.
1. Give your dough time to rise
"To make the perfect base, let the dough rise for at least 24 hours," Marcucci told The Huffington Post Australia.
Don't go crazy with toppings -- less is more.
Leaving the dough for a day makes that chewy, thin crust you find at great pizzerias as it helps develop the dough's structure and converts the starches into sugars. A long rise allows the dough to ferment, which creates a deeper, more complex (and utterly delicious) taste.
2. Shape the dough by hand
"A common mistake is using a rolling pin to shape the dough. Never do this," Marcucci said.
"Using a rolling pin will take the air out of the pizza and it will ruin it. Doing it by hand makes all the difference in the world."
Shaping by hand keeps the crust nice and crispy -- the trademark of a Roman style pizza as opposed to a Neapolitan style pizza which is much thicker and doughy.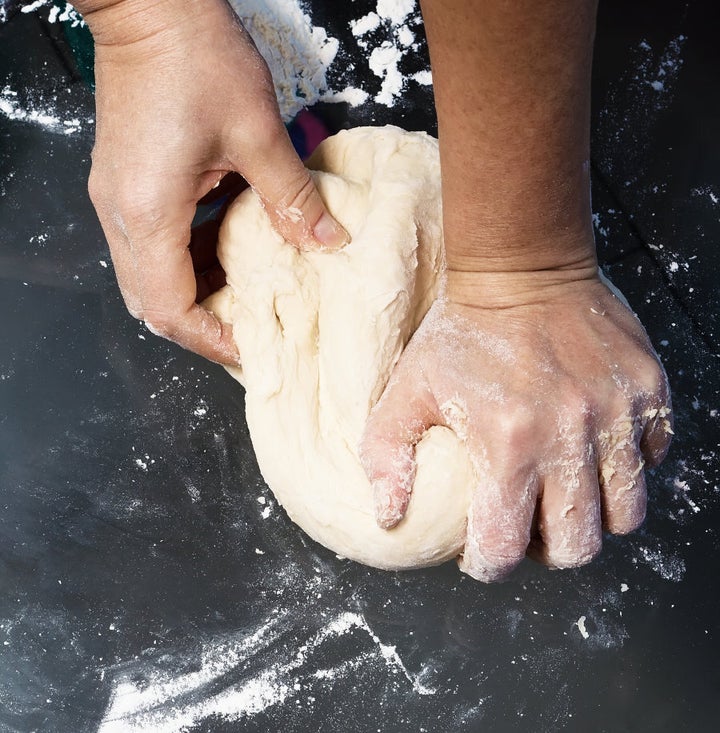 3. Don't go overboard with the amount of toppings
Pizza is not the time to add every type of gourmet meat and heirloom vegetable you can find at the farmer's market. Leave that to salad day. To get the best flavour (and pizza hold-ability), keep your toppings simple.
"It's crucial not to overload the base with too much tomato and mozzarella because it will become soggy," Marcucci told HuffPost Australia. "The best kinds of Roman style pizzas are light and crispy.
"Don't go crazy with toppings -- less is more."
4. Avoid under or overcooking it
This one takes a bit of practise, but once you've nailed cooking time you'll be the best pizzaiolo around.
"To know whether or not your pizza is perfectly cooked, when you hold up a slice it should stay straight. If the slice falls it means it isn't cooked properly or that there's too much water in the tomatoes and mozzarella," Marcucci said.
This recipe is for a classic Margherita recipe, but feel free to swap out for your toppings of choice -- try roasted eggplant, mushrooms, olives and shaved parmesan.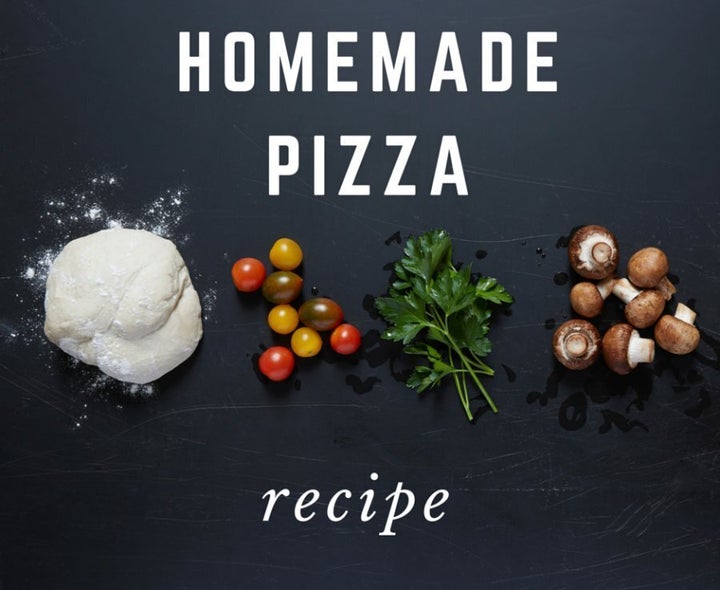 Makes four Roman style pizzas.
550g flour
320ml water
14g cooking salt
1g fresh yeast
10ml extra virgin olive oil
100g of plum tomatoes
Pinch of salt
3 leaves of basil (or adjust to taste)
6g of grated parmesan
Extra virgin olive oil
130g of buffalo mozzarella
1. For the dough: Put water in a dough kneader with fresh yeast to start kneading. (If you don't have a dough kneader you can do by hand -- it will just take a bit longer!)
2. Once the yeast has dissolved, slowly add the flour followed by the salt, then the extra virgin olive oil. Continue kneading the dough until it becomes smooth. Then let it rest for 10-15 minutes.
3. Once rested, cut the dough in pieces of 220 grams for each pizza and roll it into a ball. Before using the dough let it rest for at least 24 hours in the fridge.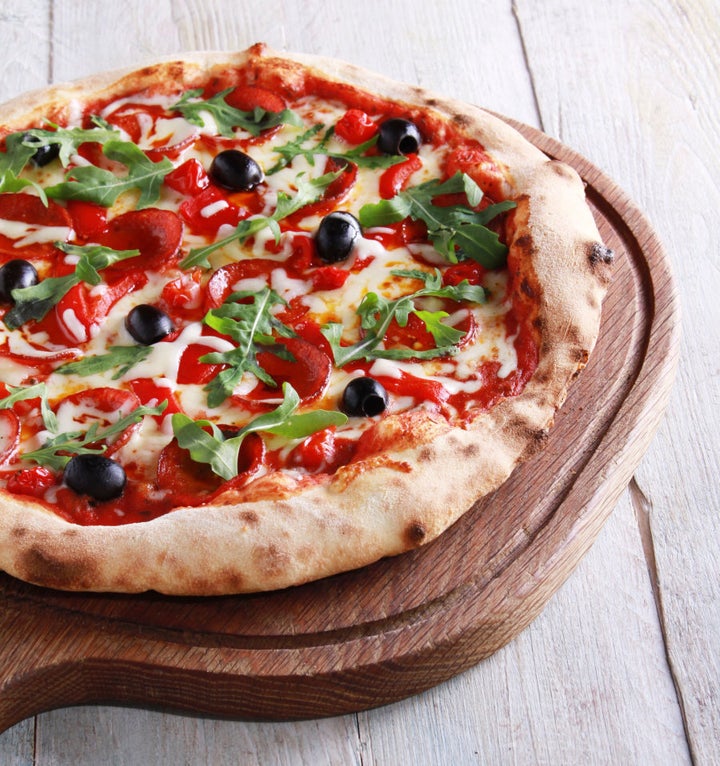 1. If using an oven, preheat to 250°C. If cooking with a wood fire it needs to be around 380°C.
2. To make the topping: To make an authentic tomato sauce topping for the pizza, blend the plum tomatoes together and add a pinch of salt. Spread sauce evenly along the base, but remember not too much!
3. Once evenly spread, add buffalo mozzarella, basil and parmesan.
4. To cook: A traditional Roman style crust pizza needs to be cooked for four minutes, which is why it is important to keep the crust thin. You know your pizza is perfectly cooked when you hold up a slice and it sits straight. If it drops it is over or under cooked.