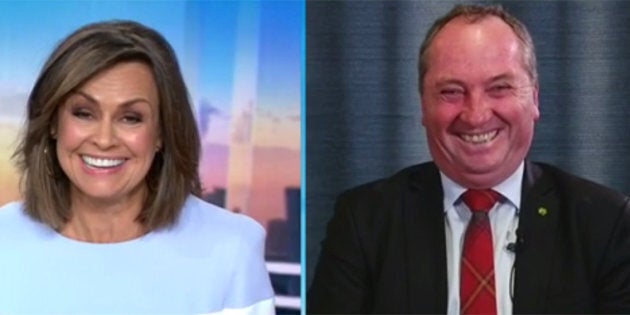 Ordinarily, no one could accuse Deputy Prime Minister Barnaby Joyce of being a 'yes' man.
But in this exchange with Today Show host and HuffPost Australia editor-at-large Lisa Wilkinson, a monosyllabic, yes-man approach kept Joyce, by his own admission, out of trouble.
The short-handed exchange came about when Joyce walked around the edges of Wilkinson's initial question about whether the Deputy PM was impressed with Malcolm Turnbull.
"Yeah, I find that he's a good person... look, all these people," Joyce said before Wilkinson sharply interjected: "No, no, no, no, no -- it's a simple question. Are you impressed with his Prime Ministership?"
The rest of the exchange was more, well, economic.
Wilkinson: OK. Does he do a better job than Tony Abbott would have done?

Joyce: Yes.

Wilkinson: If the Coalition does cling to power, will you have a more active role in Government as your members are demanding?

Joyce: Yes.
After his third consecutive 'yes', a red-faced Joyce burst into laughter and joked with Wilkinson, who suggested he could flesh his answers out: "I like these monosyllabic answers, these are great. They keep me out of trouble!"
Despite ongoing confusion over who will form the next government, Joyce has been comfortably re-elected to the rural seat of New England.