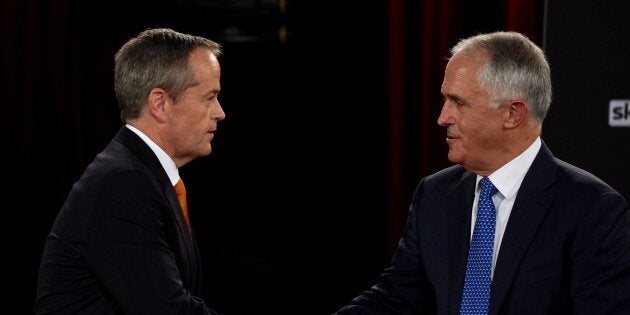 So, we're basically all tied up in the race that is election 2016. Either Labor or the Coalition need to scrape 76 seats to claim victory, but that is looking like a tall order for both sides; as of 11am on Wednesday, the Australian Electoral Commission's provisional count says Labor has 71 seats, the Coalition has 70, independents and minor parties have five between them, and four seats are in doubt. From those numbers, it looks unlikely that either party will claim victory in their own right.
So what could happen next? We've outlined what is going on with the count itself, but in terms of the political landscape, what are we in for? Well, it seems there are a few possibilities, but all of them will be a bumpy ride for Australia.
MAJORITY GOVERNMENT
The option that both Labor and the Coalition are hoping for is that they can claim majority government (at least 76 seats) in their own right. That would be the simplest, cleanest option. The AEC says Labor has 71 and the Coalition 70 seats, with five in doubt, so under simple maths, Labor would need to win all five of those to claim a slim majority. But with the AEC's numbers being a provisional, constantly-updated total as they continue to count postal votes, it is possible that some seats which are currently named as Labor seats may end up with the Coalition, and vice versa. It is a possibility that one side may get a dream run of postal votes and end up claiming victory outright, but many experts -- including the ABC's guru Antony Green -- are saying this option is getting less likely.
Treasurer Scott Morrison, however, believes the Coalition will claim outright victory and retain majority government.
"The prime minister is talking to crossbenchers, he's talking to his colleagues, he's preparing to re-form the government and we believe there's every likelihood that could be done as a majority," he said on Sky News on Wednesday.
MINORITY GOVERNMENT
Most are saying this is the more likely option. Minority government is where one party does not win the required number of seats to claim outright victory, but manages to cobble together an alliance with MPs outside its own ranks to have a number of supporters which does get it across the 76-seat line. Fairfax Media is reporting the Coalition is likely to end up with 74 or 75 seats; predictions are that, in this case, Bob Katter would likely support the Coalition as he did in the hung parliament of 2010, and Nick Xenophon Team MP Rebekha Sharkie would also be approached to get the Coalition to 76 or 77 seats. Other independents like Cathy McGowan have already said they would not be looking to make deals to secure a minority government.
In such a minority government, the minor parties who support the government would wield far greater power than they would on their own, able to throw their weight around due to their privileged position as kingmakers.
The ABC's election expert Antony Green is predicting the Coalition will win more seats than Labor, but that it is "less likely" that they will win an absolute majority. He says it will be likely that the Coalition will be able to get support from enough independents to secure government.
ANOTHER ELECTION CAMPAIGN
Sorry to be the bearer of bad news, but in a development sure to horrify the average voter there is the option that Australia simply heads back to the polls for another election.
If both Labor and the Coalition end up with less than 76 seats, and neither side can swing the support of enough independents to reach 76 supporters, we may need to try again and hope for a different, definitive outcome. Again, Fairfax Media has a pretty good explainer on what could happen in a second snap election, and while it is a very unlikely option, it is still an option; Crikey reports that one in five voters want another election, and on Tuesday, Labor leader Bill Shorten claimed the Coalition was considering it.
Whether Shorten actually believes that is a live option, or whether he was just trying to scare the independents into making a decision one way or the other -- rather than risking another election where they may lose -- is unclear, but it now has the country talking (or worrying) about heading to the polls for a second time in 2016.
So, what are we to do? Once the AEC finishes up with the numbers, we will have a clearer picture. If one side or the other wins 76 seats, then we're home free -- but don't assume anything yet.