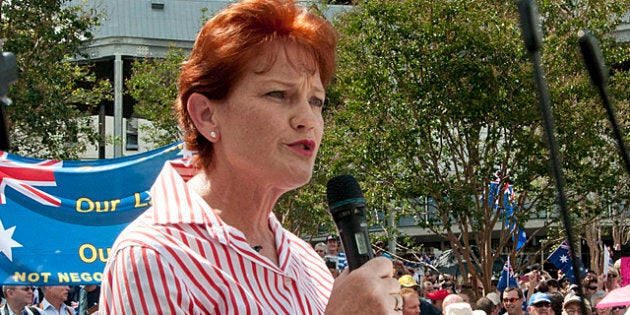 A senior NSW Muslim leader has marked the end of Ramadan by calling out the rise of far right political parties in Australia.
President of the Lebanese Muslim Association Samier Dandan warned crowds at Lakemba Mosque on Wednesday of rising Islamophobic discourse, as well as "divisive and toxic" policy decisions, encouraging negative sentiments towards Muslim Australians.
"Their increasing influence is reflection of the critical mass of support public Islamophobia is currently enjoying," he said outside the Lakemba Mosque on Wednesday.
"It cannot be emphasised enough just how disappointing it is to see individuals who preach hate and bigotry gaining power in our elections.
"The past couple of months and even these past couple of days much like most of the past decade have been difficult and critical for the Australian Muslim community."
The day before the LMA said the One Nation party leader Pauline Hanson's "ongoing vitriol against Muslims and minorities amounts to hate speech, and her actions and policy decisions mark her as a hate preacher".
NSW Premier Mike Baird backed Dandan's call, adding the community must do more to promote peace.
"We must stand up where we see intolerance we must respond with tolerance," he said.
"We must call it as it is. But at the same time we must remember that the strongest way we can combat that is by coming together."
On Tuesday Islamic Council of Queensland spokesman Ali Kadri said he viewed Ms Hanson's rhetoric as hateful.
"Pauline is a danger to our country, with her rhetoric and her divisive views ... and it's not just about Muslims," Mr Kadri told the ABC.
"I mean, 20 years ago it was Asians who were going to swamp us and now it's about Muslims and it will be about everybody else who doesn't look like Pauline."
Hanson on Wednesday released a video in which she accused the media of biased reporting, and threatened to go around news organisations by using an app.
The Daily Telegraph reports the Lakemba Mosque attracts about 40,000 worshippers for Eid celebrations each year, and the place of worship was filled almost to capacity by 6am.