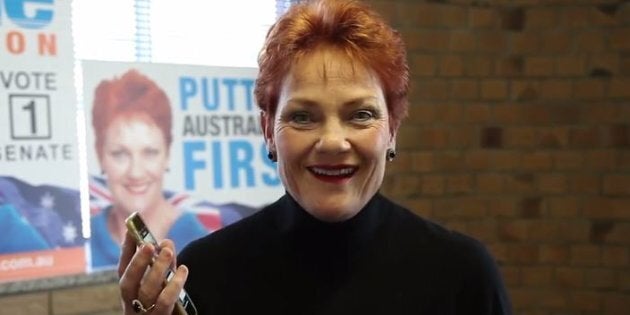 Just four days after being re-elected to the federal Senate, Pauline Hanson is already fed up with the Australian media.
The One Nation leader has unloaded a massive spray on television, newspapers and the online journalism sphere after a strong backlash to her election results in Queensland, with a strong election showing guaranteeing her a spot in the Senate and possibly the election of another of her candidates too.
Hanson's election to the upper house has spawned innumerable pieces of news and opinion writing -- see our coverage here, here, here,here, hereand here -- while her first press conference on Monday, where she again supported her controversial statements that Australia was "being swamped by Asians", sparked furious debate on social media.
In response, Hanson published a video to her Facebook page, saying that the media was "up to their old tricks again".
"I'm putting all media on notice as of today!" she wrote on Facebook.
"Not interested, and neither is the public. No wonder you've lost newspaper sales, your ratings are going down. No-one don't want to hear what you've got to say, you can't tell the truth," Hanson said.
"I'm telling people now, unless you see me live on TV or hear me live on radio, don't believe a thing you see in the newspapers."
Hanson then suggested her fans use the app New Zulu, which bills itself as "a news platform with a community of over 100000 professional and citizen journalists who share and break news to the world as it happens", as a way to circumvent mainstream media.
"We won't need media at all. You guys will be out of a job," she said.
"Get your act together. I could be in parliament for up to six years. I wouldn't mind a working relationship with you, but if you're not going to give me a fair go, don't come knocking on my door. Because you ain't going to get an interview out of me."