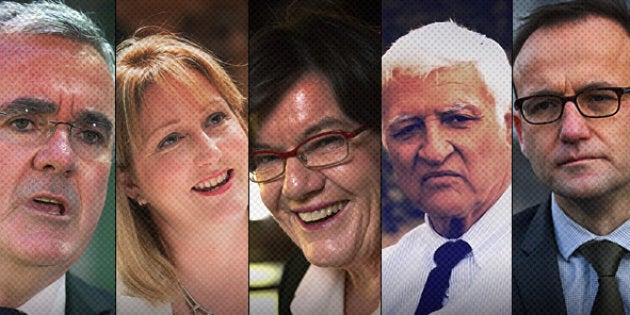 After an eight-week election campaign and millions of votes, the next federal government may be hinge on the whims of just five people -- some of whom you may never have heard of.
Counting of votes continues on Thursday, as Australia waits for an official result of Saturday's federal election. Election analysts and experts are tipping that, once every single vote is counted and the winners of all 150 seats are officially declared, it will be an incredibly close finish with Malcolm Turnbull and his Coalition team either returned to government with a slim 76- or 77-seat majority, or at least a few more than Labor. As of 12pm on Thursday, the Australian Electoral Commission says the Coalition is leading in 74 seats and Labor in 71, with five seats going to minor parties.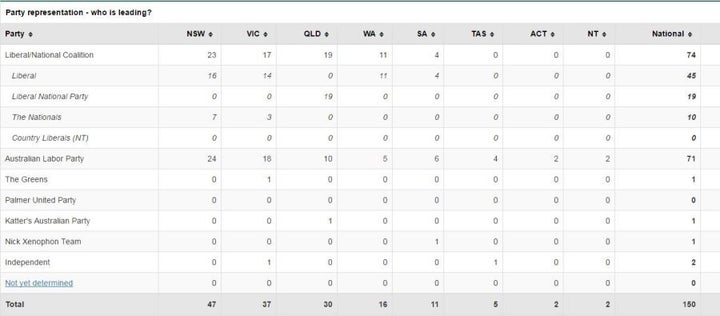 In the event that neither Labor or the Coalition can claim outright victory with 76 seats, it will be down to the leaders to negotiate the support of the undeclared and independent politicians who have also been elected. There are currently five independents who the AEC says will be elected to the House of Representatives: Bob Katter (who on Thursday pledged to support the Coalition), Adam Bandt, Andrew Wilkie, Cath McGowan and Rebekha Sharkie.
Just like the 2010 hung parliament, where the Gillard Labor government needed to secure the support of independents like Wilkie, Bandt, Rob Oakeshott and Tony Windsor, we may be heading for a situation where the independent MPs suddenly become the most popular people in Parliament House.
And this is where it gets tricky.
Because the five are all interesting, diverse characters in their own right; QLD firebrand Bob Katter, Melbourne Greens MP Adam Bandt, independent Tasmanian MP Andrew Wilkie, Indi MP and independent Cath McGowan, and new Nick Xenophon Team candidate Rebekha Sharkie. Depending on how the final Labor-Coalition results come out, either side may need two, three or four of them to claim government, which may be a tough ask. Fairfax Media dubbed the former Senate crossbench "The Hateful Eight" -- let's call this current lot of independents the "Party of Five".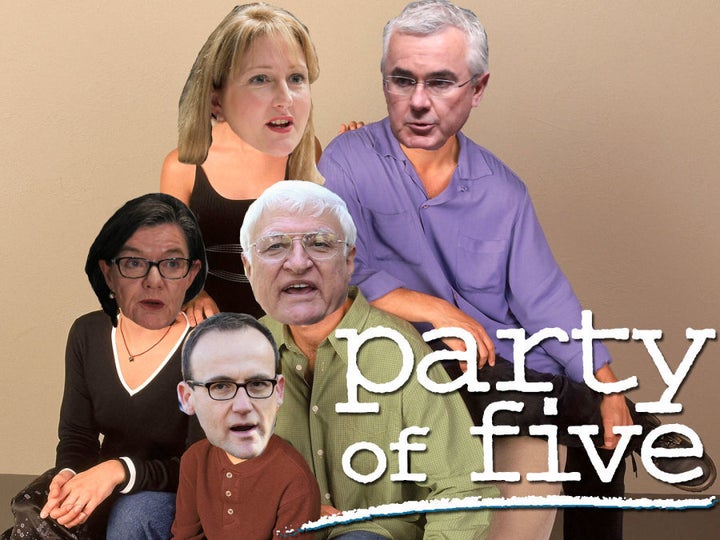 THE VETERANS
Of the five independents, four are returning MPs. Further, three of them went through the 2010 hung parliament, and two of them -- Wilkie and Bandt -- were crucial in getting Labor over the line that time. Both would support Labor in the event of a hung parliament. Wilkie said on Thursday that it was "looking more and more like Malcolm Turnbull will have either a clear majority of seats or be in a position perhaps not with my support but with the support of other cross benchers to form government". Despite clearly pointing out that he would not support the Coalition, he also admitted that "it is in my electorate's very best interest that I have a good relationship with the man who is increasingly looking like will remain as PM", so we may even see Wilkie choose to abstain from supporting either side.
THE FIREBRAND
Katter, the Member for Kennedy, now has his own party -- the Katter's Australian Party. In the last hung parliament, he sided with the Coalition, and on Thursday pledged that he would do so again; but the man in the big hat has not ruled out flipping his support to Labor instead.
"My very close relationships with people like Anthony Albanese and Wayne Swan have yielded great benefits for Australia. I do not intend to damage those friendships and I maintain my right to move at any point in time in another direction," Katter said in announcing his support.
"If there is the slightest hint of union bashing [from the Coalition] I can assure you all bets are off."
THE UNKNOWN QUANTITIES
Then there are the two women who will sit on the House of Representatives crossbench, neither of whom have publicly declared their allegiances yet, and who may ultimately become the deciding votes. Cath McGowan, who famously toppled controversial Liberal MP Sophie Mirabella in the Victorian electorate of Indi, was not in office during the 2010 hung parliament, so we're not sure who she may side with in the event of a draw. For her part, she has said she is not planning to make any deals.
However, as The Australian points out, she reportedly voted with the Coalition 440 times in the last parliament, and with Labor just 30 times; but then again, she did face a bitter fight in Indi from the Liberal Mirabella, so she may not be feeling so charitable toward Turnbull.
Then there is the new MP, the Nick Xenophon Team candidate, Rebekha Sharkie. Again, we don't know where her allegiances would lie -- she told The Huffington Post Australia that she was keeping her options open, and that "if there's a hung parliament and if we are involved in some capacity as a team we would naturally be looking at what we could achieve with either party".
SO, NOW WHAT?
Well, we keep waiting. If either side can claim 76 seats in their own right, this whole discussion and speculation is a moot point. But if both the Coalition and Labor end up with less than 76, it will be a high time for negotiations, deal-making and compromise, with these five independents -- our Party of Five -- will be the real kingmakers.