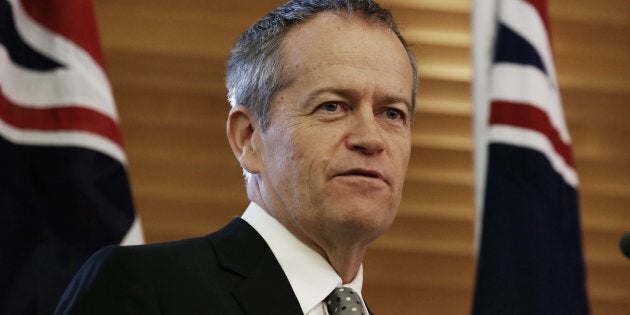 Labor leader Bill Shorten has admitted that his party is unlikely to win the election, saying it is "likely" that the Coalition will "scrape over the line."
Shorten, speaking at an ALP caucus meeting in Canberra on Friday, did not explicitly concede defeat but said the government is likely to retain office. Shorten's admission comes as the Australian Electoral Commission reports the Coalition is leading in 74 seats and with the government getting the pledged support of independents Bob Katter and Cath McGowan -- as well as a promise from Andrew Wilkie to not be "destructive" -- it seems the Coalition will get enough support to retain office. ABC election analyst Antony Green has also said it is certain the Coalition will retain government.
"It's likely in coming days that the Liberals will scrape over the line," Shorten said.
But the Labor leader also claimed that the election win might be short-lived, predicting that there would be another election within a year.
"Friends, after the longest campaign in 50 years, this could well be one of the shortest Parliaments in 50 years," he said.
"But the combination of a PM with no authority, a Government with no direction and a Liberal Party at war with itself, will see Australians back at the polls within the year. We will fight for our positive plans in the 45th Parliament, we will respect the judgement of the people and be true to our policies and propositions upon which we sought the support, which we received. But we will be campaign-ready from this day onwards."
Shorten also outlined how Labor would approach the next parliament. He conceded that many Australians felt "left out, excluded, alienated" from politics, but said he hoped that feeling would not turn ugly.
"In such a climate, it's easy for the extremists, for the people with the simple solutions to emerge and thrive, to foster division, to blame minorities, to demonise difference to appeal to the dark angels of our national character. This is not the Labor way," he said, no doubt in reference to the success of One Nation at the poll.
"Let me make something very clear from the out set of the 45th Parliament - I will never respect or tolerate racism or prejudice at any price."
Fellow independent Wilkie also said he would not support either side to form government, but would not be "destructive". As we reported yesterday, the five independents who will sit in the House of Representatives suddenly got a lot more powerful and may have had an opportunity to decide the government, but with three of the five now either supporting the Coalition or at least not opposing them, the election result seems sealed.