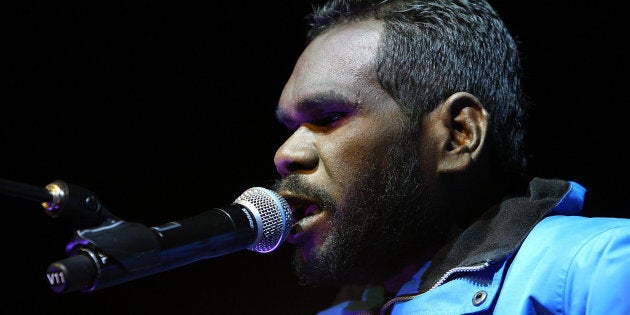 Iconic Arnhem Land musician Geoffrey Gurrumul Yunupingu has been among those honoured at the 2016 NAIDOC awards.
The annual National Aborigines and Islanders Day Observance Committee (NAIDOC) awards were held on Friday night in Darwin, with 10 big gongs handed out. The full list is available here.
Yunupingu was recognised as Artist of the Year.
His daughter Jasmine Yunupingu said he was not well and collected the award on his behalf, according to the ABC.
"My dad has toured around the world and been a great role model to the community and the people of my community," she's quoted as saying.
"He's made all his family and community proud."
Meanwhile, Youth of the Year Elijah Douglas was honoured for his work with Save the Children Australia in the north Queensland community of Doomadgee.
He said his goal was one day to move into politics.
"One of my goals was to become the first aboriginal Prime Minister of Australia. That is most that is still my goal. Maybe further down the track," he told the ABC.
"I am also a work youth worker back in my community. I don't see myself leaving the community any time soon."