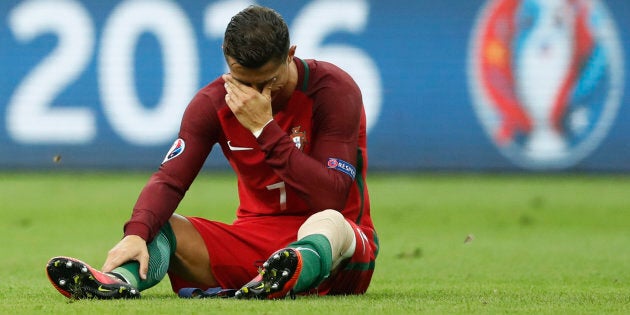 Portugal has won its first ever major international piece of football silverware, upsetting hosts France 1-0 in the Euro 2016 final in Paris.
Things looked bad for Portugal when star forward Cristiano Ronaldo was stretchered off the field in the 24th minute after a ninth minute challenge from Dimitri Payet which injured his knee.
If there's one thing every Portugal fan didn't want to see, it was this. Ronaldo bravely tried to stay onfield, but succumbed 15 minutes later and was carried off the field in tears.
But after scores remained deadlocked after regulation time, Portugal found a winner in the second period of extra time through substitute Eder, whose 25 metre strike left the French keeper pawing at air.
Ronaldo, 31, is widely considered one of the two best footballers in the world. The other is Lionel Messi, who was unable to propel his native Argentina to the major trophy that nation so craves -- losing both the World Cup and recent Copa America finals before promptly retiring from national duty.
But could Ronaldo take his team a step further? He probably could have. But in the end, the team got there without him.
The closest Portugal had previously come to winning this tournament was in 2004, when it lost the Euro final at home to outsiders Greece. Now France knows how Portugal must have felt 12 years earlier.
Even with Ronaldo starting, France were strong favourites here, just as Portugal had been in 2004. Ronaldo had played beautifully this tournament after a sluggish start but he was one man and France has stars across the field.
But the match was even enough after Ronaldo went off. It was 0-0 at the halftime break and still looked to be anybody's game as the match headed into extra time with scores still deadlocked, despite France having seven shots on goal to Portugal's one.
France almost won the game seconds before the end of regulation time, when Andre-Pierre Gignac twisted away from Pepe but could only find the inside of the post. The ball bounced out and Portugal had a reprieve.
But the one that made it in came from a Portuguese boot. And ironically enough, Eder (full name Éderzito António Macedo Lopes) plays his club football for Lille in France.
And now, for those of you who like all of your sport packed into one story, here's a selection of good stuff that happened in Australia this weekend. The internet loves cats so let's start with this cat.
This black "mini Panther", as the commentators called it, cut loose during the Panthers versus Sharks NRL game, which the Sharks won 26-10. That's 13 straight wins for the Sydney southern beaches team which has never won a title in its 50 years in the competition. It should be interesting to see how the runaway competition leaders blow it from here.
In other NRL news, the Eels were finally stripped of their competition points due to salary cap breaches, which means your hopeless team is mathematically in with a slightly better chance of making the finals. The ladder's here and interestingly, the team running eighth has a modest 7-9 win/loss record.
In the AFL, North Melbourne kinda suck. That's the not particularly technical but regrettably accurate term for the Kangaroos, who were beaten pretty easily by the Eagles on the weekend. The Kangas started the season 9-0, and it was widely thought they might go a step or two further than the preliminary final they made last year. They're now 10-5 and sitting eighth in a top-heavy ladder.
The match of the round was this one. Are the Bulldogs the real deal this year? Not sure, but they're currently in fourth spot. Match highlights of their narrow win over the Tigers here.
Lewis Hamilton won his fourth British Grand Prix this weekend. This made him rather happy, not to mention the whole of the UK, which was still basking in the glory of another Andy Murray Wimbledon title.
Speaking of Andy Murray, how good is he when he cries? Crying is beautiful, man crying doubly so.
Murray famously cried on Centre Court four years ago after losing the final to Roger Federer back in the day when it seemed he'd never win any Grand Slam tournament, let alone the one he craves the most. Now here he is with three Slams to his name (including two Wimbledons) and crying tears of joy instead of tears of despair. Onya, Andy.
And if you think you had a bad weekend, spare a thought for this American heptathlete, whose javelin throw went a little wonky. Click and all will be revealed. Eek.