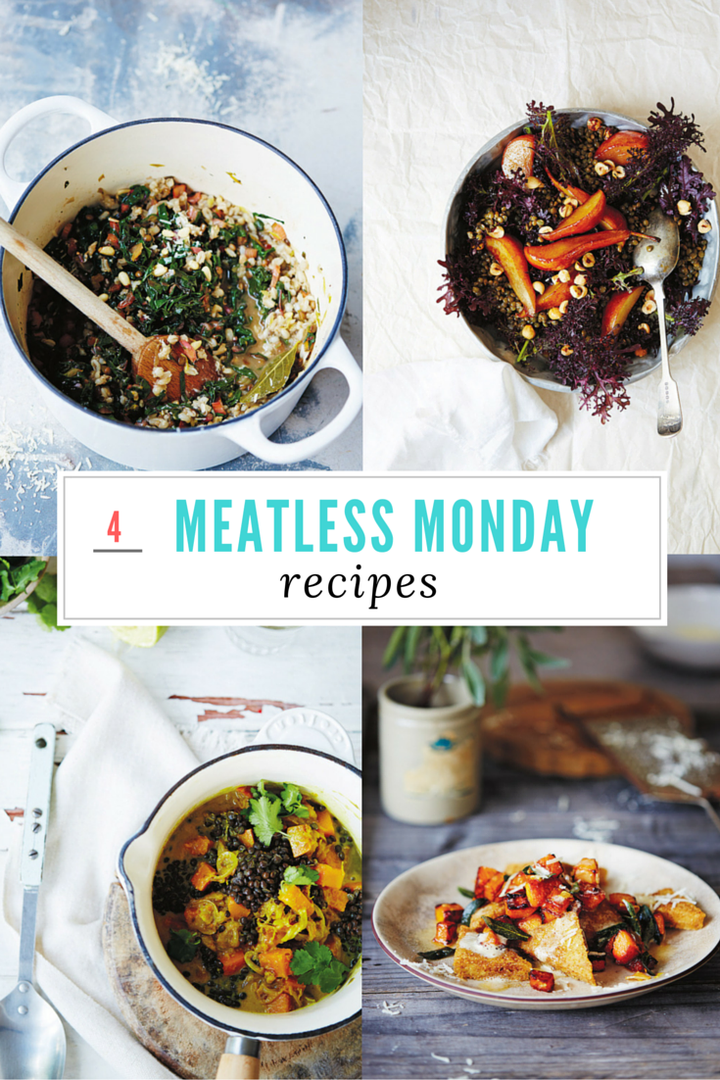 If you're keen to try your hand at vegetarianism but feel a tad overwhelmed, or if you're interested in reducing your meat intake, meatless Mondays are a great way to ease into it.
These vegetarian recipes from Wholefood from the Ground Up by Jude Blereau are super delicious, nutritious and filling thanks to the inclusion of nutrient-rich, protein-packed legumes -- so there's no excuse for meat-free dishes becoming "rabbit food".
1. Black beluga lentil, sweet potato and coconut stew
"A simple weeknight stew, this is quick to make and delicious served with a cooked grain such as brown rice or quinoa. You could happily use cooked black beans instead of lentils here, if that is what you have on hand," Blereau said.
"Black beluga lentils have a delicious subtle flavour, and in this basic recipe I've cooked them without a bone stock so I can use them for vegetarian dishes."
Gluten free | dairy free | vegan | egg free | serves 4-6
3 teaspoons coconut oil
1 small brown onion, thinly sliced
1 garlic clove, thinly sliced
25g piece of fresh ginger, peeled and finely chopped
15g piece of fresh turmeric, peeled and finely chopped (or 1 teaspoon ground turmeric)
1 teaspoon ground coriander
1 teaspoon cumin seeds
½ teaspoon curry powder
250ml (1 cup) coconut milk
250g sweet potato, peeled and cut into 1.5–2cm dice
200g (1 cup) cooked and drained black beluga lentils*
1–2 tablespoons lime juice
½–1 teaspoon coconut sugar, or to taste
Coriander leaves, to serve
1. Place the coconut oil and onion in a 20cm cast-iron saucepan (the size of the pan is quite important here, see Kitchen note) and cook over medium heat, stirring occasionally for five minutes or until the onion is nearly translucent, soft and lovely.
2. Stir in the garlic, ginger, turmeric, ground coriander, cumin seeds and curry powder and cook for another 2–3 minutes until aromatic. Add the coconut milk, sweet potato and, if necessary, a little water to come just underneath the vegetables (the water should not cover the vegetables). Place the lid on top of the pan and cook over low heat for 30 minutes or until the sweet potato is tender when pierced with a knife.
3. Gently stir in the cooked black lentils and stir until warmed through. Add the lime juice and coconut sugar to taste, then scatter with chopped coriander just before serving. This stew will keep refrigerated for up to two days in an airtight container.
Kitchen note: it's important to use a saucepan no bigger than 20cm in diameter. This will ensure there's enough liquid to come just below the vegetables without having to add water.
*To cook the black beluga lentils:
Makes 300g (1¼ cups) cooked lentils
Note: you will need to soak the lentils the night before.
110g (½ cup) black beluga lentils
1 tablespoon whey or choice of acid (lemon juice, apple cider vinegar)
1 thin slice fresh ginger, unpeeled
2cm piece kombu (kelp), optional
1. The night before, soak the lentils with your chosen acid overnight.
2. The following day, drain the lentils and place in a saucepan with the ginger, kombu (if using) and 310ml (1¼ cups) water or stock. Bring to the boil, then simmer over medium heat for 15–25 minutes until the lentils are cooked but still a bit toothsome. You will need to test them from time to time. Stir gently during the cooking process to ensure that any lentils on the top don't dry out. Remove from the heat and store the lentils in their cooking liquid with the ginger and kombu (if using) until needed.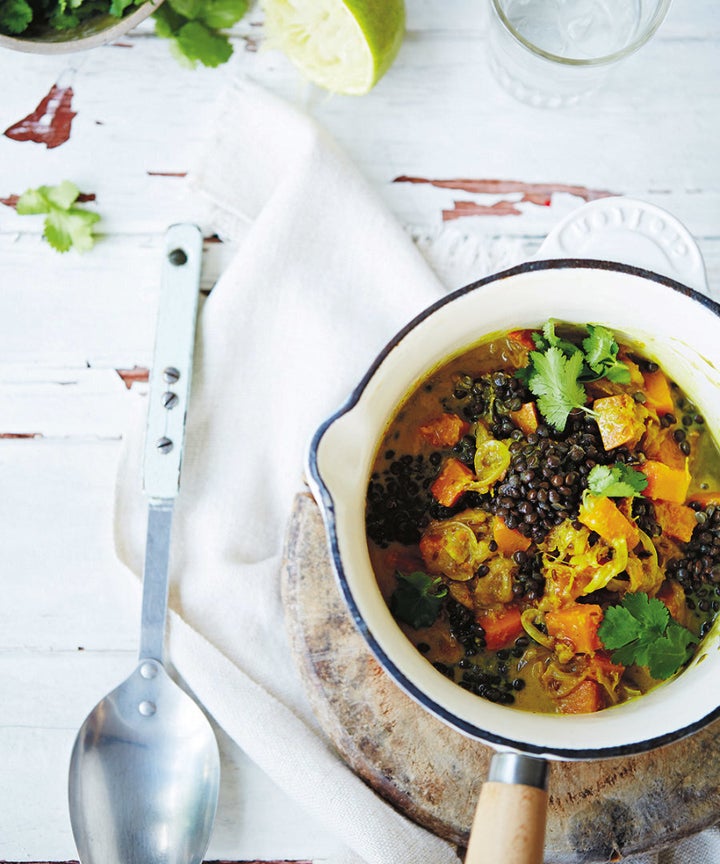 2. Barley, rainbow chard and lemon risotto
If you've been put off risotto because of its long, annoying process of constantly stirring, this recipe is for you. Using barley instead of rice, this risotto is easy to make, comforting and brimming with flavour.
Low gluten | vegetarian | vegan option | egg free | serves 4-6
100g (½ cup) pearl barley
2 tablespoons green lentils
3 teaspoons whey or choice of acid or dairy-free options (lemon juice, apple cider vinegar)
2 tablespoons extra virgin olive oil, plus extra for drizzling
1 medium leek, whites thinly sliced and rinsed (reserve the green tops for stock) (or 1 onion, finely chopped)
3–4 garlic cloves, finely chopped
2 teaspoons finely chopped rosemary
2cm piece kombu
2 bay leaves
500ml (2 cups) chicken or vegetable stock
1 teaspoon ghee (or extra virgin olive oil, if vegan)
12 small–medium rainbow chardor silverbeet leaves (about 160g), well rinsed, leaves and tender stems cut into wide strips
Sea salt and freshly ground blackpepper, to taste
1–2 tablespoons lemon juice
25–50g (¼–½ cup) grated parmesan or pecorino cheese
40g (¼ cup) toasted pine nuts
1. The night before, place the barley and lentils in separate bowls and add enough water to cover by 2cm. Stir two teaspoons whey into the barley and one teaspoon into the lentils. Set aside at room temperature for at least eight hours or overnight.
2. The next day, make the risotto. Place the olive oil, leek, garlic and rosemary in a heavy-based 20cm cast-iron pan. Cook over low heat, stirring occasionally for 10 minutes until translucent.
3. Drain the barley and lentils, then add to the pan with the kombu and bay leaves and stir through. Add the stock and bring to a simmer, then cover and cook over low heat for 40–50 minutes until the barley and lentils are cooked and tender to the bite -- there should still be plenty of liquid left.
4. Next, heat the ghee in a medium-size frying pan over low heat. Add the chard stems and cook gently, stirring occasionally for 10 minutes. Toss in the leaves and cook for another 10 minutes until they are well wilted. Increase the heat to reduce the liquid.
5. When the barley and lentils are ready, stir in the chard and simmer uncovered for five minutes or until most of the liquid has evaporated. The barley will continue to absorb liquid as it sits. If it looks a little dry, add a little more stock or water to loosen. Season generously with sea salt and pepper (this is a dish that loves pepper), then stir in the lemon juice and parmesan cheese to taste. Scatter with the pine nuts, then drizzle with a little extra virgin olive oil and serve.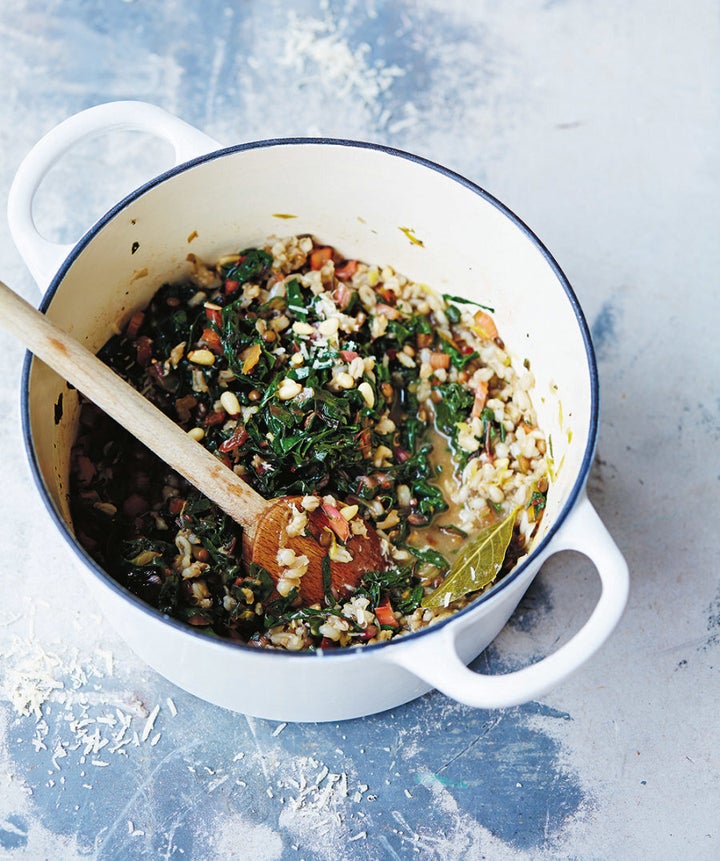 3. Polenta of millet and amaranth with pumpkin, sage and garlic
This polenta dish is perfect for if you're having a meatless dinner party or picnic. It uses millet and amaranth instead of cornmeal, giving it a more nutty, hearty flavour.
"This is one of those dishes that will take a little bit more work and time, but it's a great occasion dish," Blereau sald. "I usually make extra pumpkin topping (in another frying pan) and have that sitting in the fridge to use over the next couple of days."
Gluten free | vegetarian | egg free | serves six
150g (¾ cup) millet
50g (¼ cup) amaranth
750ml (3 cups) hot stock or water
Pinch of sea salt, to taste
Extra virgin olive oil for frying, plus extra to grease
Grated parmesan, pecorino or romano cheese, to serve
1½ generous tablespoons ghee
750g butternut pumpkin, peeled, seeded and cut into 2cm dice
40g butter
5 garlic cloves, halved lengthways, then thinly sliced
20 sage leaves, or more if very small
1. Lightly oil a 20cm square dish -- about 1–1.5 cm in height is ideal. Don't worry if you don't have exactly the right size, just choose one that will give you the depth of polenta you desire.
2. Place the millet and amaranth in a medium-size saucepan. You are better off with a wider (but shallower) pan here. Cook over medium–high heat for 3–5 minutes until you can smell a delicious nuttiness, taking care not to burn the grains. As they begin to heat, the amaranth will pop -- you will need to take the pan off the heat and shake it regularly to not only cool it down a little and stop any burning, but also to redistribute the grains.
3. Reduce the heat to low again, add the hot stock or water, taking care as it will bubble a bit as it hits the hot pan. Stir in a good pinch of salt then cover, increase the heat to high and bring to the boil. Reduce the heat to low so no steam escapes the lid. Simmer for 40–50 minutes until the liquid is all absorbed.
4. Remove from the heat, take off the lid and cover with a piece of paper towel to absorb any excess moisture. Allow to stand for five minutes. Transfer the polenta to the prepared dish, smooth over the top, cover with a tea towel and set aside until cool enough to handle.
5. When the polenta is cool, turn it out onto a chopping board and cut into four rows, then cut each row into three pieces. Cut each piece in half on the diagonal, giving you a total of 24 pieces.
6. When ready to put the dish together, preheat the oven to 100°C (200°F). Line a baking tray with paper towel.
7. Pat the bottom of the polenta triangles dry with paper towel -- this helps prevent the polenta from sticking during cooking. Add enough olive oil to a large frying pan to cover the base well and place over high heat. When the oil is hot but not at all smoking, cook the polenta in batches so you don't overcrowd the pa, for 5–6 minutes on each side or until golden. This takes longer than you think and requires a high heat. Place the fried polenta triangles on the lined baking tray, then put in the oven to keep warm.
8. For the pumpkin topping, heat the ghee in a 30cm frying pan over medium–high heat. (If you don't have a pan as large as this, you are best cooking the pumpkin in two batches.) Add the pumpkin and cook, shaking the pan occasionally to prevent sticking for 15 minutes or until cooked and well caramelised. When ready, remove from the pan and set aside.
9. Add the butter to the pan and shake over medium heat for 1–2 minutes until the butter melts and turns a light, nutty brown -- don't let it burn. Immediately add the garlic and sage, and shake the pan over the heat for 10–15 seconds or until the sage is crisp and the garlic is light golden. Remove from the heat, add the pumpkin and shake the pan to mix through (avoid stirring). Remove the polenta from the oven and transfer to a large plate. Spoon over the pumpkin, pour the sage and garlic butter over the top, then scatter with cheese and serve immediately.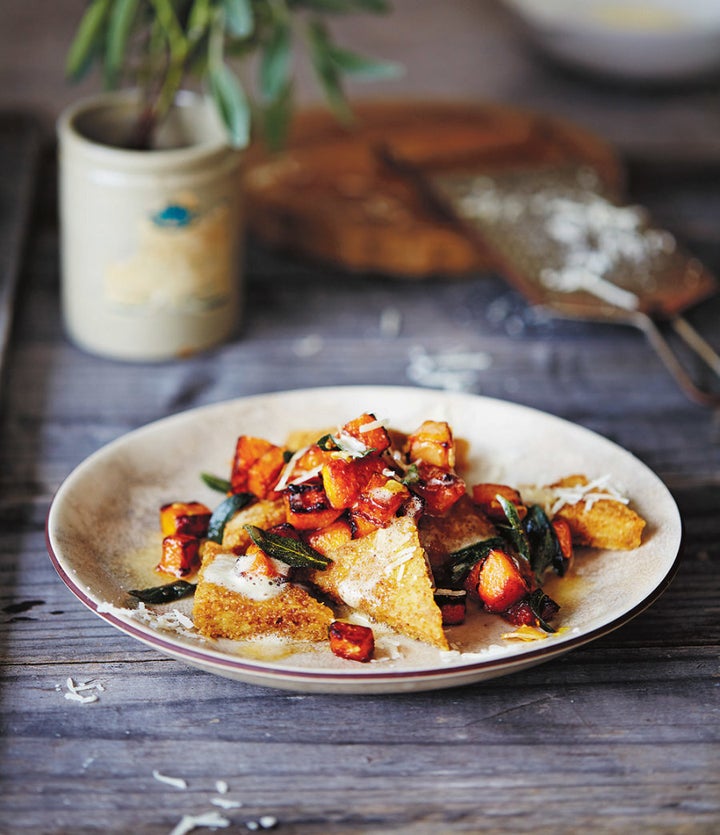 4. Green lentils, caramelised pear and pedro ximénez salad
Salads get a pretty bad rap for being bland and boring, but not this one. Made with filling lentils and a flavour-packed sherry dressing, the caramelised pear adds a lovely sweet finish, while the hazelnuts bring a welcome crunch.
Gluten free | dairy free | vegan | egg free | serves four as a light meal
2 pears (I like the sturdy Beurré Bosc variety)
2 tablespoons extra virgin olive oil
60ml (¼ cup) Pedro Ximénez 12 month-old sherry vinegar
2 tablespoons Pedro Ximénez sherry
50g rocket leaves or mustard greens (or both, as I've used here)
1 quantity cooked French green lentils, drained
40–75g (¼–½ cup) hazelnuts, roasted, skins rubbed off, roughly chopped
Hazelnut oil for drizzling, optional
1. Cut the pears into eighths and remove and discard the cores.
2. Place the olive oil, two tablespoons sherry vinegar and the sherry in a small frying pan no larger than 20cm. This size pan will give more depth of liquid (and thus more flavour) to the pears and contribute to less evaporation. Toss the pears through the liquid, place over medium heat and bring to a gentle boil. Cook for 15–20 minutes, turning the pears every now and then. At the end of this time, there should be about two tablespoons of liquid left in the pan. If it looks like there is more, increase the heat slightly and continue to cook until it has reduced. Remove the pears and set aside on a plate. Add the remaining tablespoon of sherry vinegar to the pan and stir -- this is now your dressing. Remove from the heat and set aside to cool.
3. To put the salad together, arrange the rocket leaves on a serving platter and spoon the cooked lentils over the top. Using your fingers, gently toss together. Place the cooked pears over the lentils and scatter over the hazelnuts. Gently pour the cooled dressing over the salad and drizzle with a little hazelnut oil, if using.
Kitchen note: a good goat's cheese would be a nice addition to offset any sweetness. Crumble a little over the top of the salad once assembled. If you have access to fresh and artisanal hazelnut oil, this would be the perfect finish for this salad.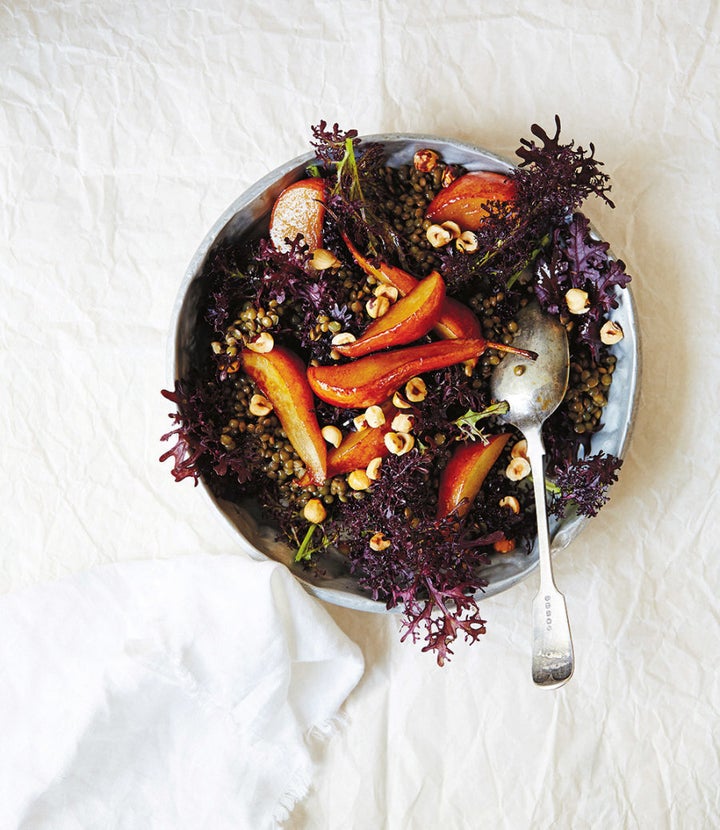 Recipes and images from Wholefood from the Ground Up by Jude Blereau (Murdoch Books) $39.99 available now in all good bookstores and online.