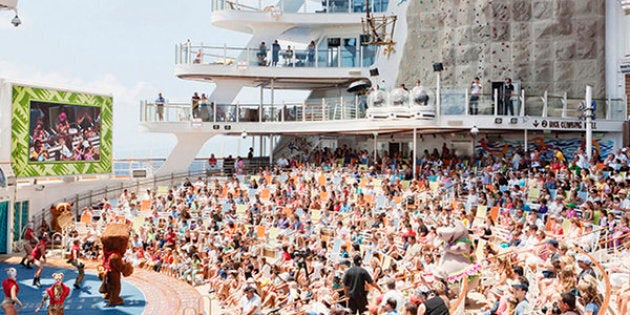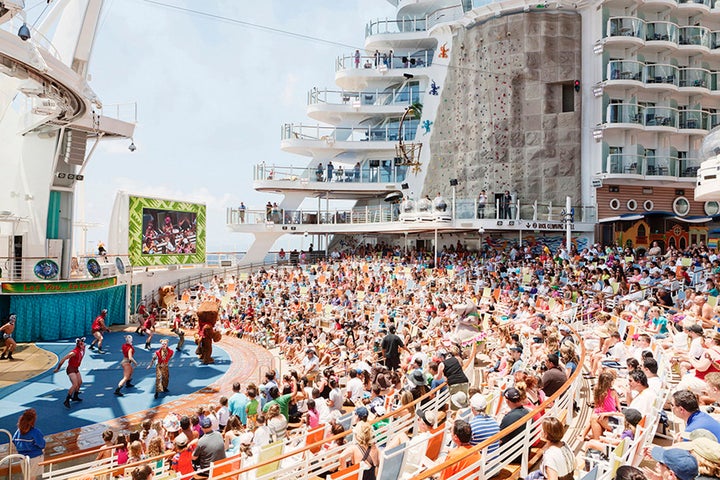 Allure of the Seas, formerly the largest cruise ship in the word, is like a giant amusement park for adults. With the capacity to host 6,300 passengers in 2,706 cabins, the cruise ship ― owned by Royal Caribbean International ― is equipped to offer a range of entertainment and sporting activities, including surfing lessons, rock-climbing, and dance classes.
For a photography project, Sicilian photographer Maria Vittoria Trovato spent time aboard the Allure of the Seas, which she describes as a city on the move.
"I've always enjoyed watching what other people do when they're together, especially in a limited space like a specific neighborhood, a shopping mall, a U.S. military base, or, in this case, a cruise ship ― which is like a traveling city," says the photographer.
The photos Trovato took on the massive cruise ship will be exhibited as part of the Gibellina PhotoRoad - International Open Air Photography Festival, which will be held from July 29 to August 31 in Gibellina, Sicily.
"Maria Vittoria Trovato's project is a perfect interpretation of 'disorder,' the theme of this first edition of the festival," says Arianna Catania, the artistic director of the photography festival.
"This is a cruise ship that thousands of passengers climb aboard to seek out little bits of surrogate happiness; to forget the grey pallor of everyday life; to experience gift-wrapped emotions. All without paying any attention to the surrounding sea and the consequences that a 'monster' of this size can represent for the ecosystem of our planet," says Catania.
Scroll down for Maria Vittoria Trovato's photos of Allure of the Seas.
This piece originally appeared on HuffPost Italy and has been translated into English.