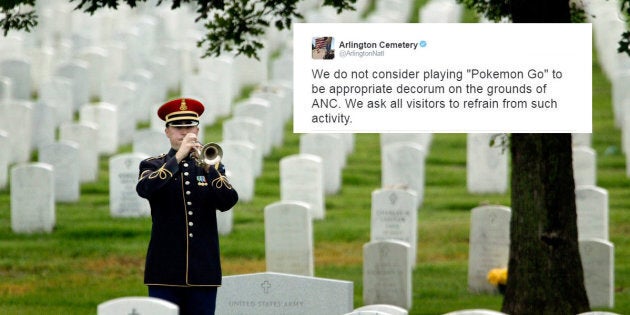 Pokémon GO is taking over the world. Wherever you are, go outside and take a walk on the street -- we reckon you'll find some people staring intently at their phones, flicking Pokeballs at the monsters depicted on their screens.
You can find Pokémon in parks, near waterways, in city streets and on your morning commute.
And also, it appears, in cemeteries and memorial sites. And that's making the caretakers of those sites pretty upset.
It seems bizarre that we have to tell you this, but PLEASE don't go tramping around burial grounds and sombre memorials in search of that Pikachu or Bulbasaur. The managers of the Arlington National Cemetery in America, the graveyard for thousands of dead U.S. war veterans, has made this solemn plea to visitors:
Staying in America, a Washington DC museum dedicated to the Holocaust is also a point where you can catch Pokémon, which has upset its curators due to the reported appearance of the Pokémon called Koffing -- a monster which belches poisonous gases, and has a skull and crossbones sign for poison on its body -- inside the museum.
Hopefully we don't need to tell you why curators of a Holocaust museum would be offended by the presence of a poison gas Pokémon inside its walls. There are reportedly three Pokestop icons -- where players can pick up bonus gameplay items -- in and around the museum, which are attracting players to the site.
"Playing the game is not appropriate in the museum, which is a memorial to the victims of Nazism," Andrew Hollinger, the museum's communications director, told The Washington Post.
"We are trying to find out if we can get the museum excluded from the game."
There have also been reports of Pokémon and Pokestops being available at the New York City memorial to the September 11 terrorist attacks.
The game is currently officially only available in Australia, New Zealand and the USA, but unconfirmed reports state that users have found Pokémon available at Auschwitz, the Nazi Germany concentration camp.
The reported discovery has prompted outrage from the memorial site itself, pleading with the developers of Pokémon GO to not list it as a play site for the game.
Of course, there are a few examples closer to home for Australians. We've already had Darwin police warning players not to swarm their station (which is designated as a Pokestop) while the NSW justice system has issued a blunt warning to people looking to play the game inside the state's courthouses.
Western Australian police have also reminded users to stay safe when playing, and that "but I was catching Pokémon" is not a valid excuse for trespass.
But while there have been lots of warnings about places that Pokestops should NOT be, some American users are suggesting places that Pokestops SHOULD be, for their presidential election later this year.