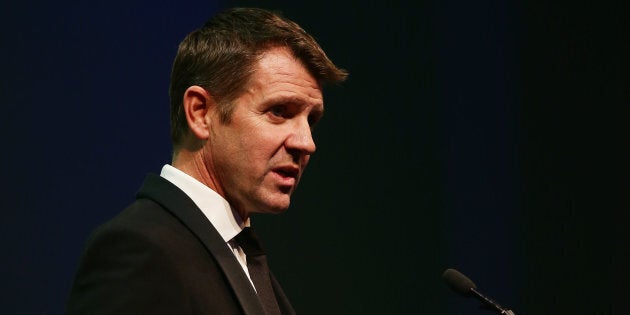 NSW Premier Mike Baird has been throwing some subtle Twitter shade at state opposition leader Luke Foley over his opposition to the impending greyhound racing ban.
But pressure is mounting within the Coalition over the proposed ban, as state and federal National MPs -- including the Deputy Prime Minister -- voice their criticism of proposal.
He's also spent the past few days promoting his opponent's opposition to the ban in a series of retweets.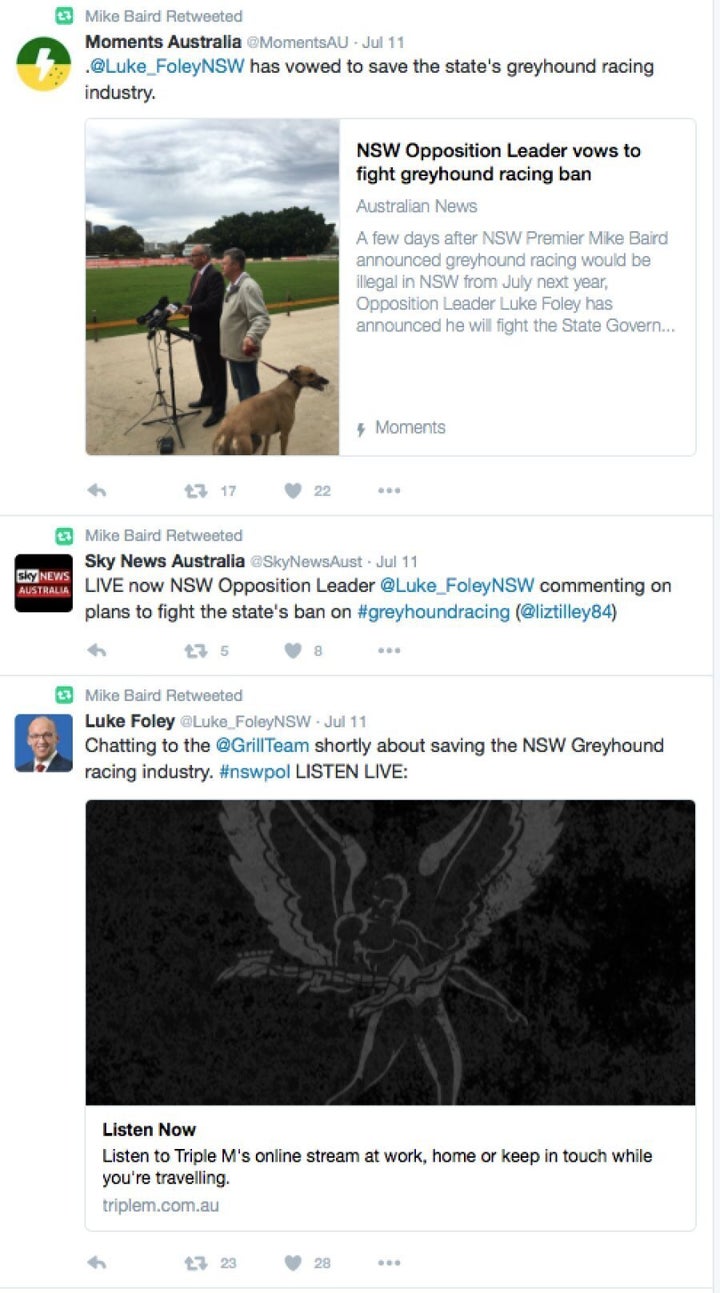 Foley later responded to Baird with a tweet of his own:
Labor's is calling for anyone convicted of live-baiting be banned from the sport for life, and it also wants the Prevention of Cruelty to Animals Act amended to include "kennels," a move they argue will help ensure accusations of live baiting are properly investigated by independent authorities.
Foley isn't the only prominent politician to come out against the ban, with Deputy Prime Minister Barnaby Joyce on Wednesday linking the proposed ban to the Gillard government's 2011 live cattle exports ban.
Baird argues the industry is beyond reform.
Joyce said he was skeptical of the proposal and and tried to "stay away from banning anything".
"If you ban things, I think you've got to be careful. You start hurting people you didn't expect to hurt," he told 2GB on Wednesday.
"It's best to try and work with industry and get them to sort out their problems and that's going to cause me grief saying that because people will say 'well, you're talking against your colleagues'".
A number of NSW Nationals MPs are opposed to Baird's proposed ban and are concerned about the impact on regional jobs.
Other NSW Nationals, Chris Gulaptis and Kevin Humphries, have also voiced opposition against the move, while federal Nationals MP Michael McCormack has publicly criticised the decision.
"This decision is far too hasty and will send a shiver down the spine of anyone involved in the beef industry or growing and producing cattle for the live exports market," he told The Land.
"Which industry will they target next?"
As the Sydney Morning Herald notes, Joyce is now the most senior political figure in the country speak against the premier's decision.
Former Labor Premier and now commentator Kristina Keneally called Foley's support for the industry a "captain's call".
"You know what, I just find that extraordinary. I nearly pulled my hair out today when I heard that press conference," Keneally said.
"I do not (support Foley's decision).
"Don't get me started on cabinet. I suspect this is a captain's call from Luke Foley."