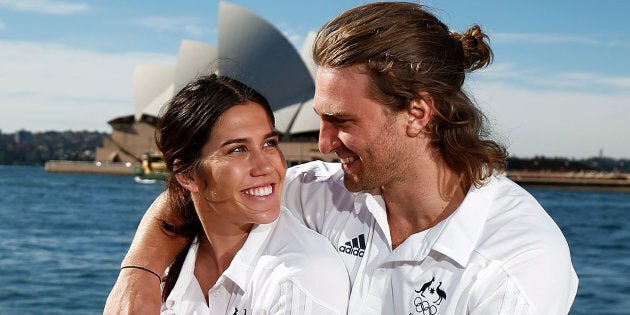 OK, stop the internet. In fact stop everything. You need to meet these guys. They are Charlotte Caslick and Lewis Holland and they're sevens rugby players who are off to the Rio Olympics.
Charlotte, 21, and Lewis, 23, also happen to be a loving couple, who stopped off for a chat with The Huffington Post Australia as they were officially announced as part of Australia's Rio teams in the newest Olympic sport.
(Warning: you might like to eat something first so you don't get hungry while reading this. We spoke quite a lot about schnitzels.)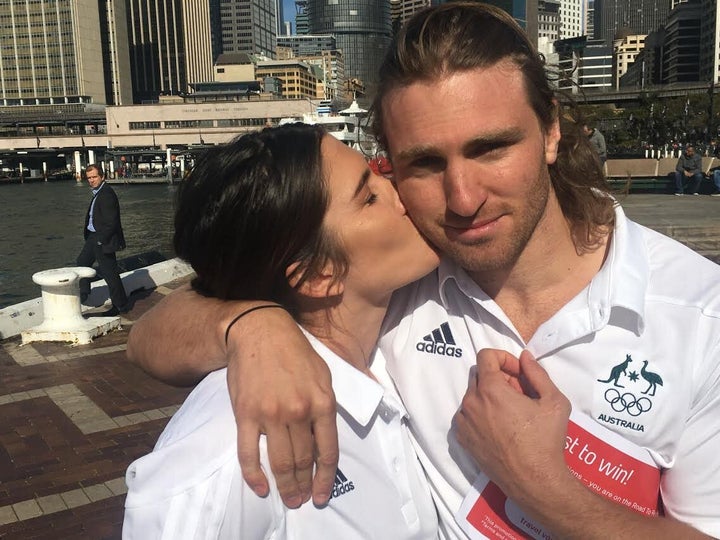 Ant: I'm so excited to be speaking to our Rio Olympics glamour couple. Can I call you that?
Charlotte: Ummm, yeah, that's fine. Look at his hair, it's glamorous.
Lewis: No I'm not that glamorous but she goes all right, so she can be the glamour and I'll be the couple.
Ant: Works for me. Where did you grow up, Charlotte?
Charlotte: Just in Brisbane.
Ant: JUST in Brisbane? I'm sure it wasn't that bad.
Charlotte: No I love Brisbane.
Ant: Ha! And you're from Braidwood aren't you, Lewis, which for those who don't know is that town halfway between Canberra and the NSW south coast. What was growing up there like?
Lewis: Well as a young kid there was not a whole lot to do, but I love going back. Most of my family still live there. I went to primary school there and then started playing football at St Edmund's College in Canberra where I went to high school. I also used to play a bit of soccer and ride in the occasional rodeo.
Ant: Maybe you can catch one in Brazil. The Brazilians are great at rodeo.
Lewis: I know. Yeah if there's one about I'll have a look at it.
Ant: Hey, speaking of Braidwood, did you ever see the classic Australian movie The Year My Voice Broke? I believe it was set in Braidwood and the girl fell for a rugby player just like you.
Lewis: I think my mum's in that movie.
Ant: I think the whole town was in it.
Ant: OK, enough small talk. Let's talk about the important stuff. Who's the better rugby player out of the two of you?
Charlotte: I don't know, we're pretty different players. He likes tackling and running into players whereas I don't so much.
Ant: So you're more evasive.
Charlotte: Yeah, evading people is probably my go. I try to avoid running into them.
Ant: And is that how it works domestically for you guys too? Do you avoid the conflict while he just walks headlong into it?
Charlotte: No, it's probably the other way round.
Ant: Oh really. So you've been known to start a fight.
Charlotte: (slightly embarrassed pause)... yep.
Ant: Is that true, Lewis?
Lewis: Yeah bloody oath. She's always up for an argument but it's just water off a duck's back to me, I just let it go.
Ant: Interesting. So you're aggressive on the field but a little bit more passive off it.
Lewis: Yeah, I like to use my time wisely and raising my voice in an argument probably isn't using it wisely.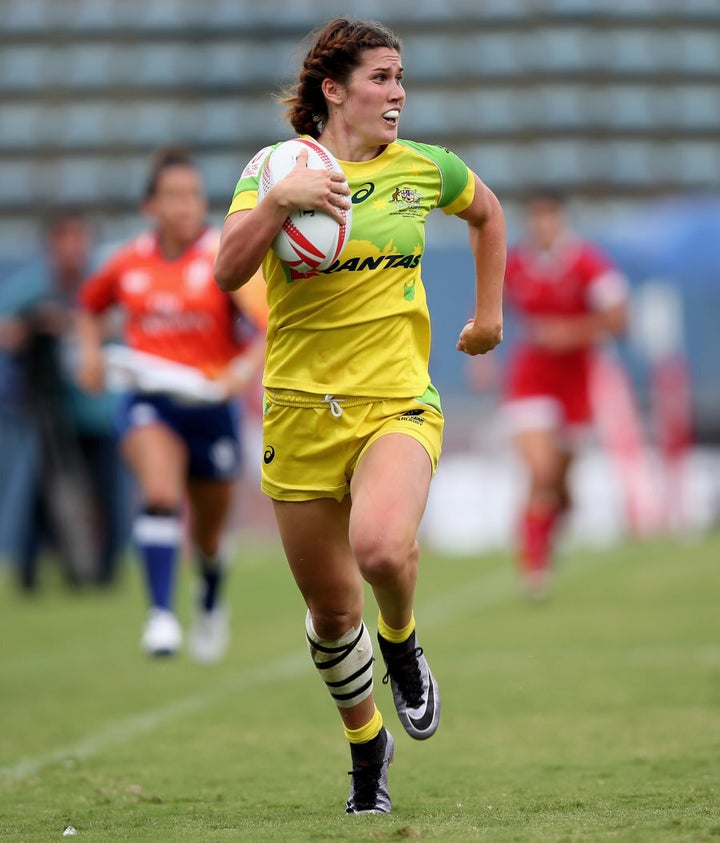 Ant: You guys live together. Who's the best cook?
Charlotte: He's the best cook.
Ant: Really? What's your specialty, Lewis?
Charlotte: Oh, here we go...
Lewis: Well my mum's a wedding caterer in Braidwood so I grew up always having good meals, and once you get that taste for good food, you pick up and away you go.
Ant: What's one dish that you're the undisputed king of?
Lewis: Chicken schnitzel is my favourite. My mum makes a really good one and so do I.
Ant: Well here's the thing about that. I make a pretty good schnitzel myself, so I propose a schnitzel cook-off in Rio after the sevens rugby is finished. I've got a little apartment with a kitchen right across the road from Olympic Park. Chicken schnitzel-off -- what do you say?
Ant: OK, and you can judge who makes the best schnitzel. What do you say Charlotte?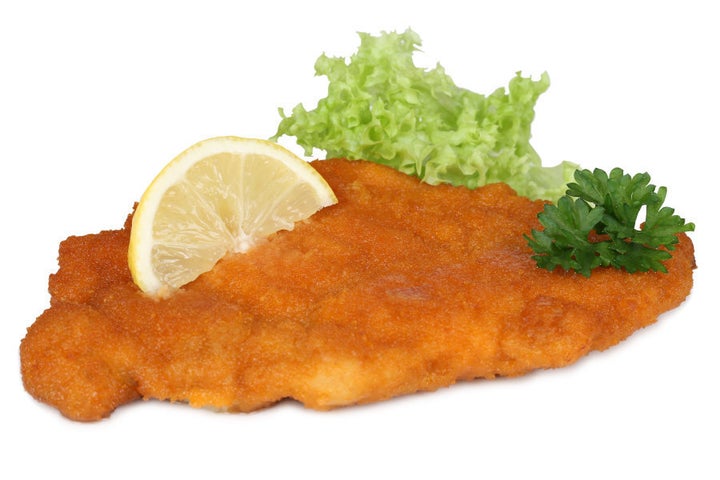 Ant: This is going to be good. But first you guys need to go out and win some Olympic medals. How are the teams going?
Lewis: We had a pretty good world sevens series this year. We came fourth overall, we lost Sydney on the bell, we lost Vegas on the bell, came third in Vancouver. There were a couple of good performances and a couple of not so good performances throughout the year, but we learned a lot. There's that one little cherry at the end and hopefully we get that one.
Ant: Peaking at the Olympics, good plan. Whereas your team, Charlotte, has been dominating all year and will have to keep that going, right?
Charlotte: Yeah hopefully. We've been trying to build consistency because in previous years we've had some peaks and lows, and this season we've just tried to be consistent which we've done very well. I don't think there's any better way to go into the Olympics than being the best in the world and at our best.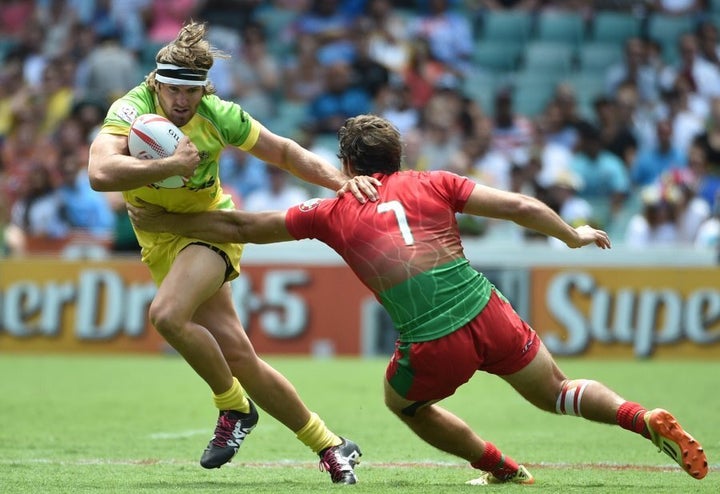 Ant: Sevens rugby is pretty early in the Olympic schedule isn't it?
Lewis: Yeah the women are in the first three days, and then we're days four to six.
Ant: So Charlotte you get to knock off and relax but I guess you'll have to give him his space. I take it you won't be staying together.
Lewis: No, we're on the same floor of the village, so I'll be able to keep an eye on her and make sure she doesn't get up to anything over there.
Ant: I'm sure she won't, despite there being like 73 million complimentary condoms in the village.
Lewis: She'll be just blowing them up, she won't be using them!
Ant: OK, and then when you've both finished competition, you're staying for the rest of the Games?
Charlotte: Yep, we're both staying.
Ant: Great. And then it's the great schnitzel-off, MasterChef style.
Lewis: And there can only be one winner.
Ant: Which will be me. Look forward to it. Thanks for talking to us guys, and good luck on the football field and in the frypan in Rio.