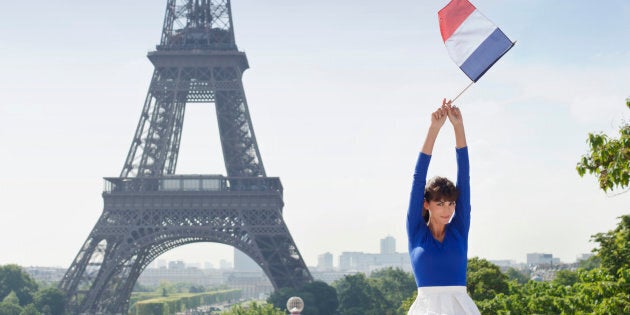 It's July 14, aka Bastille Day, aka the best time to revisit old Euro travel memories and eat so much French food you could explode.
The annual French National Day actually commemorates the Fête de la Fédération of 1790, which celebrated the unity of French people one year after troops stormed the Bastille, a fortress and prison associated with the harsh rule of the Bourbon monarchy.
Each year the nation celebrates with beautiful feasts, blue-white-red fireworks, fine wine and military parades.
To help get amongst it, The Huffington Post Australia collected six French recipes from top French restaurants and chefs around Australia -- from onion soup to sweet crèpes -- so you can have a feast of your own.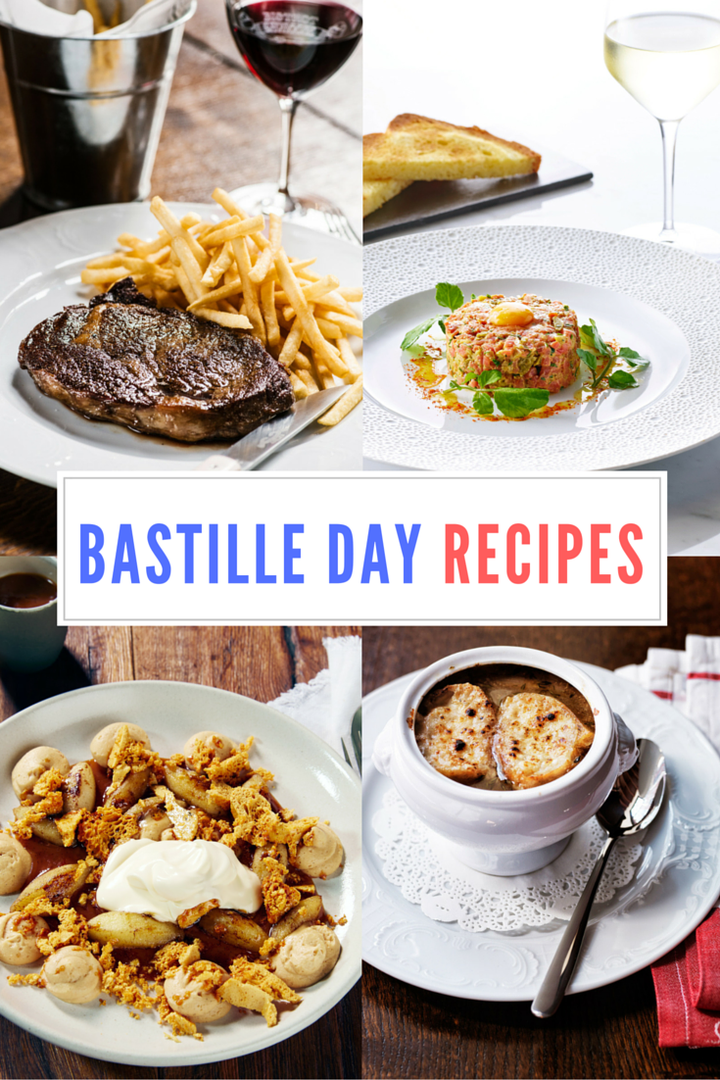 1. Grandpa Henri's onion soup
500g brown onions, sliced finely
8 garlic cloves, sliced
50g butter
1 sprig thyme
1 bay leaf
100ml white wine
1 litre chicken stock
Salt and pepper, to taste
4 slices Comté cheese
4 large toasted bread croutons
1. In a large pot on medium heat, sweat the onions and garlic in butter for 20 minutes until caramelised. Add white wine to the pot to deglaze and then add the thyme and bay leaf. Pour chicken stock over and simmer for a further 90 minutes.
2. Season with salt and pepper, then pour the soup into four bowls. Place the bread crouton on top and add the Comté cheese. Place soup bowls underneath a grill until the cheese is melted.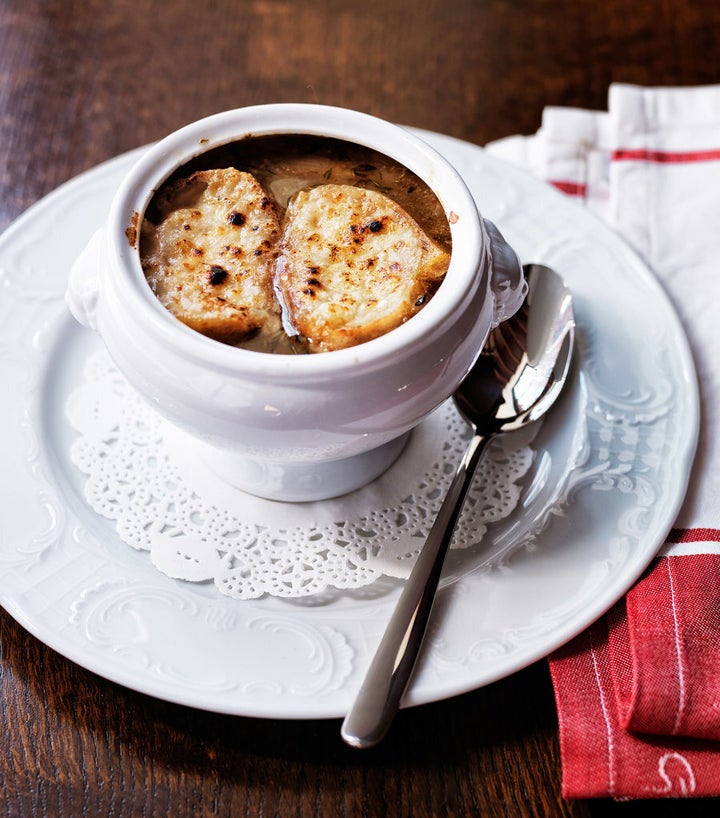 2. Entrecôte frites with Béarnaise sauce
20g shallots, peeled and finely chopped
40ml white wine vinegar
1 bay leaf
1 sprig thyme
3 egg yolks
20ml water
70ml champagne vinegar
1 spring tarragon, finely chopped
400g clarified butter, room temperature, plus extra for steak
Salt and pepper, to taste
250g Scotch fillet
1. To make the Béarnaise sauce, add the shallots to a saucepan with the white wine vinegar, bay leaf and thyme and reduce on medium heat until there is no more liquid. Cool the shallot reduction and then add the egg yolks, water, champagne vinegar and tarragon. In a warm bain-marie (double boiler), whisk the egg yolk mixture until foamy and emulsified. Slowly add the clarified butter to the mixture and continue whisking until thickened. Add salt and pepper to taste. Note: This will make enough for six serves.
2. Heat up a frying pan on high heat and add the extra clarified butter. Season the steak with salt and pepper, then sear the scotch fillet for three minutes each side, to cook to medium rare. Rest the meat for five minutes and then serve with Béarnaise sauce and French fries.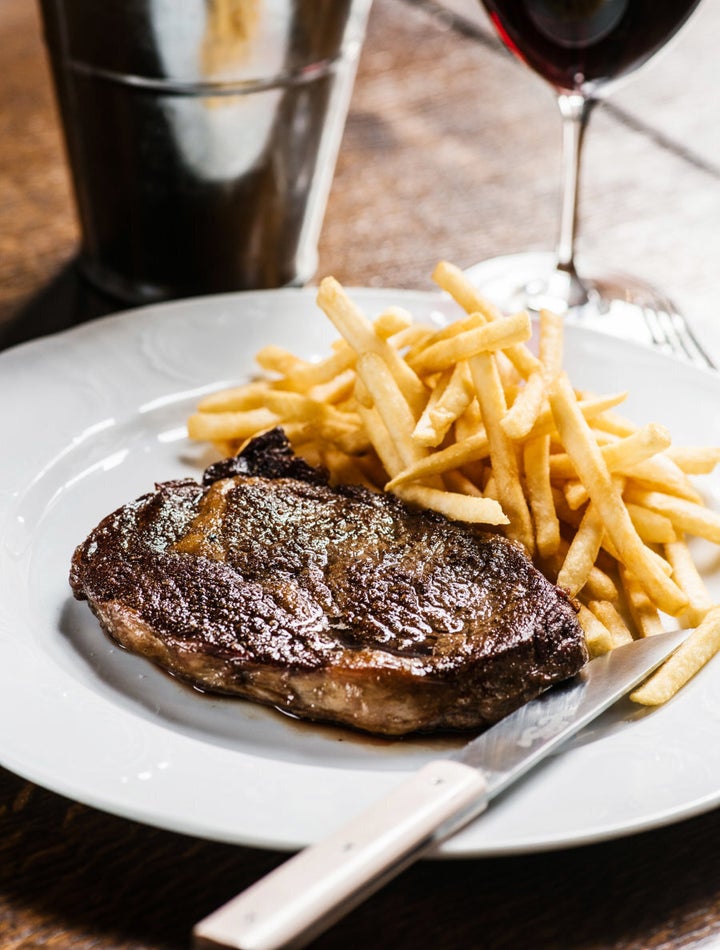 3. Steak tartare with quail egg and toasted brioche
From Ananas Bar and Brasserie
50ml olive oil
50g tomato ketchup
37g Dijon mustard
2ml lemon juice
8ml Tabasco
340g very fresh beef tenderloin, free of sinew
20g eschallots, finely chopped
20g baby capers, finely chopped
20g cornichons, finely chopped
8g chives, finely copped
8g Maldon sea salt
6g freshly cracked black pepper
4 quail egg yolks
2g Espellette pepper flakes
12 watercress sprigs
5ml extra virgin olive oil
4 slices toasted brioche
1. For the dressing, add the ketchup, mustard, lemon juice and Tabasco into a small mixing bowl and whisk. While whisking, slowly add the olive oil in a thin stream until you have formed an emulsion. Transfer the mixture into a container and refrigerate.
2. Using a sharp knife, carefully slice the beef tenderloin into even 5mm dices.
3. To serve, add all the ingredients with 20g of the dressing into a medium mixing bowl, and mix together with a spoon until well combined. Using a metal ring mould, place the tartare mixture evenly among four serving plates.
4. Make a small indentation in the middle of the tartare and place the quail egg yolk inside. Lightly dust the outside of the plates with the pepper flakes, then stand three sprigs of watercress evenly around the tartare. Finish with a small drizzle of olive oil around the plate and serve with the toasted brioche.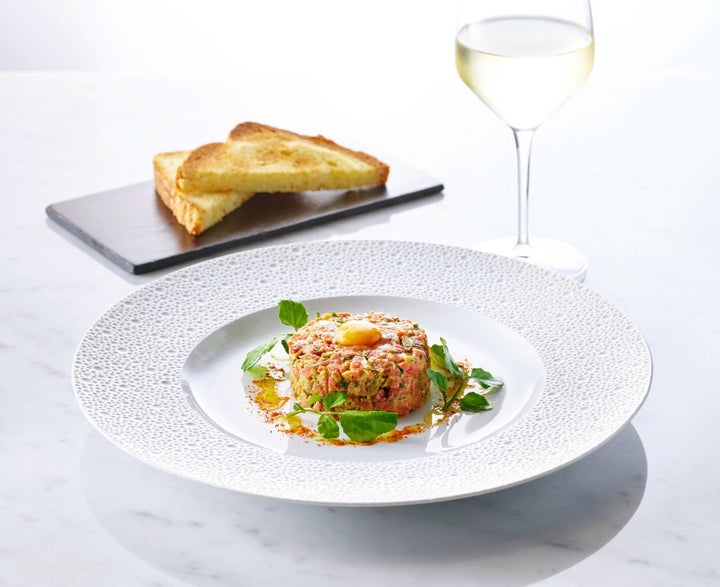 4. Duck confit with Brussels sprouts, speck and mustard cream
By Guillaume Brahimi for Bulla Dairy Foods
4 Duck Maryland (approx. 1 kg)
15g fine table salt
½ bunch thyme
2 garlic cloves (peeled and sliced finely)
750g duck fat
50g Brussels sprouts
100g speck, cut into fine batons
3 shallots, thinly sliced
20g seeded mustard
1 litre chicken stock
200ml crème fraiche
300ml cooking cream
¼ bunch parsley, roughly chopped
1. Prepare duck the day before. In a bowl, mix salt, thyme and garlic. Place duck legs on a tray flesh side up and sprinkle on a light, even coating of the salt, garlic and thyme mixture. Cover and allow to cure for 12 hours in the refrigerator.
2. After 12 hours, rinse the salt from the duck legs and pat them dry.
3. Preheat oven to 130°C. Melt the duck fat in a braising pot. Once melted add the duck legs, cover with lid and place in the oven. Cook in oven for three hours or until meat just comes away from bone. Remove duck from the fat, set aside and allow to cool.
4. Preheat the pan and add duck skin side down until golden and crisp. Turnover and sear the other side.
1. Trim the outer leaves of Brussel sprout and the bottoms. Place in a pot and cover with chicken stock and bring to the boil, reduce to simmer, cover and cook until just soft. Remove from liquid and cool, slice in half and set aside.
2. Place a pan on medium-low heat, add oil and shallots and cook until translucent. Add speck, sauté and then add cream. Reduce cream by half, then add the sprouts to reheat. When hot, add mustard, crème fraiche and parsley. Season to taste and serve.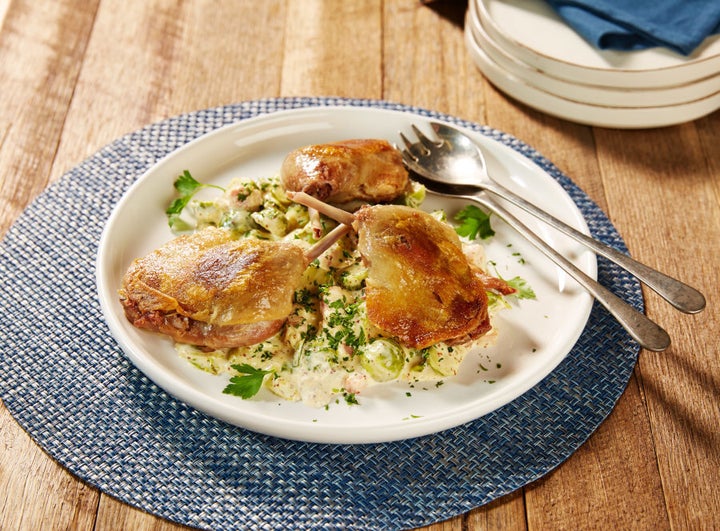 5. Crèpes Suzette
120g plain flour
10 eggs
80g sugar
1 tsp salt
285ml milk
40ml grapeseed oil
Butter, extra
Juice of 10 oranges
100g sugar
1 shot Grand Marnier, plus extra
1 shot Cointreau
20g cornflour
75g butter
2 oranges, cut into segments
1. In a medium bowl, whisk together the flour, eggs, sugar and salt. Add milk and oil and whisk until smooth. Let the batter rest for four hours.
2. Then, heat a 6-inch crêpe pan on medium heat and add a little butter. Add a small ladle of crêpe mix to the pan so it covers the base evenly and cook until a golden colour, then flip and cook for another 10 seconds. Place the crêpe on a large plate and follow the process for the rest of the batter.
3. For the Suzette sauce, pour the sugar into a medium saucepan and cook on a medium heat until a golden caramel colour. Add the orange juice to stop the caramelisation at this point, and then add both liqueurs and whisk. Add the cornflour and use a hand blender to blend the sauce, before adding in the butter and blend again.
4. To serve, place two crêpes per plate and arrange the orange segments. Warm up the sauce and pour over the crêpes. Separately, add extra Grand Marnier to a small saucepan, heat, flambé and pour over to finish.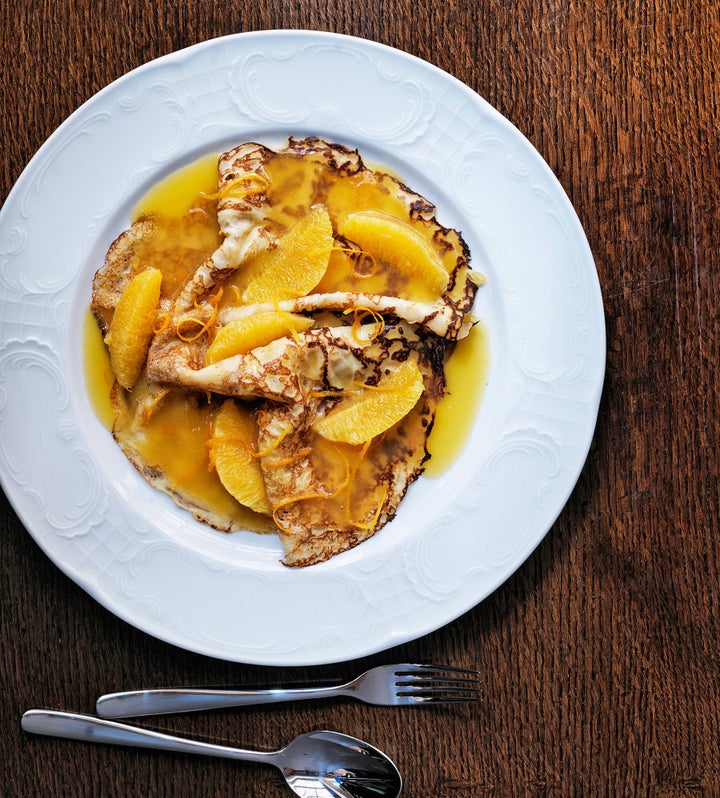 6. Caramel cream, honeycomb, caramel sauce and apples
By Guillaume Brahimi for Bulla Dairy Foods
100g caster sugar
400g thickened cream
1 vanilla bean, split and seeds removed
4 Granny Smith apples
50g butter
50g dollop cream
120g sugar
20g salted butter
75ml cooking cream
1 vanilla pod
Pinch salt
100g caster sugar
50g golden syrup
40g glucose
10g bicarbonate soda
1. To make the caramel cream, place sugar in a pot and place on medium heat, stirring occasionally with a wooden spoon. When sugar reaches a dark caramel colour, add thickened cream and vanilla bean, mix together and place into a bowl and chill in the fridge.
2. For the caramel sauce, repeat the caramel process again -- place 120g sugar in pot and place on medium heat. When sugar is a dark caramel colour, add butter, cream and vanilla, whisk together and allow to simmer together for five minutes. Remove from heat, allow to cool to room temperature and add salt.
3. For the honeycomb, place sugar, glucose and golden syrup in a large pot, take mixture to 150°C and carefully add bicarbonate soda, stirring it very gently (the mixture will expand).
4. Pour honeycomb onto grease proof paper and allow to set. Once cold keep in airtight container.
5. Cut apples into sixths. Place a pan on medium-low heat, add butter and apple slices and caramelise.
6. When the caramel cream is completely cold and set, remove from fridge and whip until firm. Place caramelised apples on the bottom of the plate. Pipe the caramel cream into dots around the dessert plate. Spoon caramel sauce over the dessert, and roughly chop the honeycomb and sprinkle over the top. Finish with a dollop of plain cream.