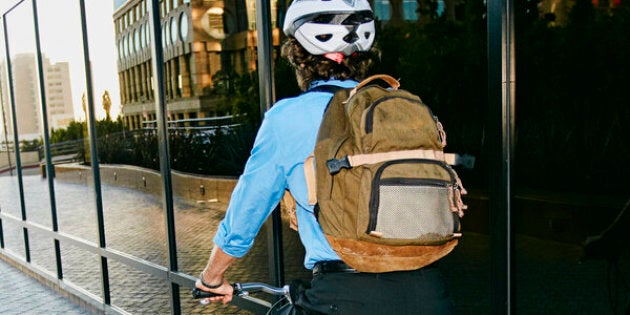 Here's a bombshell: Guys carry things. It's true. A lot of things! If you follow the Everyday Carry trend (or #EDC), you'll see that it's usually knives ― but we swear men carry more than that.
A modern man needs something to carry all that stuff around in, but if you're wearing your backpack every day ― with your suit and tie, or tank top and swim trunks ― you're doing it wrong.
"I think a lot of guys assume that a backpack is the one bag they need, no matter what they're wearing and doing," celebrity menswear stylist Ashley Weston says, who points out that this is the wrong way to think:
"If you're wearing a suit or blazers often, then a backpack should never be worn with any of these outfits because the shoulder straps will ruin the shoulder pads and wrinkle your jacket all over the back. Wearing suits or blazers = carrying your bag by the handles and never anything else – which means you need a briefcase. Unless you're going for the IT guy look, please don't wear your backpack (or messenger bag!) with these outfits."
So what is a guy to do? We live in a world that shuns the man bag, a necessary accessory. People call it a man purse, murse, mag even.
We say screw it. Men need a bag just as much as anybody else. Here are a few great options for all the things you carry everyday, no matter your outfit: