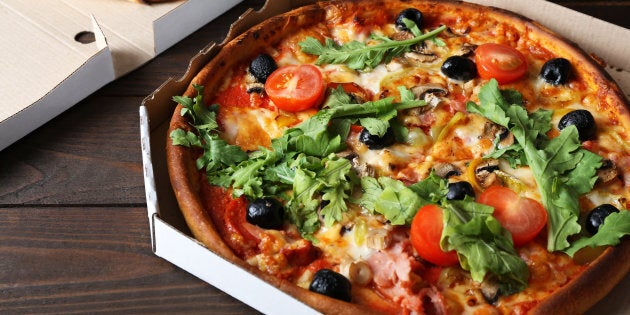 It's been a long day at work and all you want is a quick, easy feed. While getting your butt in the kitchen and whipping up something is always a better idea, sometimes takeaway food is the only thing you want.
Maccas, fish and chips and KFC aside, takeaway food doesn't necessarily have to be unhealthy. While it's best reserved as an occasional treat, knowing what to order (and what to add on) is the difference between an average order and a nutritious order.
"When you are choosing takeaway meals, you can easily obtain three serves of your five-a-day of veggies in that meal, which can help you meet your daily nutritional requirements," Geraldine Georgeou, accredited practising dietitian and Menulog spokesperson, told The Huffington Australia.
"A lot of people are missing out on their veggies, and being mindful when choosing your takeaway can help ensure you're choosing the right option."
In order to get three of your five serves of vegetables in a takeaway meal, Georgeou recommends the following tips for popular cuisines.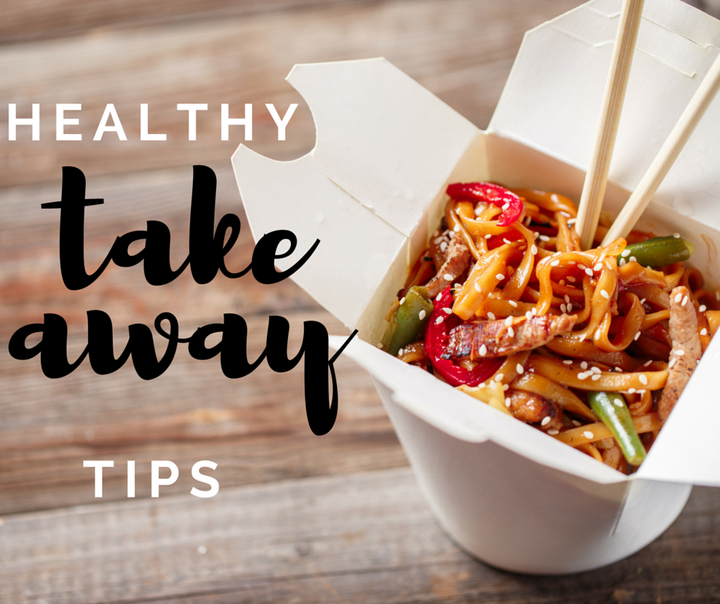 Chinese
"When you are ordering Chinese, think of ordering meals with fresh, stir fry vegetables -- or adding those extra," Georgeou said. "Choosing a stir fry is always an easy, vegetable-filled option."
A classic beef and black bean dish is also the perfect base for amping up those veggies.
"We're all familiar with beef and black beans. Add on steamed Chinese broccoli and by doing that, you've not only got around two serves of vegetables in the original dish you've ordered, but that side will help you reach that three serves of veggies, or even five serves," Georgeou said.
"If you want to get a soup, you can order a clear broth soup with noodles, seafood and extra vegetables. It's that simple."
Indian
Indian is a delicious winter go-to, but it can be difficult to get enough serves of vegetables in meals. Georgeou advises to avoid the deep-fried entrees and focus on getting your serves of vegetables in your mains.
"If you can go and choose something from the beautiful local Indian restaurant, there's no reason why you can't have something like tandoori prawns, which are a nice and lean protein, and some dhal and vegetable curry on the side. Lentils will make up some veggies," Georgeou said.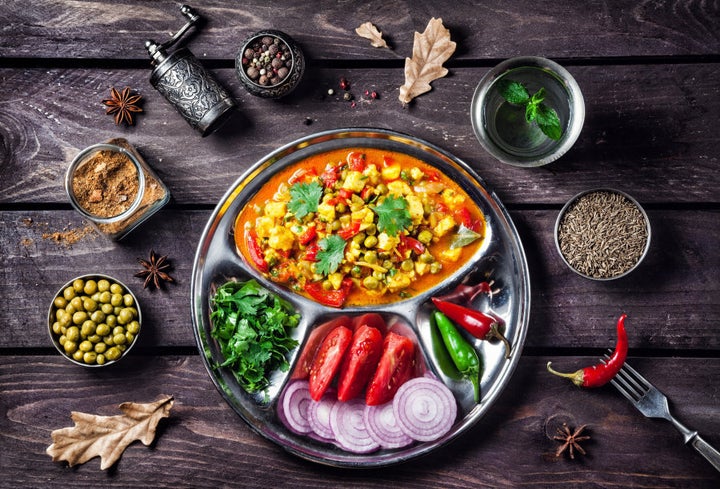 Japanese
Sushi lovers, you'll be happy to know your takeaway order of choice is extremely easy to pack with vegetables.
"Edamame beans are delicious, fresh and a great vegetable choice alongside a salmon and avocado sushi roll. And don't forget that seaweed salad," Georgeou told HuffPost Australia.
"By going with that choice you've got some protein and good fats, and you've got around 60 percent of your veggie needs covered. You can easily make up the rest of your daily requirement during the day by having some veggie sticks and hummus, or adding extra veggies to your lunch time sandwich or soup."
Italian
"You might have a pasta primavera, which has vegetables like zucchini and capsicum already added into the sauce," Georgeou said. "This could be about two serves of vegetables, then you could get a side of rocket salad or Caprese salad."
If pizza is your vice, Georgeou recommends going for a thin and crispy base.
"Just be careful of your toppings," she said. "You could get chicken and extra vegetable toppings of mushrooms, tomatoes and capsicum, which can cover 1-2 serves of vegetables.
"They also often put rocket on top, or you could ask for a side salad."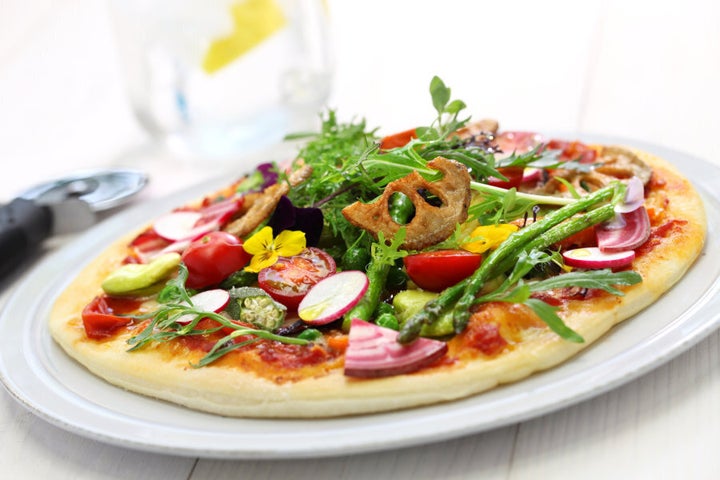 Thai
"Rather than going for a curry puff or spring rolls, go for a nice, fresh Thai beef salad. You could ask for the dressing on the side if you're conscious of the added fats," Georgeou said. "Or you can go for a meat stir fry with broccoli and ask for some added veggies to go with it."
If you're ordering a Thai green or red curry, ask for extra veggies and avoid slurping down all the coconut milk base.
"If it's a Thai green curry you might make sure you scoop out all the vegetables and meat but not have all of the coconut sauce."
Middle Eastern
Love Middle Eastern cuisine? To make it a healthier takeaway choice, bypass the kebabs and go for the falafels.
"You might have something like falafel salad with hummus, and then you could add tabbouleh salad on the side for variety. You will easily have 3-4 serves of vegetables there," Georgeou said.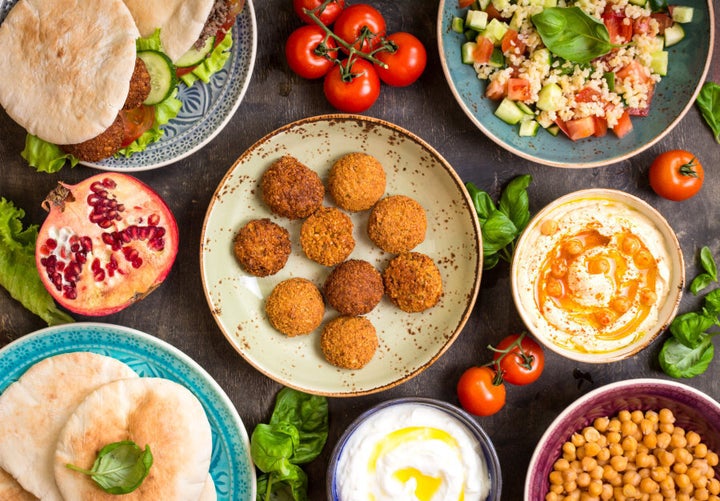 Georgeou's other tips for healthy takeaway options are:
1. Don't be afraid of sides
"Really think about how you can add those extra veggies and not to be frightened of those sides," Georgeou told HuffPost Australia. "I think that's often what we forget."
2. Take time looking at the menu
"Spend some time looking at what takeaway options are available and asking what ingredients are in that choice," Georgeou said. "This means you get your bases covered and you know how much you need to add to meet three serves."
3. Don't be afraid to ask for extra veggies
"Adding extra steamed greens or having a side salad is a really easy way of meeting your vegetable requirements," Georgeou said.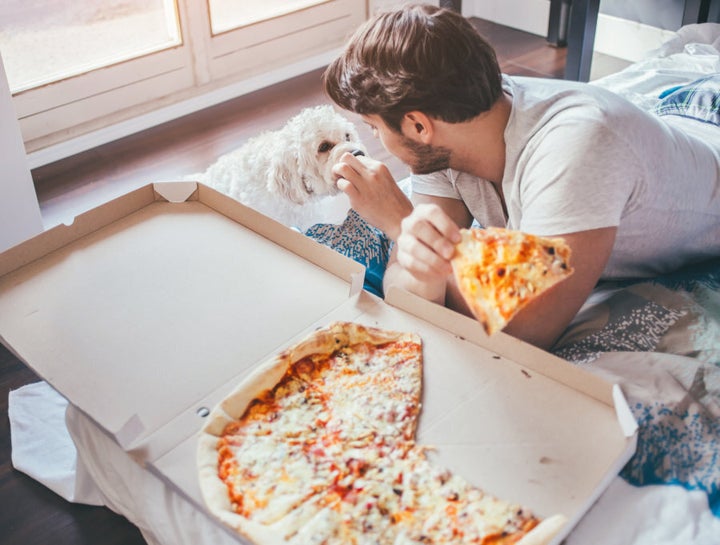 Generally speaking, the more colour a takeaway dish has the better. The vibrant, colourful choices will usually contain more fresh vegetables.
"Aim for more variety and more colour," Georgeou said.
5. Aim for a balanced meal
"You don't always have to get the five food groups in one meal, but make sure you've got protein, carbohydrates and good fats. Then you will get that slow release of energy," Georgeou said.