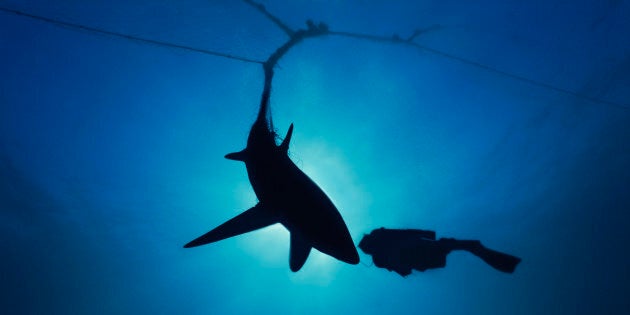 Conservation group World Wildlife Fund Australia is the proud owner of a $100,00 Great Barrier Reef shark-fishing licence so it can be retired forever.
The Queensland Government allocates five N4 licences that allow a 1.2km net to trawl the Great Barrier Reef for sharks and other by-catch.
"It's a new approach to conservation," Llewellyn said.
"This is an opportunity for people to help stop a massive 1.2km long net from sitting in reef waters and indiscriminately killing almost everything that swims into it.
"These enormous nets kill tens of thousands of juvenile sharks each year, including hammerheads which are listed internationally as endangered."
Why would you want to catch sharks?

Well, to eat them.

While you may never order the black-tip reef shark steaks or a wobbegong burger, whenever you order flake at the local fish and chip shop, it's shark.

Yes flake = shark.

Initially, flake was a name given to mud-dwelling gummy sharks but there's no rules about which shark can and cannot be named 'flake' and there's speculation more than a dozen sharks are sold under the name, including some that can not be legally fished like school sharks.
A charitable organisaiton like WWF Australia cannot simply purchase a $100,000 licence and continue to operate, so they've launched a fundraising campaign to recoup the costs. The campaign launched Thursday and within a few hours, had raised $1400.
Llewellyn said bycatch was a big concern for any net fishing estimating this one net would kill many animals along with sharks.
"This will save at least 10,000 sharks each year, prevent dugongs, turtles and dolphins being killed as by-catch, and help the reef heal after the worst coral bleaching in its history," Llewellyn said.
A Fisheries Queensland spokesperson said there were 115 commercial authorities licensed to catch commercial quantities of shark.
"Fishing commercially for sharks in Queensland is heavily regulated to ensure sustainability," the spokesperson said.