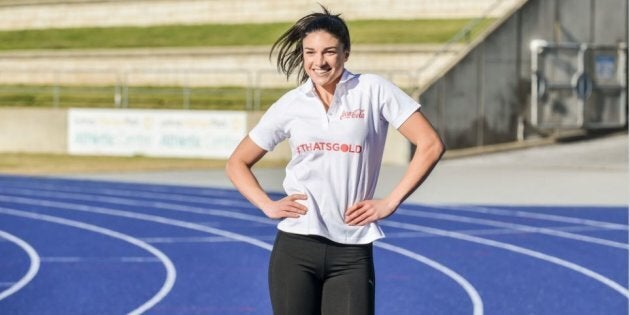 Public figures don't always meet your expectations when you talk to them in person. Funny people can be unfunny. Tough guys can be soft as pandas. Good guys can be grumps.
But Michelle Jenneke was just as The Huffington Post Australia expected. In a word: bubbly.
Jenneke is the hurdler who's famous for her jiggly pre-race warm-ups. Here's the moment at the World Junior Athletics Championships at Barcelona in 2012 where her antics first attracted the world's attention.
For the record, Jenneke won that race in Barcelona (her heat), then finished fifth in the final. She's sliced nearly a second of her best time since then, and with defending Olympic champion Sally Pearson out of Rio due to injury, Jenneke is now our main hope in the 100m hurdles.
She can run and dance, this we know. But can Michelle Jenneke samba? This was just one of the questions we asked when we caught up this week. As ever, we started with the silly question about native wildlife which we've been asking athletes all year...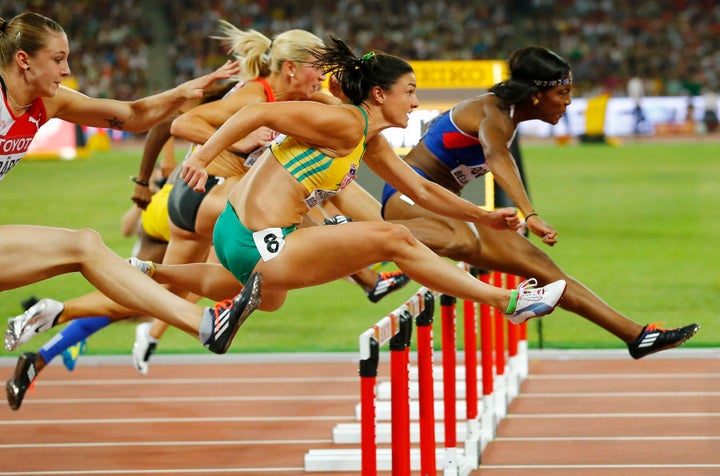 Ant: Hi Michelle. We ask the big questions here. Here goes. Who would win a fight between a kangaroo and an emu?
Michelle: I'm going to have to go with the kangaroo. They are such strong and powerful animals. The boxing kangaroo is one of our Olympic mascots so I'll have to go there.
Ant: Actually there's a touch of jiggling Jenneke about the boxing kangaroo, isn't there?
Michelle: There is, yeah.
Ant: We don't want to make this whole interview about the dance, but people are fascinated by it. I've often wondered if you have to do it now because you're the kid in the playground with a special trick and everyone wants you to do that trick. Or is it actually still part of your routine?
Michelle: Yeah it's something I do as part of my routine. It's just something I do to get me into the right frame of my mind and go out there and race well. Sometimes it is about the crowd, but when I'm on the start line doing it, I'm mostly just thinking about the environment and the race I've got ahead of me.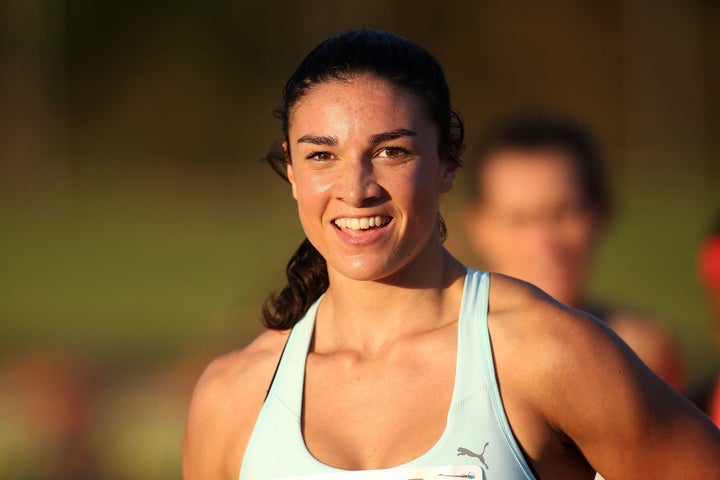 Ant: Your dance moves are pretty polished. I believe you actually trained in dance for 10 years, right?
Michelle: I did jazz, tap and ballet.
Ant: Wow. But no samba? You're heading to Rio, after all. I think the crowd would go wild if you did a samba on the start line.
Michelle: I've never attempted one.
Ant: You've still got two weeks to practise.
Michelle: I'm sure it would go down very well. I'll be sticking around until the closing ceremony after my event so maybe then.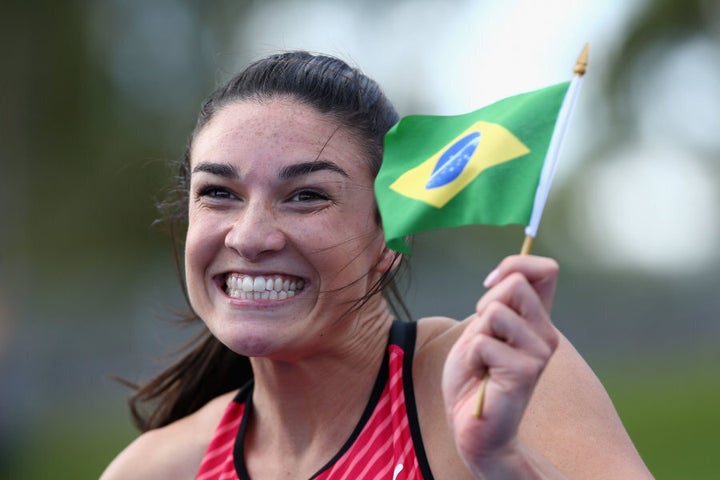 Ant: Speaking of your event, you've got a best time of 12.82. Sally won in London in 12.35 so I guess you'll need to pick up half a second or so to win in Rio. Have you got that sort of improvement in you?
Michelle: I'll probably need to run a PB or very close to one to make the final. But I'm in pretty good condition right now. I'm really feeling very confident about my athletics. Everything seems to be improving. I've just got to put it all together into a solid race.
Ant: I understand you're studying mechatronics away from the track. What is that? It sounds like designing evil robots that are going to take over the world. Am I close?
Michelle: Yeah, that's close.
Ant: Ha! So help me out here.
Michelle: Mechatronics is a combination of mechanical and electrical engineering with some software design thrown in. It's pretty interesting.
Ant: I bet it is. Maybe you could invent some hurdles that pop back up after you knock them over? Michelle: Hmmm, not a bad idea. Could be expensive, though.
Ant: When do you finish your studies?
Michelle: I've still got a few more years. I'm doing it part time because of the demands of athletics.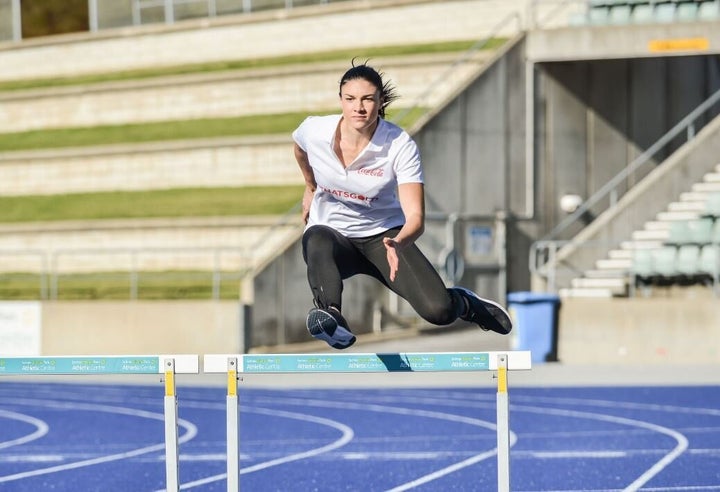 Ant: Which we totally understand. Hey one thing I wanted to ask you before we let you go was about the time you worked in the orphanage school in Tanzania for three months. What was the best thing about that?
Michelle: The hugs. Every day I'd come into the school and the kids would come up and be so happy to see me and so happy I was there helping look after them.
Ant: Love it. Your whole persona is so bubbly. Is there ever a time you're not bubbly?
Michelle: I try to be pretty bubbly and happy in most of my life. I enjoy most of what I do and try to find the best in everything.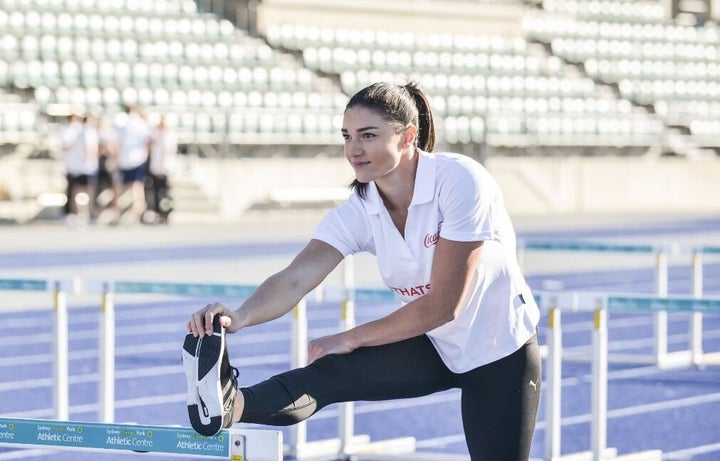 Ant: And right now I understand you're the ambassador for a somewhat bubbly brand. I speak of Coca-Cola who have got a campaign called #ThatsGold that celebrates some of the greatest Olympic moments. It's amazing seeing you front and centre of a global campaign like this.
Michelle: It's all about sharing the golden moments and creating golden memories.
Ant: Well we hope you create a few in Rio, Michelle. Thanks for talking to The Huffington Post Australia.