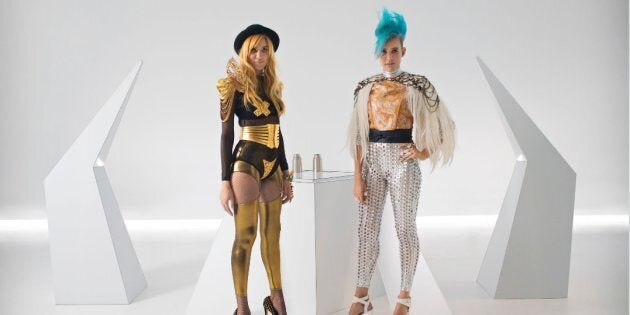 Teenagers of the world, listen up -- if futuristic touch screen computers, laser shows, android DJs and a funky new-age party gets your heart beating a little faster, Aussie DJ duo NERVO and eight top universities have a message for you.
You might want to be an engineer, even if you don't know it yet.
The 29-year-old singer-songwriters and sound engineers Miriam Nervo and Olivia Nervo launched the video clip for 'People Grinnin' on Friday as part of the 'Made By Me' collaboration between the University of New South Wales, the University of Wollongong, the University of Western Australia, the University of Queensland, Monash University, the University of Melbourne, the Australian National University and the University of Adelaide together with Engineers Australia.
The initiative looks to challenge stereotypes by showing how engineering can be the driving force for everyday technologies and how women can enter the typically male-dominated industry.
Alexandra Bannigan, UNSW Women in Engineering manger and 'Made By Me' spokesperson, told The Huffington Post Australia that attracting women to engineering is a priority for the future of the industry.
"Getting women into engineering is a priority all around the country at universities and in industry. It's something that everybody's trying to achieve," she said.
"Our main goal is to increase the interest of young women in engineering and we've tried to make [the initiative] very inclusive so that it's not going to alienate young men, but we want to get the attention of students who didn't have engineering on their radar at all."
In 2015, the University of New South Wales set a goal to raise female representation among students, staff and researchers to 30 percent by 2020 with 23 percent of UNSW engineering students currently being female.
The 'Made By Me' initiative looks to change the way young people see engineering by joining NERVO's music video with online advertising, a social media push, a website detailing engineering stories behind the video and links to information on career sites.
"We wanted to show that engineering was behind every day objects and so the concept of these women in the labs creating android versions of NERVO arose," Bannigan said.
"What we're trying to show is if a young person has an interest or an aptitude in maths or science, there are so many different types of jobs that have an impact on the world that they could end up doing."
Bannigan told HuffPost Australia that the response to the video among young people and collaboration so far has been positive and shows how technology is important in redefining ideas about engineering.