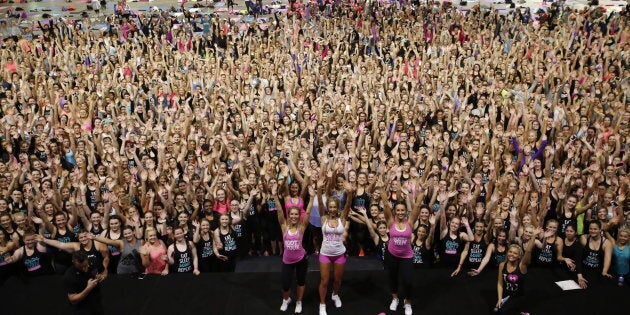 It's normally the precinct for basketball and rugby fans but on Saturday, The Dome at Olympic Park was filled with thousands of Aussie women dressed in activewear, ready to make history and set a Guinness World Record.
The attempt? Become the most people in one group doing squats for one minute by topping the current record at 375.
Sounds er, fun? But there's more to it than excruciating butt pain.
The 2,500 women in attendance make up a small portion of Gold Coast fitness influencer, Ashy Bines' loyal following, who used the occasion to launch her World Booty Tour and connect with her fans.
The celebrity trainer, who has more than 3.6 million followers on social media said the event included a high energy, fast-paced class inspired by one of her fitness programs.
"It's girls who have all done my online 28-Day Booty Challenge and it was an amazing opportunity to connect on a deeper level and have a lot of fun together," Bines told The Huffington Post Australia.
"I feel blessed that these women have chosen me. There's lots of trainers in the world and online and they've chosen me to help them on their fitness journey," Bines said.
Fans in other states can get in on the fun as Bines takes the tour nationally before heading to London, Europe, Canada and the States in 2017.
"The Booty Tour is about building that next form of connection in a large group setting, where I hope to inspire as many women as possible to move their bodies," Bines said.