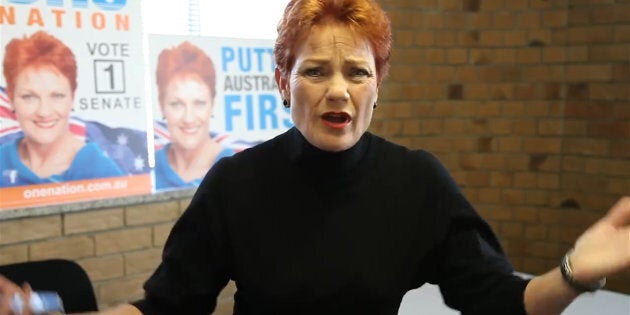 Pauline Hanson has claimed a Senate spot, and it is looking likely that two more of her One Nation colleagues will also become senators. The likely composition of the Senate will mean the government need to get nine of the forecast 10 crossbench senators to pass legislation, so the demands of One Nation will no doubt feature prominently in the next parliament.
With this in mind, a group of Australian Muslims are fact checking the party's policies, which repeatedly attack the Islamic faith and include plans for a Royal Commission into the religion, surveillance cameras in mosques and Islamic schools, to ban immigration of Muslim people and the intake of Muslim refugees, the banning of the burqa and niqab, and the banning of halal certification.
The website FactCheckOneNation.com is systematically addressing many of the claims made by One Nation and Hanson.
"I believe that the best way to tackle the misinformation and xenophobia is by throwing the truth at it. Facts over fear," said Mariam Veiszadeh, a prominent Muslim lawyer and writer, who is one of the people behind the website.
"We have sought to fact check each and every one of One Nation's policy statements on Islam and Muslims to see how they stack up. Pauline Hanson's One Nation Party has a host of policy positions on Islam and Muslims – in fact she has dedicated a whole section to it on her website. We will shortly begin fact checking our way through the rest of One Nation's policies."
Veiszadeh said the website was started to "move past the political rhetoric and divisiveness", with a group of contributors including "everyday Aussie Muslims and non-Muslims who wish to respond with facts to counter the fear."
"In a free and open democracy people are entitled to their opinions, however unsavory they might be, but politicians and people in positions of influence who occupy positions of power and responsibility must rise above divisive, inflammatory, baseless and unconstitutional rhetoric," she said.
"One Nation, exploiting populist concerns, received the biggest Senate vote after the major parties and the Greens so their supporter base needs to be engaged and not ignored. Ignorance and misinformation can be dissipated with facts."
We won't list every counter-argument made by the website to One Nation's policies -- you can check out the full website here -- but here are a few:
"Imagine that instead of banning Muslims, we banned Catholics. If you're Catholic, you can't migrate to Australia. Surely no court today will ever hold that as constitutional. This is exactly what Pauline Hanson is proposing but against another religious community. This policy aims to legislate an 'us vs them' mentality, making Muslims or anyone perceived as Muslim, them."
"The 'niqab', (which is different to the 'burqa') is worn by a tiny percentage of Australian Muslim women who exercise their free choice to wear them. Such a ban would be potentially unconstitutional as it may breach section 116 of the Australian Constitution that prevents the Commonwealth from enacting laws that prohibits the free exercise of any religion. Such a ban could also be breaching our international law obligations under the International human rights obligations under the Universal Declaration of Human Rights (UDHR)."
"One Nation's policy to ban 'companies operating in Australia from paying a Halal certification tax' is based on her concern 'that some of the monies indirectly supports terrorism'."This claim has been investigated by the relevant intelligence and law enforcement agencies in Australia and have concluded that no such links exist."
"As for providing halal to prisoners or members of the Defence Force due to religious beliefs is a human rights obligation. It is no different to someone asking for kosher meals because they are Jewish. Whether someone demands kosher, halal, vegan or vegetarian, if the request can be reasonably accommodated, it would be violation of human rights if this request was not fulfilled."
With Hanson set to appear on ABC's Q&A program on Monday night, Veiszadeh said it was an important time to check the positions of One Nation on these issues.
"I believe Islamophobia will be further normalised and embedded in our everyday political rhetoric," she said.