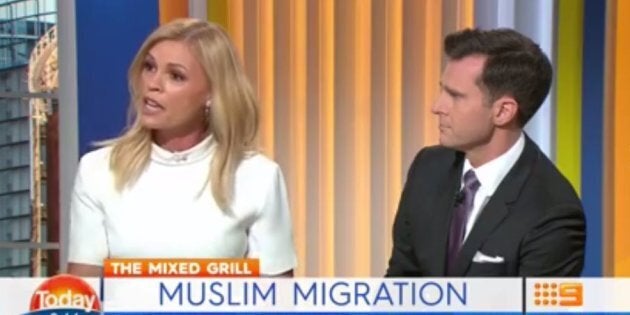 Today host Sonia Kruger has sparked outrage on Monday morning after saying Australia should close its borders to Muslims, and claimed a correlation between the numbers of Muslim people and the number of terrorist attacks.
Kruger, who hosts the mid-morning version of Today, appeared on the breakfast edition of Today with her co-host David Campbell. Speaking with host Lisa Wilkinson,editor-at-large of The Huffington Post Australia, the panel spoke about a recent article by Andrew Bolt where Bolt linked terrorist attacks to the number of Muslim immigrants.
"I think Andrew Bolt has a point, there is a correlation between the number of people who are Muslim in a country and the number of terrorist attacks," Kruger said.
She tried the old "I have a lot of very good friends who are Muslims" route, but then said "but there are fanatics".
"Personally, I would like to see it [Muslim immigration] stop now for Australia, because I want to feel safe as all of our citizens do when we go out to celebrate Australia Day," Kruger said.
Campbell protested, saying Bolt's article "breeds hate", but Kruger did not back away from her comments.
"So you're not allowed to talk about it? You're not allowed to discuss it?" she said.
"I would venture that if you spoke to the parents of those children killed in Nice then they would be of the same opinion."
Wilkinson asked if Kruger was advocating "the Donald Trump approach", referencing the Republican presidential nominee's plan to stop Muslim migration to the United States, to which Kruger said "perhaps it is".
"I think for the safety of the citizens here, I think it is important."
When Wilkinson then sought to clarify whether Kruger was saying she would like Australia's borders closed to Muslims, Kruger replied: "Yes I would."
Her comments generated outrage.
Later in the day, Kruger released a statement via Twitter defending her actions.