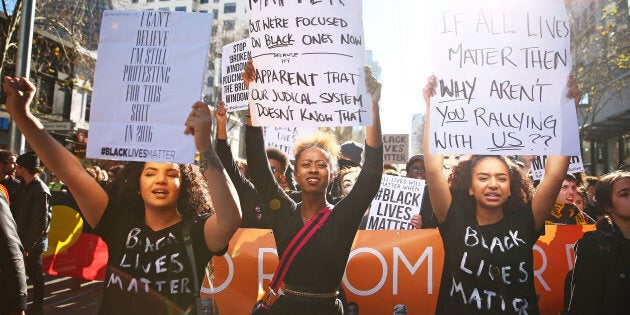 More than 1,000 people have taken to Melbourne's streets to rally against racially motivated violence in the United States.
The protest on Saturday comes after a string of deaths in the U.S. at the hands of police officers, sparking debate over the way authorities treat minorities.
Organisers of the Melbourne march told the ABC the rally was "in solidarity with our brothers and sisters across the Pacific" to show that "all lives matter".
Those in charge of the event had been hoping for 6,000 attendees but media reports put the turnout at between 1,200 and 3,500 people.
The ABC estimated the crowd at about 3,500 people.
Mounted police led the march along Swanston Street to Federation Square where the protesters staged a sit-in outside Flinders St station, according to the ABC.
Victoria Police told The Huffington Post Australia that there had been no incidents at the rally.