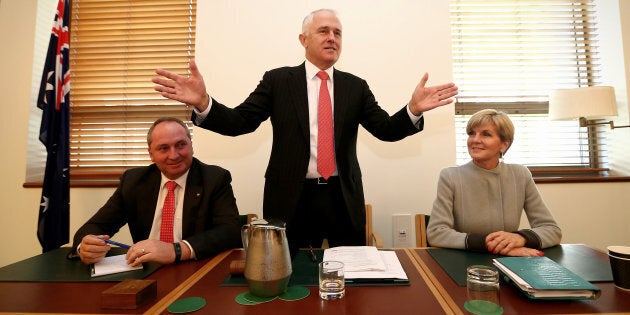 Prime Minister Malcolm Turnbull has announced his new ministry team, with his predecessor Tony Abbott still not finding a place in Cabinet and several changes for senior ministers.
The biggest moves within Cabinet include a new role for Christopher Pyne as Defence Industry Minister and Josh Frydenberg taking Greg Hunt's Environment portfolio which has been renamed the Environment and Energy portfolio. Hunt has been moved to Pyne's former ministerial position looking after the Industry, Innovation and Energy portfolio.
Following the July 2 election, when junior ministers Wyatt Roy and Peter Hendy dumped by their electorates, Turnbull was forced to reshuffle his frontbench team. The better-than-expected performance of the Nationals, the Liberals' coalition partners, also meant the rural party deserved more spots in that ministry.
Convening his colleagues -- including 15 newly-elected members -- in Canberra on Monday for a party room meeting, Turnbull announced some shifts within cabinet along with new appointments. Here are the key moves:
Christopher Pyne has been moved to a new role of Defence Industry Minister (to work on the new defence plan). Pyne will work alongside Defence Minister Marise Payne.
Former Assistant Treasurer and Minister for Small Business Kelly O'Dwyer has also been moved to Minister for Revenue and Financial Services which Turnbull said "better describes" her responsibilities. Nationals MP Michael McCormack will take over O'Dwyer's Small Business portfolio.
Former Environment Minister Greg Hunt has been moved to hold Pyne's former Industry, Science and Innovation portfolio. Josh Frydenberg will take the Environment portfolio which has been renamed as the Environment and Energy portfolio.
New appointments to the cabinet include Senator Matthew Canavan to Minister for Resources and Northern Australia, Luke Hartleysuker to Assistant Minister to the Deputy Prime Minister and David Gillespie to Assistant Minister to for Rural Health.
Josh Frydenberg's move to a new portfolio grouping curious pairs the environment with energy, though Turnbull talked largely about renewable energy in his press conference.
Turnbull pledged 'delivery' again and again for Australians, focusing on small businesses with "every minister a minister for small business", mental health policies and implementing the defence plan outlined in the defence white paper.
"We will be judged in 2019 by the Australian people as to whether we have delivered on the plans and the programs and the investments that we have promised and set out and described in the lead-up to the election.
Earlier on Monday Turnbull told his team the campaign they fought was not about them.
"We have all fought a long campaign, a very tough campaign. In the winter, eight weeks, and you know, there's been a lot written about all of us. But this election was not about us. It's about 24 million Australians," Turnbull told his team.
"We have faced a tough campaign. Our opponents have been, as you know, unscrupulous. But we have succeeded because the Australian people have put their faith in us. All of us here in this room, to deliver them the leadership and the government they deserve," the PM continued.
"And we will work with every member of the House and the Senate. We will seek to ensure that this Parliament, every member and Senator, works together with us if they are prepared to do so, to ensure that we deliver the good government, the leadership, that Australians expect from the coalition, from the Liberal Party and the National Parties and all of us here."
Turnbull was under pressure from colleagues to promote Abbott, the man he knifed in September to claim the top job, in a bid to boost relations with the conservative wing of the Liberal party. The likes of Kevin Andrews, Eric Abetz and Peter Dutton had publicly called for the PM to give Abbott a ministry position.