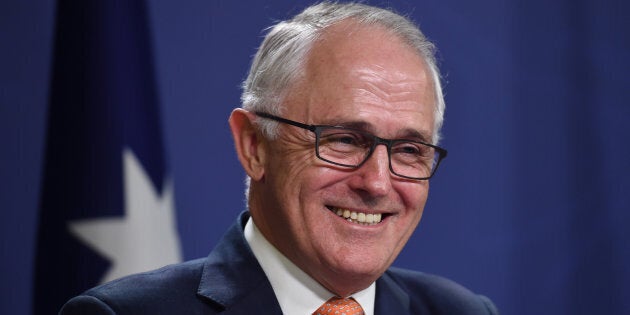 Prime Minister Malcolm Turnbull has counted fixing an "utterly failed" National Broadband Network as one of his great infrastructure deliveries in his first interview since announcing his new ministry.
Discussing everything from Mediscare to the marriage equality plebiscite on The 7:30 Report, Turnbull said the public should judge the Government on 'the delivery of the commitments we have made', which include implementing the defence plan which has launched the $50 billion submarine program.
Turnbull told Leigh Sales he was not 'unfamiliar' with delivering infrastructure projects, citing the NBN as a project he turned around in his role as Communications Minister.
"I took over an utterly failed, gigantic infrastructure project -- the NBN. I turned that around and it is now well on the way to being completed," Turnbull said.
"It will be substantially complete by the time of the next election. And that was because we had a focus, a dedication, a commitment to getting the job done. Australians expect results and that's what we'll deliver."
However the NBN was in the top four most discussed topics on Reddit in the final election week. And Turnbull's claim didn't exactly win over viewers on Monday night.
The Coalition changed a Labor-introduced NBN scheme when they took Government in 2013. They changed the 'fibre to the premises' infrastructure (which was more expensive, but would have provided a faster broadband speed) to a 'fibre to the node' infrastructure.
The NBN -- which currently employs 8,000 people -- is currently scheduled for completion in 2020.
Three quarters of the eight million Australian homes that can get the NBN will have it by June 2018. This is the 'substantially complete' part Turnbull referenced.
Turnbull has delivered faster, but the delivery will be a slower broadband service of 25 megabits per second (to Labor's one gigabit per second).
On the other hand, delivering a marriage equality plebiscite will occur within the year, which Turnbull said will be introduced "as soon as practicable".
"If it is not held in the latter half of this year -- and recognising that parliament will be sitting for the first time on August 30 -- then it would be held early next year," Turnbull said on the program.
The Prime Minister would not be drawn on a smaller time frame or claims he donated $1 million to the Liberal Party, although he was more than happy to talk about the Labor Party's 'Mediscare' campaign, calling it an "outrageous falsehood".
When asked whether truth in advertising laws would be covered in political advertising following the election, Turnbull said a number of issues "associated with the election" would be looked at.
"The Labor Party came close to winning this election based on a shocking lie," Turnbull said.
Turnbull continued in this vein until Sales eventually had to cut off the Prime Minister, saying she'd "stretched the friendship enormously with producers out the back".