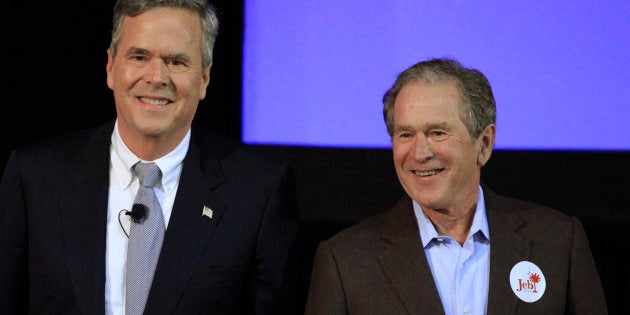 Republicans will gather this week in Cleveland to officially choose Donald Trump as their nominee. But many of the party's most prominent members will be missing.
Four of the last five men nominated for president by the Republican party ― George H.W. Bush, George W. Bush, John McCain and Mitt Romney ― will skip the event. (Bob Dole, the party's nominee in 1996, will attend.)
Traditionally, politicians scramble to earn speaking slots at their party's convention, which puts them in front of a national audience and can introduce rising stars to the country. In 2004, Barack Obama's keynote address at the Democratic National Convention catapulted the then-state senator into the national spotlight.
But this year, with a toxic nominee who seems more interested in himself than the GOP, many high-profile Republicans are running away from the convention and from Trump.
Romney has unequivocally spoken out against him, calling Trump "phony" and a "fraud." And despite signing a pledge to support the eventual GOP nominee, several of Trump's formal rivals ― Former Florida Gov. Jeb Bush, Ohio Gov. John Kasich and Sen. Lindsey Graham (S.C.) ― have refused to back Trump and won't attend.
Former House Speaker Newt Gingrich (Ga.) on Monday criticized the Bushes for skipping the convention, saying they needed to "get over" the fact that Trump had beaten Jeb Bush.
"The reason people nominated Donald Trump is because they weren't happy and, frankly, I think the Bushes are behaving childishly," Gingrich said on Good Morning America. "Jeb lost. Get over it."
Those who will speak at the RNC include Trump's children, New Jersey Gov. Chris Christie and Wisconsin Gov. Scott Walker. It's a list made up of mostly white men.
As of Wednesday, 32 Senate Republicans planned to attend, while 18 planned to skip, according to a count by The Hill. Four ― Sens. Thad Cochran (Miss.), Rand Paul (Ky.), Jim Risch (Idaho) and John Thune (S.D.) ― are undecided.
Nebraska Sen. Ben Sasse doesn't plan on attending and hasn't exactly been discreet about his disdain for Trump.
"Sen. Sasse will not be attending the convention and will instead take his kids to watch some dumpster fires across the state, all of which enjoy more popularity than the current front-runners," his spokesman told The Hill.
Sheldon Adelson, a GOP megadonor, won't be at the convention either.
Some aren't attending because they're locked in close re-election battles and would rather spend the time campaigning. In that group are Sens. Marco Rubio (Fla.), Kelly Ayotte (N.H), Ron Johnson (Wis.) and Mark Kirk (Ill.). Kirk has also rescinded his endorsement of Trump and run ads against him.
Sen. Jeff Flake (Ariz.), another Trump holdout and vocal Trump critic, didn't even try to come up with a good excuse for why he wouldn't attend.
"I've got to mow my lawn," Flake told the AP.
CORRECTION: An earlier version of this post said Ohio Sen. Rob Portman didn't plan to attend the convention. Although Portman had indicated he wasn't sure whether he would attend, he did show up.
Editor's note: Donald Trump regularly incites political violence and is a serial liar, rampant xenophobe, racist, misogynist and birther who has repeatedly pledged to ban all Muslims ― 1.6 billion members of an entire religion ― from entering the U.S.