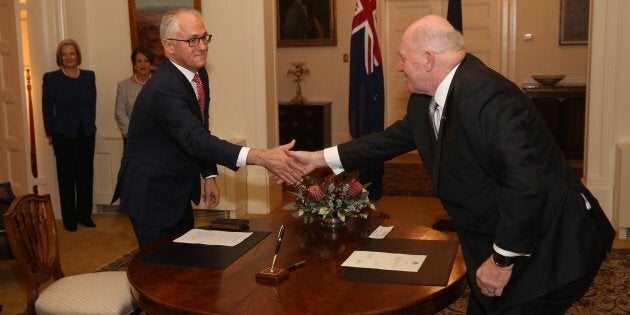 Now 17 days from the July 2 election date, we are still waiting for the final official results from the poll. Only 18 seats have been officially declared by the AEC -- that's just over one per day since the election -- but, of course, the Coalition has claimed victory. But where are we, officially, when it comes to the numbers themselves?
The AEC's tally room website gives a good detailed breakdown of the seats, which have been declared and which are still not official. As of 9.45am on Tuesday, just 18 have officially been given a winner; Aston, Curtin, Deakin, Kooyong and Wannon for the Liberals; Bass, Brand, Bruce, Calwell, Corio, Franklin, Hotham, Isaacs, McEwen and Scullin for Labor; and Gippsland, Mallee and New England, for the Nationals.
We should add one more to that list, with the Greens conceding the Victorian seat of Batman overnight, and Labor MP David Feeney claiming victory.
On the final makeup of the parliament, we're almost there. The Coalition will claim at least 75 seats, giving them enough to claim government, with Labor now on 67. Adam Bandt (Greens), Rebekha Sharkie (Nick Xenophon Team), Bob Katter, Andrew Wilkie and Cath McGowan will also get in; so that leaves just one seat currently in doubt, the literally-too-close-to-call Herbert, and it will be an important one. With only 75 seats, the government has the smallest number possible to claim government, so they'd be far more comfortable with 76 instead.
As Bob Katter said, when announcing he would support the government in the event of a hung parliament, "you try running a government with one vote up your sleeve."
"Don't have your mother die because you can't go to the funeral, don't go to the bathroom... You take the risk of what happened to Julia Gillard -- you are flying on a couple of votes, even a little nobody like me can knock you out of the ball game," Katter said.
As we reported yesterday, the current margin in Herbert between sitting Liberal MP Ewen Jones and Labor challenger Cathy O'Toole is just eight votes. Not eighty. Not eight hundred. Eight. Herbert is headed to a recount, so it will be some time before we know whether the government has 75 or 76 seats in the house.
In other news, despite the knife-edge win for the government, they are celebrating. Malcolm Turnbull announced his new ministry on Monday, and the new team was officially sworn in by Governor-General Peter Cosgrove on Tuesday -- no mucking around, straight into it.
Most of his team kept their old jobs, but a few Coalition members either got new jobs -- Christopher Pyne into a newly-created Defence Industry role, Josh Frydenberg becoming Environment Minister, Hunt moving to Industry, Innovation and Energy -- or were promoted into the ministry.