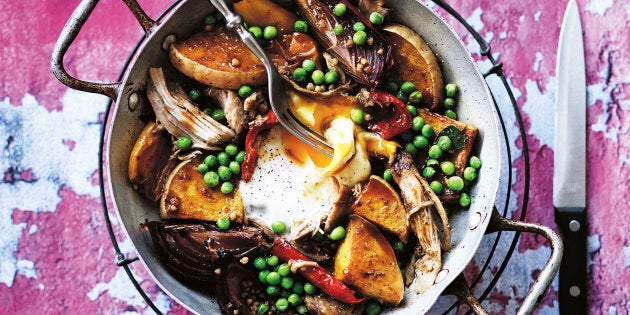 Most of us would admit that we throw out A LOT of leftover food and scraps every week. Maybe it's that spag bol at the back of your fridge which you forgot about, or the sweet potato that kinda looks funky but might be fine, or the leaves of celery that we think doesn't have any use.
Reusing leftovers and food scraps is safe and can be incredibly delicious, not to mention it reduces waste (and the money spent on food).
To get some tips and recipes for reusing leftovers and food scraps, The Huffington Post Australia spoke to Sarah Wilson, best-selling author, founder of I Quit Sugar and self-confessed passionate crusader against food wastage.
"Consumers are the biggest contributors to food wastage. Not restaurants, not supermarkets -- consumers," Wilson told HuffPost Australia. "For every five bags of groceries we buy, we throw out one.
"Here are a few of my tips to reduce food waste."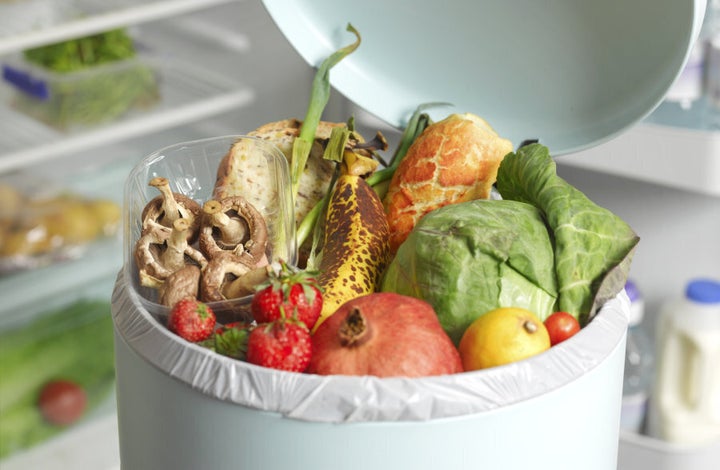 1. Pack up your scraps as you go
"I keep all the peels, leaves, stalks, offcuts, bones and other leftovers in bags or containers, ready to turn into stocks, smoothies and pestos," Wilson said.
"If I don't have time to make something straight away, I whack the bags in the freezer."
To make a simple stock, place all the food scraps in a slow cooker or pot with water, bring to a heavy boil and them simmer for eight hours.
2. Buy 'ugly' vegetables
Supermarkets around the world are very picky when it comes to the appearance of fruit and vegetables. If they aren't the 'perfect' shape, they are often not accepted to grace the shelves. However, in recent months a few supermarket chains have introduced 'ugly' vegetables, giving shoppers the choice to buy the misshapen -- yet perfectly good -- produce.
"Look for imperfect vegetables that would otherwise be thrown out as they are usually cheaper -- though no less nutritious -- than their 'perfect' peers," Wilson said.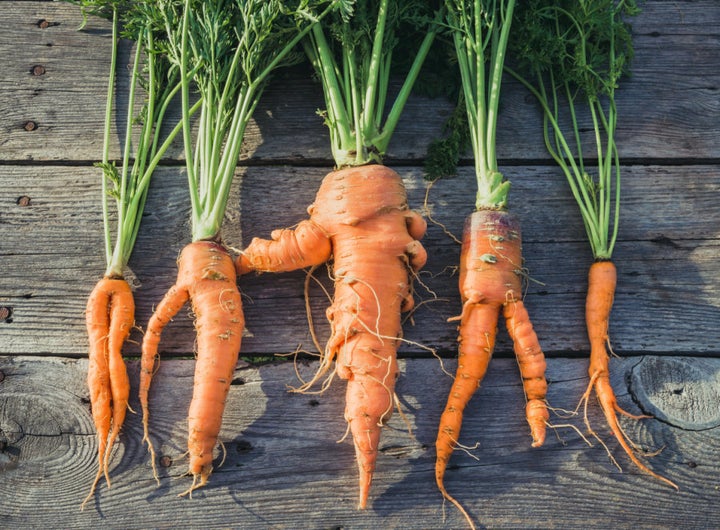 3. Get scraping
"Scrape the leftover chicken bones off everyone's plates at a dinner party or when you have friends over and pop them straight into a stock pot or slow cooker as the base of a chicken stock," Wilson said.
"Don't be afraid of this -- you then boil them to bits."
4. Keep an eye out for foods past their 'best before' dates
"Best before dates (as opposed to use by dates) give an indication of when it's best to eat, not when it expires.
"Buy meats at a discounted price and freeze them. I do. Just ensure you consume within 2-3 months."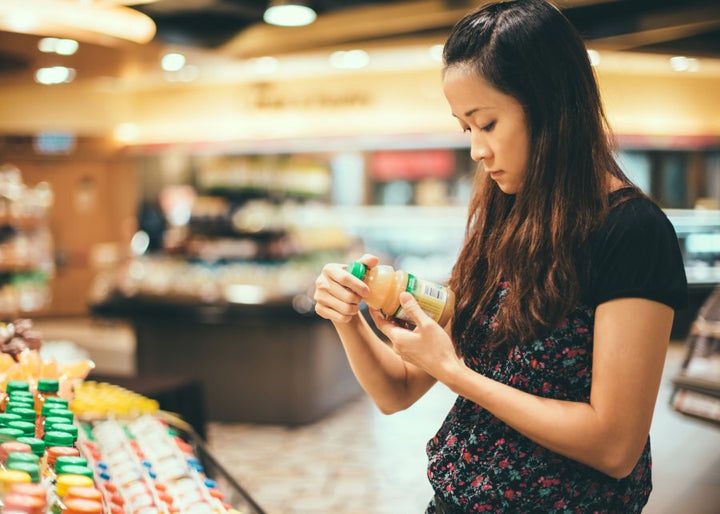 5. Save leaves
Made soup or juice and have leftover celery leaves? Instead of throwing them out, save them and use in salads, stocks and pesto.
"Beetroot leaves can be cooked like kale and celery leaves can be thrown in stocks or smoothies," Wilson said. "Fennel fronds can also be added to dishes like a herb."
6. Re-purpose leftover food and drinks
Rather than throwing out your spotty bananas or the last few scoops of curry or roast veggies, re-purpose your scraps using these easy, quick and delicious recipes.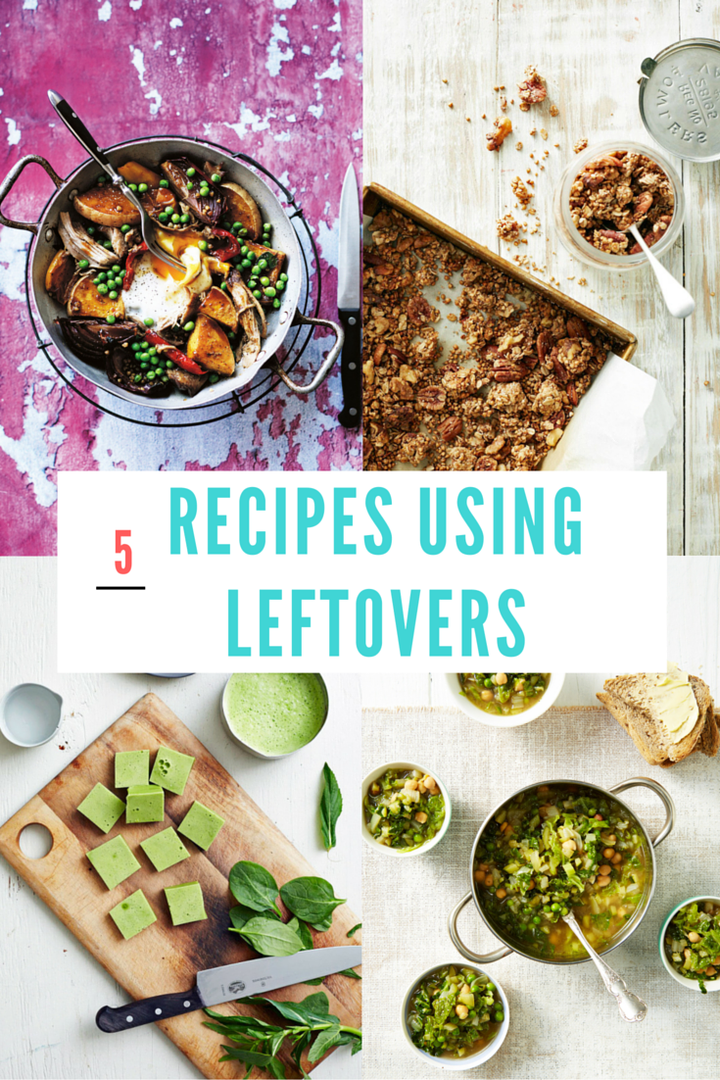 1. Last night's dinner with an egg stuck in it
By Sarah Wilson from Simplicious.
"I call it 'doggie bag dinner the next day' or 'repurposed stew''," Wilson said. "The idea entails putting a leftover meal in a pan -- it can be a whole meal (chopped up), a soup, a pasta or a stew -- adding a dash of broth and sticking an egg in the middle of it."
Preparation time: five minutes.
Cooking time: five minutes.
3 cups leftover dinner (chop up anything that doesn't have a goopy consistency)
¼ cup homemade stock or 2-3 frozen stock cubes
1 egg
A good glug of olive oil
Sea salt
1. Heat the leftovers in a skillet or a small saucepan with a little stock.
2. Once hot and bubbling, create a divot in the middle of the mixture and crack in your egg. Cover (with a plate or lid), then reduce the heat and cook until the egg is set. Remove from the heat, pour over the olive oil and season with salt.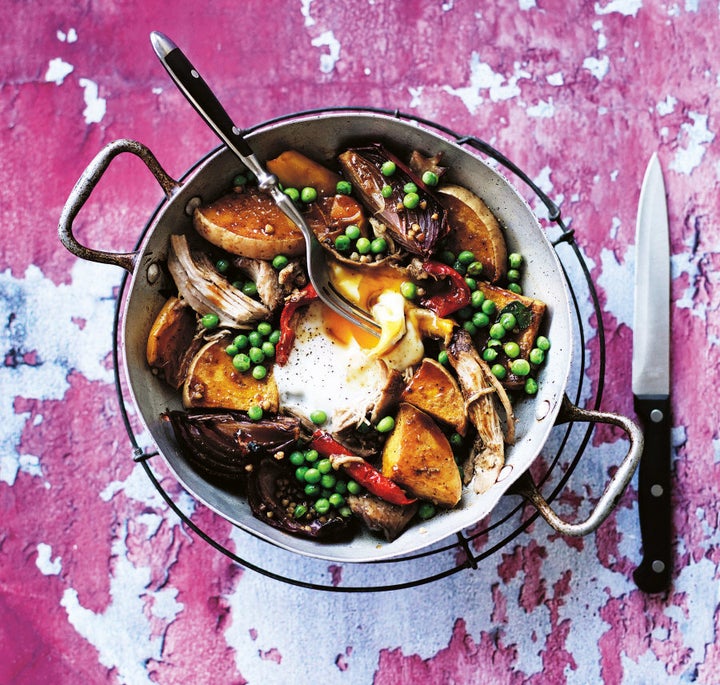 2. Green smoothie detox gummies
By I Quit Sugar from The Mini Book of Gut Lovin' Gummies eBook.
If you've made too big a glass of green (or any other type of) smoothie, you can easily make smoothie gummies to snack on for the rest of the week.
"These waste-friendly gummies take care of that problem and make a great afternoon snack," Wilson said.
Preparation time: 10 minutes.
Cooking time: 10 minutes.
3½ tablespoons I Quit Sugar Gut Lovin' Gelatin powder
1½ cups green smoothie of your choice
½ teaspoon green powder such as spirulina
1. Dissolve the gelatin in ⅓ cup of cold water and let it sit for five minutes until it has become gel-like.
2. Heat the green smoothie in a saucepan until warm. Remove from the heat and stir in the gelatin and green powder until it has dissolved. Pour into 10x15cm glass or plastic container. Refrigerate for one hour, then cut into squares. Store in the fridge in an airtight container for up to a week.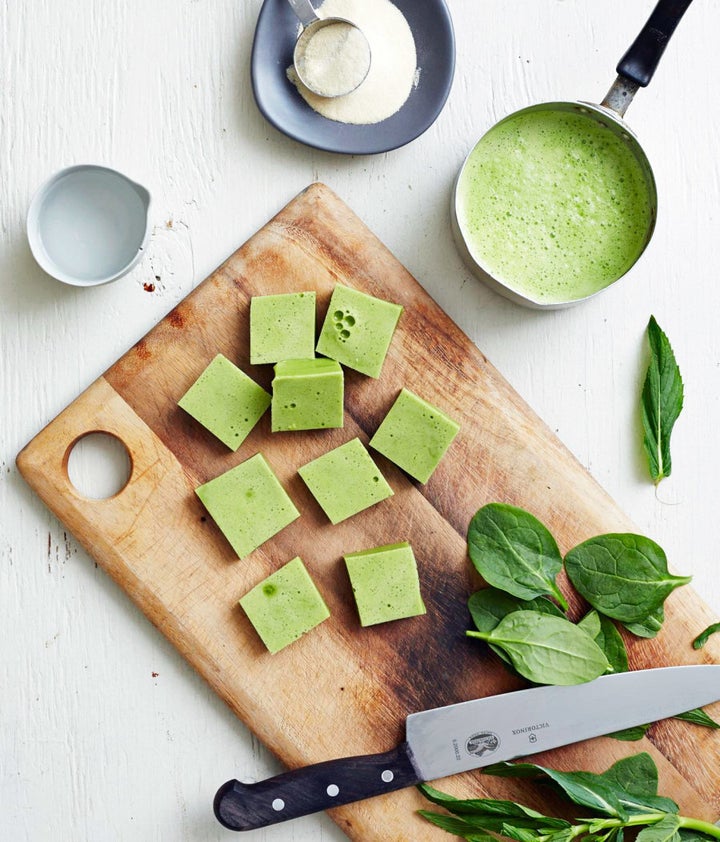 By I Quit Sugar from I Quit Sugar Slow Cooker eBook.
At the end of the week, spuds, sweet potato, pumpkin and carrots are probably lurking at the bottom of your fridge. This spiced lamb recipe is perfect for sad veggies. As a bonus, lamb shoulder is cheap and full of flavour, making this dish extremely affordable without sacrificing flavour.
"Make this divine spiced lamb shoulder with the ease of a slow cooker," Wilson said. "The beauty of slow cooking is you can use up any leftover root veggies you have lying around to create a flavour-packed dish."
Preparation time: 10 minutes (plus overnight marinating).
Cooking time: eight hours on low heat or four hours on high heat.
1½ cm piece ginger, peeled and finely grated
6 large garlic cloves, crushed
1 tablespoon tomato paste
Juice of half a lime
2 teaspoons ground cumin
2 teaspoons smoked paprika
1 teaspoon ground coriander
1 teaspoon dried turmeric
1 teaspoon chilli flakes
1 teaspoons sea salt
2kg lamb shoulder, bone in
2 tablespoons olive oil
1½ cups water or store-bought vegetable stock
2 medium carrots, peeled, chopped into chunks
2 medium parsnips, peeled, chopped into chunks
1 red onion, cut into wedges
1 sweet potato, peeled, chopped into chunks
2-3 tablespoons arrowroot (for gluten-free and paleo) or cornflour, mixed to a paste in cold water
1 teaspoon sumac
Handful fresh coriander, finely chopped, to garnish
1. The night before: combine ginger, garlic, tomato paste, lime, spices and salt in a bowl. Score the lamb (2cm deep) several times. Place lamb in a slow cooker insert and drizzle with oil, and then rub on spice mixture to coat and get into the grooves. Cover and place the slow cooker insert in the fridge overnight to marinate.
2. In the morning: tuck the root veggies around the edges of the lamb and underneath if you need to. Pour 1½ cups water or stock into slow cooker insert to cover the base. Cover and cook on low for eight hours or high for four until meat is tender and falling off the bone, taking care not to allow slow cooker to run dry. Add ½ cup more water or stock to slow cooker throughout cooking if the water has evaporated completely (remember to increase cooking time for 20-30 minutes each time if you do this).
3. When cool enough to handle, remove lamb and root veggies from the slow cooker. Combine one tablespoon of cornflour mixed in with two tablespoons of cold water to the leftover sauce. Leave lid off and cook on high for 20 minutes until sauce thickens into gravy. Serve veggies with lamb and gravy. Garnish with fresh coriander.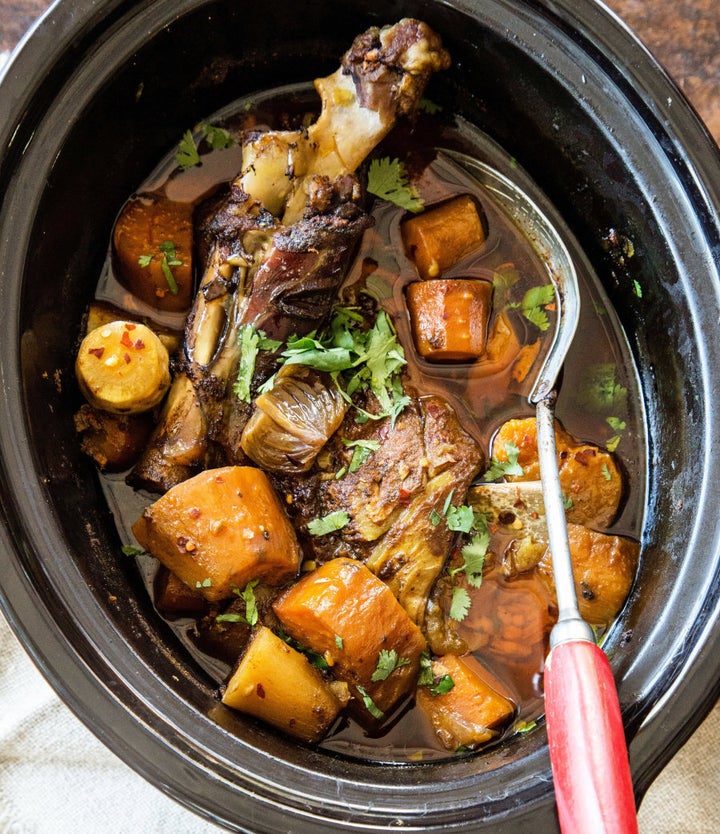 4. Chunky monkey banana bread granola
By I Quit Sugar from Healthy Breakfast Cookbook.
If you've got a bowl of spotty, overripe bananas at home and you fancy a cafe style brekky, make a batch of this banana bread granola filled with almond butter, nuts and cinnamon.
"You can of course use up other leftover nut butters, spices or nuts that you have in the pantry, as long as you keep the ratios the same," Wilson said.
Preparation time: five minutes.
Cooking time: 20 minutes.
1 cup rolled oats
1 cup pecans
1 cup buckwheat groats
1 cup walnuts
2 tablespoons chia seeds
1 teaspoon cinnamon
1 teaspoon vanilla powder
¼ teaspoon salt
¼ cup almond butter
1 large ripe banana, mashed (about ½ cup)
¼ cup coconut oil
1. Preheat the oven to 180ºC (350ºF or gas mark 4) and line a large baking tray with baking paper.
2. Add all ingredients to a large mixing bowl. Using a wooden spoon, mix all ingredients until everything is nicely coated. Scoop onto the prepared baking tray and roughly flatten out. You still want to leave a few large chunky pieces.
3. Place in the oven and cook for 20 minutes, turning halfway. Once nicely browned, remove granola from the oven and allow to cook completely -- this will make your clusters hold together better.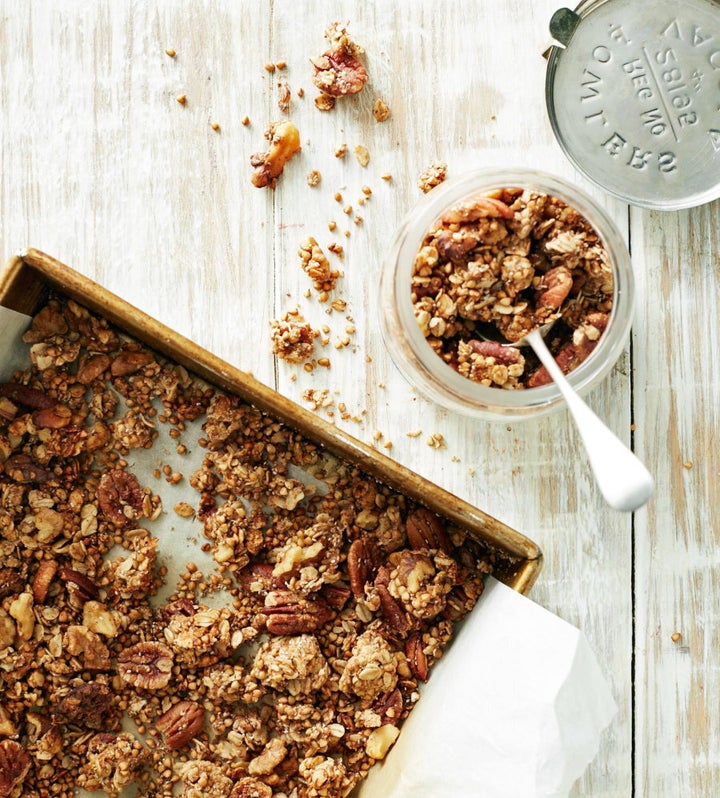 5. Green minestrone
From I Quit Sugar One Pot Wonders eBook.
This soup recipe is great for when you've got a bunch of zucchinis, celery, spinach or cabbage in your fridge. It takes less than an hour to make from chopping board to bowl and is one of the best meals for cold nights.
"We harp on about the importance of greens and this minestrone dish certainly delivers," Wilson said. "Chuck in any other greens that are looking a little limp in your fridge to transform them into a tasty meal."
Preparation time: 10 minutes.
Cooking time: 40 minutes.
2 tablespoons coconut oil
1 onion, finely chopped
3 garlic cloves, minced
3 celery stalks, diced
2 zucchinis, finely chopped
1 litre homemade chicken, vegetable or store-bought stock
400g can chickpeas, drained and rinsed
1 teaspoon dried thyme
1 teaspoon dried basil
Sea salt and pepper, to taste
2 cups Savoy cabbage, shredded
1 cup frozen peas
Sourdough or gluten-free bread, to serve (optional)
1. Heat oil in a large pot and add onion, garlic, celery and zucchini and sauté until tender -- about 10-15 minutes.
2. Add the stock, chickpeas, herbs, salt and pepper, and simmer for 15 minutes. Add cabbage and peas, and continue simmering for a further 10 minutes. Serve soup straight from the pot with a slice of bread, if you like.