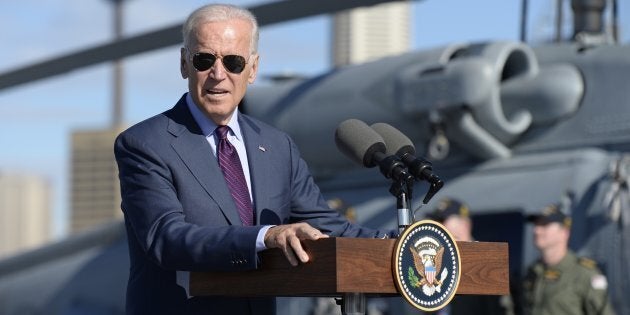 U.S. Vice President Joe Biden left some none-too-subtle hints that America would intervene in the South China Sea dispute if needed, and potentially laid the groundwork for a request that Australia join the fray also.
Biden's speech at Sydney's Paddington Town Hall was the centrepiece of a whirlwind Australian visit, where he focused on emphasising the U.S.-Australia alliance and relationship, as well as hinting at greater American involvement in the Pacific and the disputed South China Sea.
"We are not going anywhere. And that is vital because our presence in the region... is essential to maintaining peace and stability, without which the economic growth and prosperity I believe would falter," Biden told a packed hall.
"America is the lynchpin and we want to ensure the seas are secure, the skies remain open. That is how to maintain the free flow of commerce, that is the life-blood of this region. This the only way our nations will be able to grow and succeed together."
The South China Sea -- a zone bordered by China, Vietnam, the Philippines and Malaysia -- is a vitally important global trade route, with $5 trillion of cargo passing through each year, and is also thought to hold rich deposits of petroleum and resources below its surface. It has become a disputed area as China claimed it had historic rights over areas of the sea, laying claim to its resources and building artificial islands.
The International Court in The Hague ruled last week that China has no legal claim to historic rights in the South China Sea, a judgement China has flatly rejected. It is feared that arguments over the region could lead to conflict in the Pacific, which would likely draw in the U.S. and Australia.
Biden did not explicitly reference the South China Sea dispute, but raised his hopes to strengthen alliances and increase co-operation with Asian nations including the Philippines, Japan and Korea, as well as mentioning that he had discussed American involvement in the Pacific with Chinese president Xi Jinping, making it clear that "we are a Pacific nation. That is who we are. And we will maintain that posture, as long as we exist". Biden also spoke at length about the military power that his country would dedicate to the region.
"Anyone who questions America's dedication and staying power in the Asia-Pacific simply is not paying attention. Our commitment to our military strength is unparalleled. We continue to outpace our competitors spending more on our overall defence than the next eight nations in the world combined. We have the most capable ground forces in the world and unmatched ability to project naval and air power to any and every corner of the globe, and simultaneously," he said.
"We've committed to put over 60 percent of our fleet and our most advanced military capabilities in the Pacific by 2020. At the same time, we are stronger and more effective when we were side by side with our closest and most partners -- trusted partners. With those nations who their our interest, our concerns and our commitment to upholding a rules based international order, that means as we continue to address the full range of persistent challenges in the immediate threats to our shared security, the United States has kept and will keep a laser focus on the future in the Asia-Pacific."
As former Prime Ministers Bob Hawke, Tony Abbott and John Howard watched on, Biden spoke fondly of the relationship and history between Australia and the U.S.
"Over the years fighting side by side, over 65 years of a formal alliance although every testing - through every testing we faced as a nation, Australians an Americans have built an unsurpassed partnership. Our people joined in easy mateship, a history that forged the foundations of our alliance in iron, and baptised it in blood," Biden said.
"I am here because that partnership is a living connection between our two countries. As vital in this current era of change and uncertainty as it was a century ago in the trenches of World War I, as it was 75 years ago when together we defeated the forces of fascism, our alliance has been shaped by progress of our shared home in the Asia-Pacific and it's been for decades."
In a nod to the current presidential election campaign in his home country, where Donald Trump was officially endorsed as Republican candidate just hours previously, Biden spoke of overcoming racism and discrimination.
"Ours is a partnership that reminds us of what is best in ourselves. Even as we acknowledge that as nations we not always lived up to our best values. Most nations have characters strengthened by generation of courageous immigrants who arrived from somewhere else but their spirit and energy sustains and has sustained us and renewed us as nations, since our founding," he said.
"Both our nations, America and Australia continue to grapple with the legacies of racism and exclusion that shapes some of our past which still leaves behinds too many citizens. But we strive to overcome. We seek change."