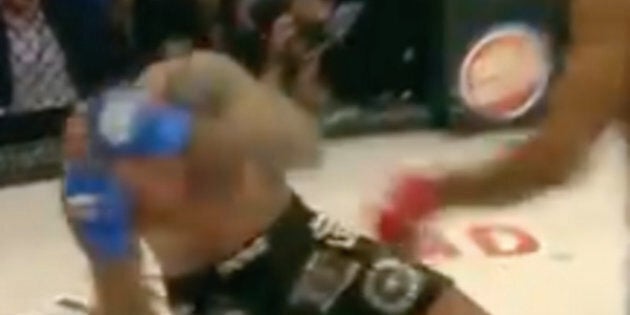 Evangelista "Cyborg" Santos suffered a head injury so severe during a Bellator MMA bout in London Saturday night, the 38-year-old fighter's ex-wife asked for prayers and financial help on social media.
In an Instagram post on Sunday, fighter Cris "Cyborg" Justino referred readers to a GoFundMe page for Santos.
"[There] is worry the brain can continue to swell causing more damage," she wrote.
By Monday afternoon, donations had surpassed $19,000. Santos told MMA Fighting that he will undergo surgery in the United States.
Fighter Michael Page delivered a flying knee strike that literally crushed Santos' skull in the welterweight match, causing a compound fracture, Justino wrote.
Please note that the following images may be difficult to view:
Here's the blow (at the 11:20 mark). Again, the images can be upsetting.