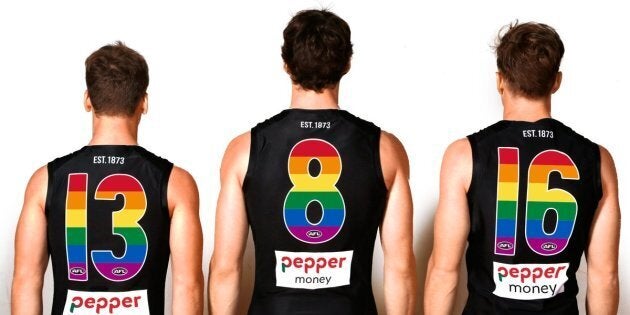 A game-changing match of footy is set to make history as St Kilda Football Club host the AFL's inaugural "Pride Game" when they meet the Sydney Swans in Round 21.
The game, scheduled to take place on August 13, aims to raise an important conversation around inclusion while celebrating the AFL community's LGBTQI fans, players and staff.
St Kilda players will wear guernseys with rainbow-filled numbers, the Swans, rainbow-coloured socks and goal umpires will use rainbow flags.
"It doesn't matter about your background, your gender, what culture you come from, your ethnicity or your sexual identity. You're welcome to experience and celebrate this game," Evans said.
Jason Ball, the first Australian Rules player to come out as gay in 2012 joined Evans at the official launch and said he believed the round will have a profound impact.
"My hope is that this is the start of a journey and the dam wall will break. And that we are going to see a closer relationship between the AFL and the LGBTQI community," Ball said.
Ball said there's a lot of reasons to make players who might be gay feel like it's going to be OK to be who they are and be open about that. Not only for the players themselves, but for the flow-on effect that will have in the community.
"It's about understanding that being gay doesn't put you in a box. You can still be anyone, you can still be an AFL footballer. It's really going to change lives," Ball said.