A robot for cancer patients, an app that speaks to vision-impaired people and a program to encourage teenage girls to become entrepreneurs are among the winners of a $300,000 prize pool in the inaugural Future Makers Competition.
Spearheaded by Optus in partnership with the Foundation of Young Australians, more than 200 entrepreneurs submitted their ideas and 11 finalists pitched their ideas in just three minutes to an expert judging panel in Sydney.
Each submission had to focus on helping young Aussies aged 4 to 26 who may live in poverty, have health issues or experience other disadvantages, and each pitch had to explain their idea, its progress, how it will help and how it can be self-funded.
One of the seven winners, robotics entrepreneur and founder of 2Mar Robotics Marita Cheng, created Jevaroo, a remotely-controlled telepresence robot that allows a user to be in two places at once and "see" via an inbuilt screen. It was inspired by a childhood friend who had cancer and suffered isolation in hospital after he could no longer attend school or have dinner with his family.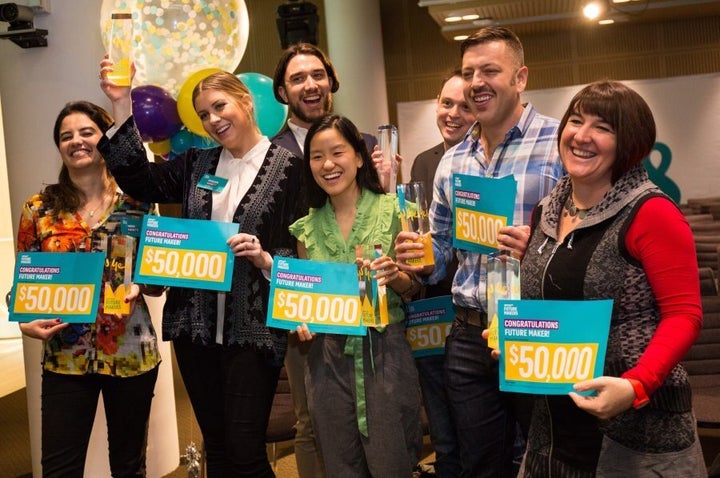 Cheng said she will use the prize money to kick off a project with children's cancer organisation Canteen to give robots to five sick children and also to accelerate production of the first 100 robots.
"I have been planning this and talking about it but to actually have the green light to make it happen is kind of blowing my mind right now," she told The Huffington Post Australia. "I just think robots are so cool and so fascinating. It's about using computer processing powers to make things happen and move in the real world and that's just so exciting for me.
"It has to be useful, it has to help people. That's what makes it fun. That's what makes it rewarding."
Marina Paronetto's Biz app, designed specifically for teenage girls to encourage them to learn about small business and give them the skills to stretch their entrepreneurial skills, was ecstatic at her win. She said the money will be used to continue developing the platform including a test case with Mentone Girls Grammar School in Melbourne.
"I'm so excited," she told HuffPost Australia. "There were all these ideas about how can we make entrepreneurship more accessible to women and one of our inspirations was that we needed to start when they were young.
"The idea for the app came to give young girls in school a platform to access across the whole year. We are getting them excited about their business ideas. It's a very fulfilling experience."
Winner Penny Harnett created her idea for The Samaritans' app to assist victims of domestic violence to find the right services closest to their home, and says smartphone apps are the logical solution.
"The help-seeking behaviour of young people is actually changing," she told HuffPost Australia. "In a more technological world we are seeing young people turn to these digital resources.
"We definitely find a lot of the barriers to people not reporting and seeking help is that feeling of isolation and aloneness and helplessness so I think through this app it will work to resolve that."
Colin Jowell won $50,000 for Guide Dots, a smartphone app for vision-impaired people that uses Google Mpas to recognise places of interest and speaks as the user passes them while out walking, and even checks you in to Facebook to encourage greater interaction with others.
Jowell said the app, a collaboration between UDKA and Northcott Innovation, has even greater capability to extend to the retail and tourism sectors.
"If you are living with a vision impairment, the democratisation of shopping is a human right at the end of the way," he told HuffPost Australia. "It's part of participating in the world. Going past a 50 percent off sale and being aware of it is participating in life."
The judging panel, including Founder of Melbourne incubator One10 Geoff Gourley, Thank You founder Daniel Flynn, CEO of FYA Jan Owen and Optus Chairman Paul O'Sullivan.
Flynn, a pioneer in the social enterprise space, said he was impressed with all the candidates and their tech innovations, especially Guide Dots.
"I looked at the guys from Guide Dots and I thought that was really interesting," he told HuffPost Australia. "Here we are in a world where it's all about Pokemon Go and that's cool, but to have someone dedicated to creating that kind of excitement and change but to a very small but significant target market, it's life changing. I love that."
Other winners included Dr Rowan Tulloch, who has developed software called Game Change to teach subjects as if they were in a video game. He says it will engage and motivate kids labelled as "bad students" who fall behind because they don't learn as easily from traditional teaching methods as their peers.
In a surprise move, two finalists -- Rhianon Vichta Brian Collyer -- were given a joint grant of $50,000 to combine their ideas for youth services in Queensland.
Owen said recognising opportunities for collaboration was essential in social enterprise.
"We gave an award to two organisations together and that's seriously important in a sector that has 600,000 organisations," she said.
"We identified that they had a similar idea and we want them the work it up together. That was very powerful. We want to showcase that kind of thinking and that collaboration -- that's super important to take duplication out of the system."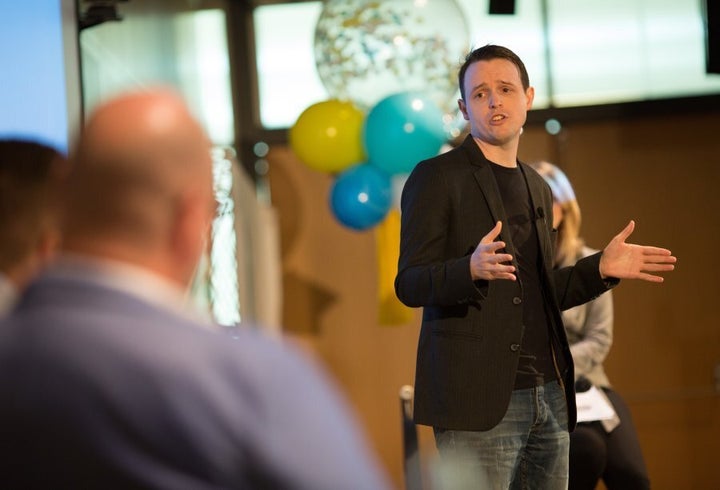 Optus Chairman Paul O'Sullivan said his company's intent for spearheading the program was to be a good corporate citizen and help social entrepreneurs by guiding them through the mentoring and development program.
"When you read the press you read about the unicorns, the billionaires and Facebook but this is all about technology and innovation to drive social change, with a focus on vulnerable disadvantaged youth," he told HuffPost Australia.
"People believe that because they have something that is good, that it will automatically be adapted but the nature of technology marketing is about changing people's habits. And so helping people who are developing these social apps to understand that is actually critical to their success."