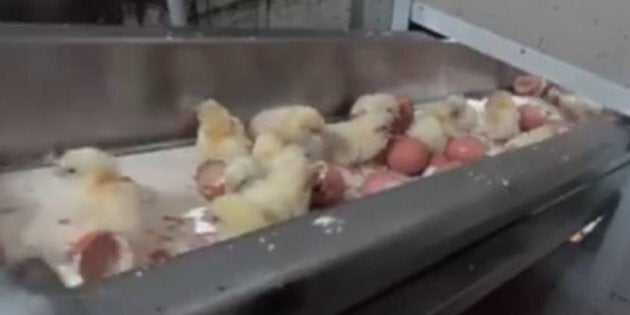 Since horrible footage of male chicks being macerated in a Victorian hatchery was released on Tuesday, many Australians have been calling to boycott the one company conducting this "inhumane" treatment.
But male chick maceration in the egg industry is completely legal in Australia and RSPCA approved, as it is deemed the most humane treatment available to kill male chicks. Free range and organic egg farms source chicks from these hatcheries too.
We also promise there is some good news coming, but let's clear a few things up first.
Male chicks are deemed commercially 'useless' in the industry because they cannot lay eggs. They also cannot be transferred to hatcheries which breed poultry for meat as they are a completely different breed.
Richard Rayner is the CEO of Specialised Breeders Australia, which owns the Victorian hatchery where the footage emerged. Rayner told The Huffington Post Australia 'layer chickens' are too lean to produce significant meat.
"It would be equivalent to growing a jersey cow for meat on the one hand and trying to produce milk from a large breed beef animal on the other," Rayner said.
WARNING: This footage is extremely graphic and may offend.
More than 12 million male chicks are killed every year in Australia through two procedures -- maceration (which is seen in the above video) and gassing with carbon dioxide gas which can be a slightly longer process than maceration.
Unfortunately these practices are industry standards which have been held for a long time across Australia. Footage of maceration has emerged around the world for years, but the footage anonymously sent to Animals Liberation NSW and Aussie Farms is the first released in the country.
Campaign director at Animal Liberation NSW Emma Heart said the industry doesn't shy away from the fact 50 percent of the 24-25 million chicks produced each year in hatcheries are killed because they are male.
"It is standard practice and it's entirely legal. We know it happens overseas as well and it's entirely shocking," Hurst told HuffPost Australia.
These hatcheries supply chicks to all egg farms, including free range egg farms and barn laid farms.
"They supply across the industry so if we go and buy organic eggs and free range eggs we can't evade supporting this process," Hurst said.
And while the practice has the official RSPCA stamp of approval, the animal rights group is urging the egg industry to invest in alternatives that avoid the potential for pain and suffering with current killing methods of male chicks.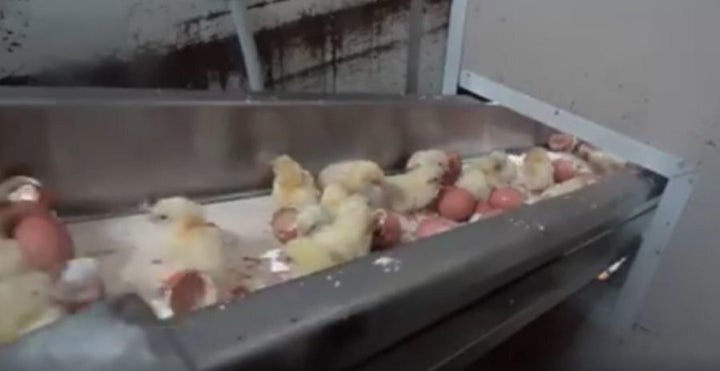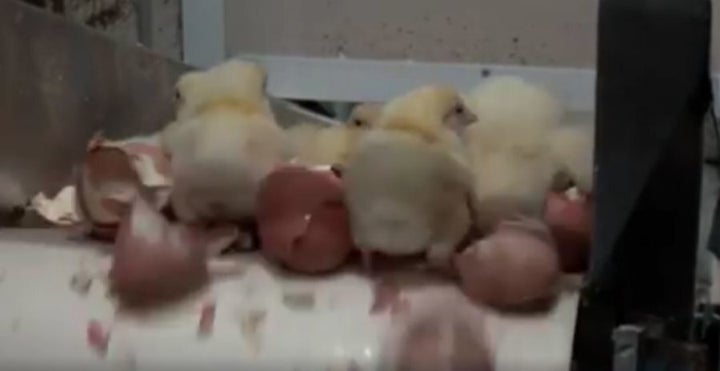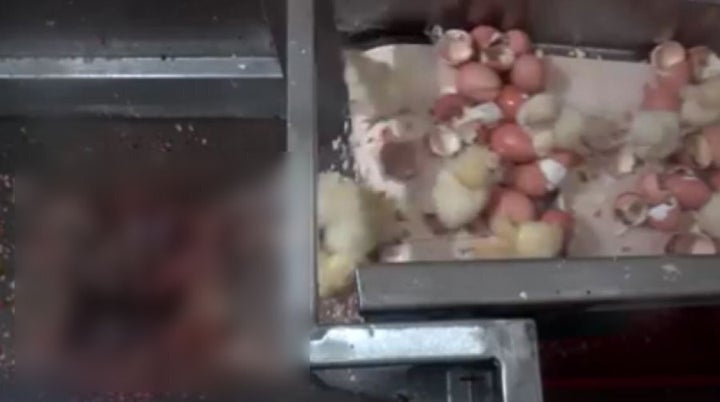 But here comes the good news.
There is new technology being developed which will help hatcheries determine whether chicks are male or female while still in egg form, consequently allowing the eggs to be destroyed before the chicks are developed enough to feel pain.
And even better news. Both advocacy groups and the industry are on board.
Rayner said his company is "looking forward" to adopting the more humane new technology which will be available in the next few years.
"The industry is working hard to develop the technology. There would actually be cost savings from the new technology as well," Rayner told HuffPost Australia.
Animal Liberation NSW and Aussie Farms are calling for the Australian chick breeding industry to commit to adopting the new technology by 2017.
"We know that Germany has made a commitment to adopt the new technology by 2017 as they are so confident in it," Hurst said.
"I think the [Australian] industry are just dragging their legs, intentionally saying we'll make a decision later because they don't want to be making a direct commitment."
Rayner said the industry will not commit to a date because of uncertainties around the construction of equipment and delivery periods.
"Once the technology is proven then somebody has to manufacture very technical equipment. We have no idea how long that may take," Rayner said.
"There will be a long queue of orders and we would do our best to get something as soon as we could. It could be one to three years."