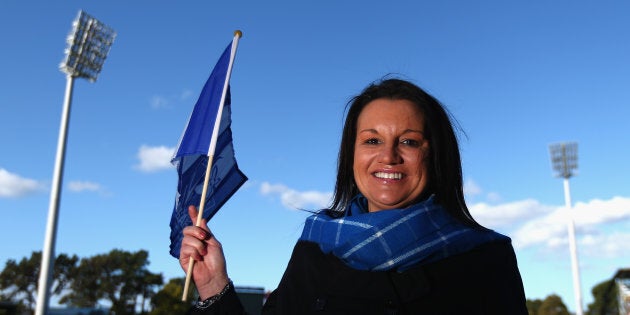 As debate over the date and details of the proposed marriage equality plebiscite continues, Tasmanian senator Jacqui Lambie wants to hold not one, but three national public votes on hot-button issues.
Lambie has proposed holding simultaneous plebiscites on marriage equality, "indigenous recognition" and voluntary euthanasia for the terminally ill. Her call comes in the same week that Prime Minister Malcolm Turnbull suggested his planned marriage equality vote could be pushed to 2017, despite pledging that the plebiscite would take place this year.
"I would have preferred if the question about Gay Marriage were put at the last election. But, I still believe that a national plebiscite is justified and needed in order to test the will or conscience of the Australian people on gay marriage," Lambie told The Huffington Post Australia.
"I also believe that this plebiscite will take away any doubt about how the Australian people feel toward gay marriage -- and will therefore lead to a quicker healing and acceptance of the outcome for those on the losing side of the debate. Even though I've indicated that I am opposed -- I will vote according to the will of the Tasmanian people as indicated in the plebiscite, when it comes to gay marriage."
"However I'm also concerned about getting value for taxpayers' money when organising and funding this important national vote."
Lambie did not detail what she meant by "indigenous recognition" in her plebiscite call. There is currently work being done to lay the groundwork for recognition of Australia's Aboriginal and Torres Strait Islander people in the Constitution, but any such move would require a referendum, not a plebiscite.
A referendum is a binding national vote, where the change can only pass if a majority of voters in a majority of states agree to it. A plebiscite, by contrast, is a non-binding national vote which does not necessarily compel politicians to follow its result.
Lambie said indigenous recognition and voluntary euthanasia are "time sensitive issues that are equally as important as gay marriage that have been put in the too hard basket for too long" and wanted to allow the Australian people to have their say.
"For the critics who may say that I'm muddying the waters on gay marriage – I'd say, don't treat the Australian people like fools," she said.
"Most people have either already made up their minds on these 3 social issues and want a vote ASAP – or can manage a public debate on multiple matters of great public importance. In other words Australians can walk and chew gum at the same time."
Lambie declined to comment on whether she would be introducing any legislation or making more serious moves toward the three plebiscite idea, or when she would like to see any such national vote occur.