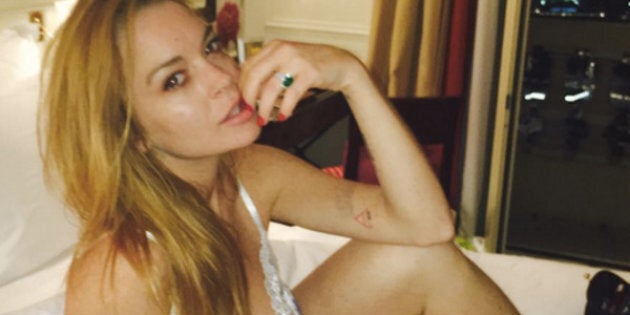 Lindsay Lohan's comeback has adopted a "Waiting for Godot"-like quality (pssssst, he isn't coming) since "I Know Who Killed Me" pretty much killed her career. Tbqh, show us an actress who's recovered from playing a stripper with dual personalities, OK?
While we wait, however, Lohan has seemingly abandoned acting to moonlight as a part-time Brexit pundit and full-time yacht sunbather on social media, a twist even her "Get A Clue" teen sleuth didn't see coming.
Unfortunately, on Tuesday, she waded into Instagram waters increasingly out of her depth with a tone-deaf tribute to the victims of the recent terrorist attacks in France and Turkey.
HAVE WE LEARNED NOTHING FROM MISCHA BARTON?!
Dressed in a silky negligee and doing her best Kylie Jenner impression (finger in the mouth, duh), Lohan seductively poses on a bedspread in the photo. Instead of adding a cute kissy face emoji or the classic "luv my h8rs" caption, the former teen queen thought it best to pair the photo with her heartfelt condolences to the victims of the world's tragedies. Huh?
"If history were to be folded ... Where would we put the crease? Pray for the ones we lose everyday and appreciate every breathe you 🙏🏻 we🙏🏻 all 🙏🏻 take #nice#turkey#turnup and do something (goodnight and sleep with an idea for the future)" she captioned the photo.
But no! She wasn't done just yet. Lohan also posted (and later deleted) an inexplicably weird critique of Jared Leto's "Suicide Squad" character Joker, accompanied, of course, with the hashtags #nice #bless #turkey #staysafe, because why not?
"Who based his whole music and film career on the film, 'The Crow,'" she captioned a photo of various Jokers throughout the years."A suicide squad movie is not helping the world but hurting the people."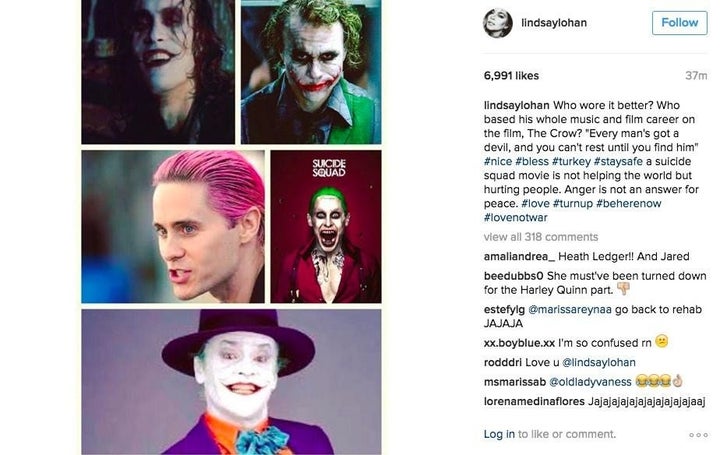 That's verbatim what we said about "Liz & Dick," Lindsay, but did you listen?