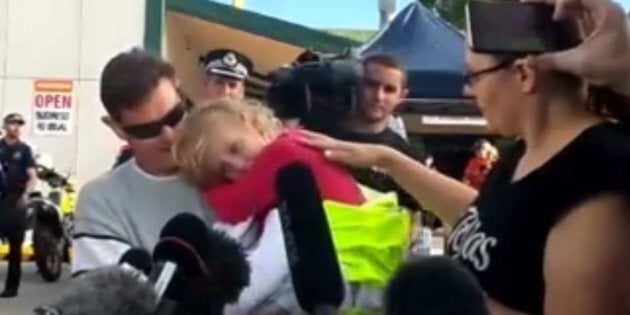 Missing Queensland girl, Jocelyn, has been found by Queensland police safe and well on Monday afternoon almost 24 hours after she went missing.
The five-year-old was found by a member of the public at about 3pm on Spall Street in Carrara, not far from where she went missing in Nerang near the Gold Coast.
Queensland Police said Jocelyn has a few cuts and bruises but is in "good spirits" despite dehydration.
Police said "in true Jocelyn style" the five-year-old, who is a fan of hide-and-seek, tried to get away from the member of the public.
Jocelyn's father, Steve Lewis, addressed the media an hour after his daughter was found to thank the public for their efforts.
"Even though I'm buggered that's why I've come out here," Lewis, who hadn't slept since his daughter went missing, told reporters.
"We started to get very worried. We thank the community for doing it [the search]. I was getting very concerned that it was going to go the other way.
"We'll clean her up, and get us a good meal. All of us."
More than 150 police and volunteers were searching for the girl on Monday after police on the Gold Coast issued an Amber Alert, with the Gold Coast Suns players even joining the search after training on Monday morning.
Police said it was a "wonderful effort" by the community to locate the missing girl, who also said "thank you" while in the arms of her father on Monday afternoon.
When asked whether she'd be playing hide-and-seek again, Jocelyn shook her head.
On Monday morning Chief Superintendent Terry Borland asked the community to look in their yards and sheds for the girl.
"The locations we have searched overnight was the last known sightings of where Jocelyn was last seen and we are moving to another area close by to see if we can locate her in that area," Borland said in a press conference.
"We are asking anyone in that area, if you are walking around out and about to be vigilant to see if you can identify or see this little girl walking around who may be laying down around in the covered areas."
Amid the search, police asked the public to not approach the girl because of undisclosed medical conditions.
Acting Inspector Laurie Shevlin explained:
"There are a couple of medical conditions that we need to be sensitive towards, so if people could call triple-0 immediately we have the ability to make a rapid response.
"If they could contact police immediately, I know it sounds like you would want to go and speak to the child straight away but there's a couple of medical conditions we need to be sensitive to.
"I'm not going to go into specifics but this little girl does have a medical condition and is probably not likely to respond like a normal child her age."
Volunteers joined police, SES and a specialist dive squad on Monday to search a 2km radius around the location where she was last seen, with some bringing off-road vehicles and horses.
As midday approached, inspector Scott MacQueen said Jocelyn's parents described her as "resilient".
"We're still confident," MacQueen said.
"No news is good news. There's no other information that's been received contrary to the fact that this is a misadventure so whilst we have to consider all options, we're obviously hopeful the search will continue and we'll locate this young child."