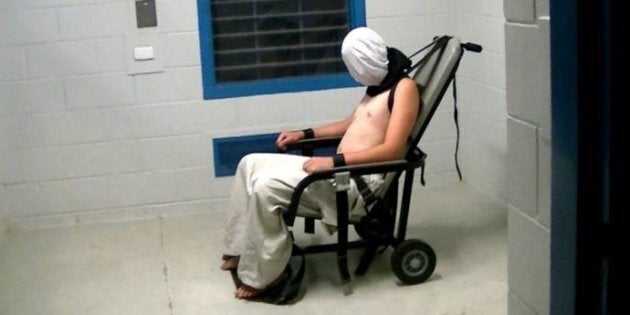 President of the Australian Human Rights Commission Gillian Triggs has called for an independent government inquiry following Four Corners' shock investigation into the stripping, gassing, shackling and solitary confinement of juvenile inmates in the Northern Territory.
The mistreatment also has solicitors and politicians calling on Prime Minister Malcolm Turnbull to take action.
The footage -- aired by the ABC's Four Corner's program on Monday night -- shows what went on behind the walls of Don Dale detention centre during a "riot" in August 2014.
Don Dale management told police multiple boys armed with weapons escaped from their cells. However, the footage reveals that only one boy had escaped, frustrated and distressed during solitary confinement.
Vision shows six teenage boys, aged between 14 and 17, being tear-gassed for up to eight minutes. Five of the boys were still confined in their tiny cells when they were gassed and the one who had escaped was trapped inside the exercise area of the facility.
The footage shows the boys retching and cowering in the corner of their cells, some reduced to reaching for the only water available -- the toilet.
Northern Territory Children's Commissioner at the time, Dr Howard Bath, who wrote a confidential report on the incident, said the children "thought they were going to die".
"They said their goodbyes to each other huddled behind a mattress at the back of their cell. Those children were afraid for their lives."
The boys had been kept in isolation for between six and 15 days, totalling more than 2,000 hours in isolation between them -- a practice which Dr Bath said you could define as "torture". Northern Territory legislation limits solitary confinement for minors to a maximum of 72 hours at a time.
In August 2014, Jake Roper, who was 14 at the time, broke out of his cell and began throwing items and hitting walls, which is what prompted the gassing.
"I'll pulverise the little f*cker," a guard is heard saying in the footage.
After they were gassed, the boys were removed from the facility, pinned to the ground and hosed down with a fire hose before taken to an adult prison overnight in spit hoods -- which cover the entire face.
At the time, Bath called for a public inquiry into the incident but the NT government commissioned an independent report finding poor supervision and immature responses from some staff.
In response, Don Dale detention centre was closed and inmates were moved to the closed-down Berrimah jail for adults -- despite the NT Corrections Commissioner having previously described the run-down jail as "only fit for a bulldozer".
Northern Territory Minister for Correctional Services, John Elferink, told the ABC that he had not seen all the footage and did not know whether the new facility put young detainees in solitary confinement.
The most chilling footage, which was filmed by a staff member and obtained by Four Corners, shows Dylan Voller being thrown across the room onto a bed, stripped and pinned down by guards as he lay face down naked.
"No matter what the reason for them wanting him to take off his clothes or be naked or whatever the hell they were doing, what on earth do you think was going through that kid's mind?" Solicitor Peter O'Brien said.
"That kid at that time, he has his bare naked buttocks exposed and in a manner where he's being held down in such an intimidating and brutal fashion. One can only think."
Four Corners revealed Voller was a victim of instutionalised abuse throughout his stints at Don Dale detention centre for a number of offences.
The final vision on the program showed a 17-year-old Voller (now in an adult jail) strapped to a mechanical restraint chair, with his ankles and wrists strapped. His face and entire head is hooded by security and he is left in a room.
This was a response from guards after Voller threatened to self-harm.
The Northern Territory introduced legislation to legalise mechanical restraints for children in 2016.
While the detention centre has been moved to a new facility, Four Corners suggests the mistreatment is only getting worse.
Barrister John Lawrence told the program his 15-year-old client was kept in solitary confinement for weeks on end in June 2015.
Kenny Rogan was just 10 years old the first time he was sent to Don Dale. He told Four Corners that while incarcerated at the new Don Dale in January 2015, he was stripped naked and had his clothes cut off him with a knife.
"I thought it was going to cut me because one pull and it cut my shorts and underwear off," Rogan said.
Rogan said he spent three days in isolation in a dark, cockroach-infested cell.
"That's why most of the boys are already back there by a month or so, 'cause it changes your mind," he said.
On Monday's Q&A program, Triggs called for the government to commission an independent inquiry. Triggs said the treatment is "extremely distressing".
"I have visited many detention centres. Sadly, I have never seen conditions of that kind and I have never seen people treated in that way."
Assistant Minister for Industry, Innovation and Science Craig Laundry said he felt "crook in the guts" and would be talking to the Prime Minister and appropriate Ministers to take action.
To watch the entire Four Corners program, click here.