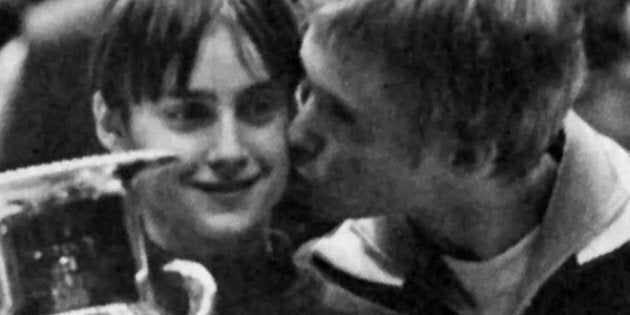 In March of 1976, gymnasts Bart Conner and Nadia Comaneci found themselves at a familiar place: the winners podium. The two gold-medal athletes had just competed in an international competition known as the American Cup at Madison Square Garden, each taking home first place in the men's and women's all-around. But this particular win would mark a much more memorable moment for the future husband and wife.
Though Bart, of the United States, and Nadia, of Romania, had each been making a name for themselves in the sport, they hadn't met before that fateful competition 40 years ago. The two open up about that first time they crossed paths during an interview for "Oprah: Where Are They Now?"
"I was 17, she was 14," Bart says. "When the meet was over, we both won and held up these silver cups. The photographer said, 'Oh, she's adorable. Give her a kiss on the cheek. It'd make a nice picture.'"
So Bart did.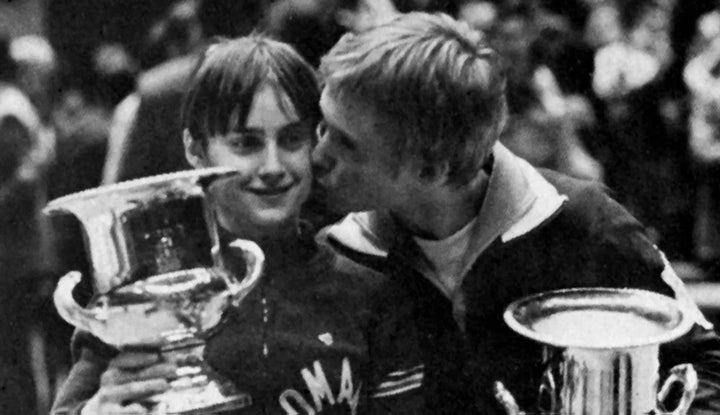 At the time, neither Bart nor Nadia thought much of the kiss. After all, there were other things to focus on.
Three months after that American Cup came the 1976 Summer Olympics. There, Nadia became gymnastics' break-out star, scoring not just the sport's first perfect-10 in the Olympics, but earning a total of seven perfect-10s by the end of the Games.
"[She] redefined our sport and became a global superstar," Bart says.
Bart, meanwhile, didn't have quite the same successes. "I took 46th place in the Olympics, so nobody knew me," he smiles. "[Nadia] didn't certainly pay attention to me!"
However, the two did reconnect in 1990, and romance soon blossomed. Twenty years after their sweet kiss at the American Cup, the couple married in Nadia's home of Bucharest, Romania.
"Romania had a big role in everything that I've done, and still has. I couldn't imagine doing the wedding somewhere else," Nadia says.
For the citizens of Romania, Nadia and Bart's wedding was a national event. The ceremony was broadcast live on television and the entire country had the day off from work. Even reflecting on the wedding today from their home in Oklahoma brings both Nadia and Bart right back to those moments as if they just happened.
"I'm like, wow," says Nadia.
"It's hard to believe that that was 20 years ago," Bart says.
Another meaningful award for Nadia:
The former gymnast reflects on being named among the 2016 Great Immigrants honorees