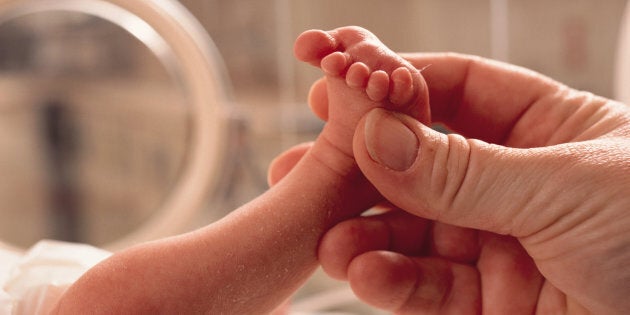 NSW health minister Jillian Skinner has spoken to the mother and uncle of a newborn baby boy who died after being administered nitrous oxide instead of oxygen gas.
The baby boy had been alive for just minutes before the inexplicable horror occurred at Bankstown-Lidcome hospital, in Sydney's west on Monday evening. He lived to be just 57 minutes old.
His grieving family has spoken of their loss as the NSW government scrambles to have all gas outlets in state hospitals checked to ensure the error cannot be repeated.
"I apologised for the devastating error which led to the baby's tragic death," Skinner said in a statement released on Tuesday evening.
"I gave a commitment that they will receive the ongoing support of NSW Health and will be kept informed of the investigations which are underway."
The NSW Health Minister will also speak to the parents of a newborn baby girl, who was severely affected by the gas in the same operating theatre, on Tuesday night.
The second baby remains in a critical condition after being administered the gas.
Nitrous oxide is also known as laughing gas, and often used as anaesthesia in dentistry, childbirth and other medical procedures. Skinner said the oxygen outlet in one of the hospital's operating theatres was incorrectly installed in July 2015, and was emitting nitrous instead of oxygen.
In her statement, Skinner claimed that no other child had received gas from that outlet, but that all theatres in the hospital had been checked. She also said that "every medical gas outlet in a NSW Health facility commissioned in our term of government" would be checked.
The mistake was reportedly discovered on Thursday after a baby boy died two weeks ago, following another baby being left in critical condition after being born in June. The family of the deceased child, the Ghanem family, shared their story with The Australian.
"[The hospital] admitted it," Chantal Ghanem, the dead boy's older sister, told The Australian.
"They said 'it's basically our fault'. I lost it when they said that. I just wanted to kill them."
"I just don't understand how this gas was administered to my brother and why regular checks hadn't been done when this was installed last year."