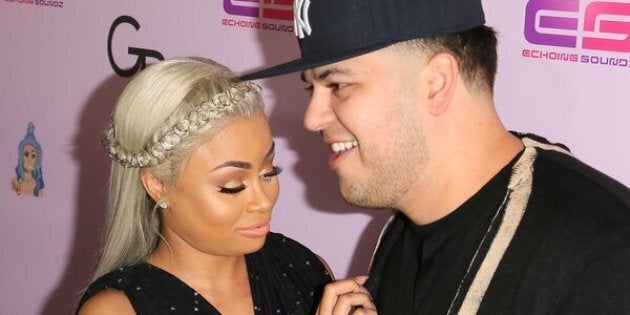 Rob Kardashian has purged his social media of any pictures of his fiancée Blac Chyna, leaving only an old photo of himself on his Instagram account. He also appears to have unfollowed her on Instagram.
His pregnant fiancée has also not posted on her own Instagram since July 7, and last put up a picture of Kardashian on the 4th of July.
Kardashian and Chyna shocked both the world and his famous sisters when they began a very public relationship in January, documenting every milestone on social media.
Chyna, who has a child with Kylie Jenner's longtime boyfriend Tyga, and Kardashian announced their engagement in April with an Instagram selfie. Just weeks later, the Lashed salon owner announced she was pregnant, letting a ChyMoji, a personal emoji from her app, speak for her.
Kim Kardashian told E! News on Friday that the couple were discussing baby names.
"They have talked to me about names but I would never tell because that's really personal to them. If they want to share that, they could," said Kardashian. "But we're just there to support them. We're so excited that we're getting a new cousin."
"I was FaceTiming with Chyna the other day and explaining to North that there was a baby in her belly and then sharing the sonogram pictures with North and explaining to her that this is her little cousin and it's so exciting we have a new cousin coming," she added.
What could this debacle mean for the sole Kardashian heir?
Request for comment made by The Huffington Post to Kardashian and Blac Chyna's reps have yet to be returned at this time.