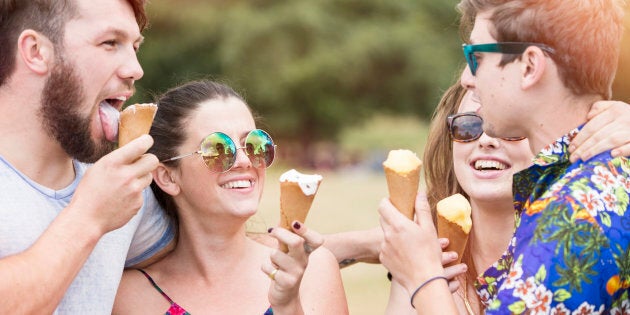 A few weeks ago The Huffington Post Australia visited Brisbane, also known as the land of the perennially warm and friendly, to check out (and pretend to act cool around the celebrity chefs at) Regional Flavours food festival at South Bank.
Although Brisbane was feeling a bit shy and decided to drizzle on the first day, the sun soon broke through and showed off the city's sunny, happy vibe it's so famous for.
It goes without saying that the food and produce at Regional Flavours was exquisite. From fresh, seasonal produce out of Gympie and the Lockyer Valley, to locally made ice creams and German sausages, the annual food festival was a celebration of all things fresh, colourful and wickedly delicious.
Here's the best food to come out of the eighth annual Regional Flavours.
Buchi
The popularity of this gut-healthy fermented tea has grown exponentially over the past few years and for good reason. Once you get past the fact that you're drinking (good) bacteria, kombucha is bubbly and delicious.
Buchi's kombucha stall at Regional Flavours was packed all weekend. Made in Wacol, Queensland, this locally made kombucha comes in buchi mama (original), ginger turmeric, hibiscus galangal lime, coffee and deep greens. We also got to try their latest fermented product, a kombucha beer made by fermenting hops instead of tea, which was so fresh and light.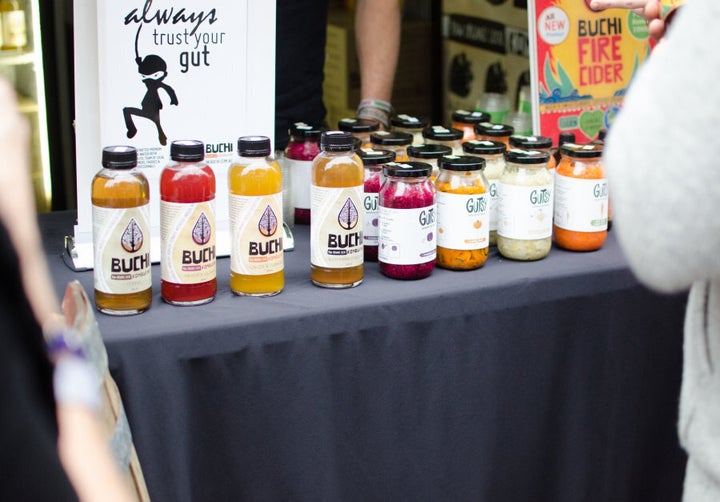 I Heart Brownies
People with a sweet tooth, look away. I Heart Brownie's baked goods were too delicious to resist, coming in a range of flavours like double chocolate, jaffa and cherry coconut.
Every fresh, rich and moist brownie is 100 percent gluten free and contains Belgian black cocoa, couverture chocolate, free range eggs, Queensland cane sugar and Australian butter and flour. Amazing.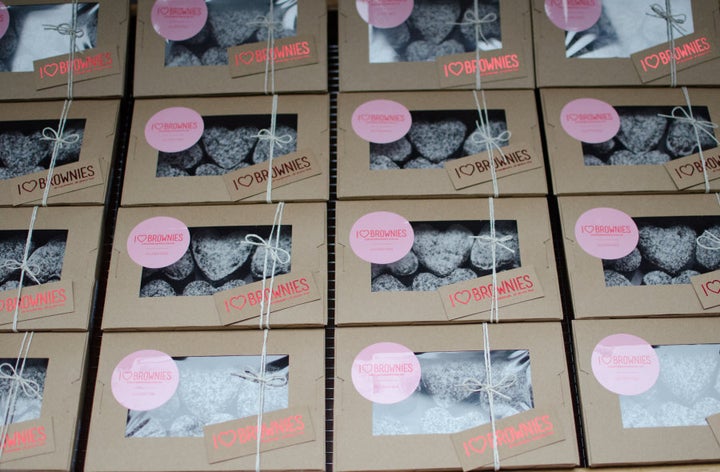 Neha's Indian Inspired Food
Neha Sen is the Brisbane-based MasterChef 2013 contestant and self-confessed food fanatic, and her food stall was an absolute must-try, with her homemade ice creams tempting everyone who passed.
Imagine velvety smooth ice cream and sorbets in flavours such as cardamon, coconut lemon myrtle and macadamia, raspberry and rose, mango and honey lassi, ginger, and spiced orange chilli chocolate. Sen's beautiful chutneys were also a winner.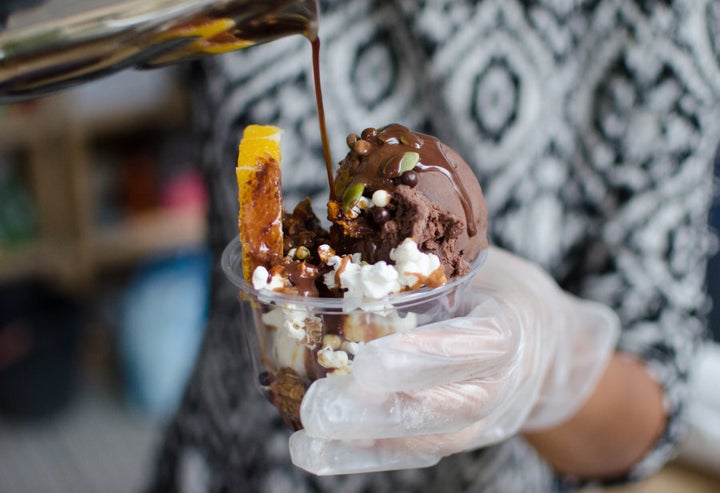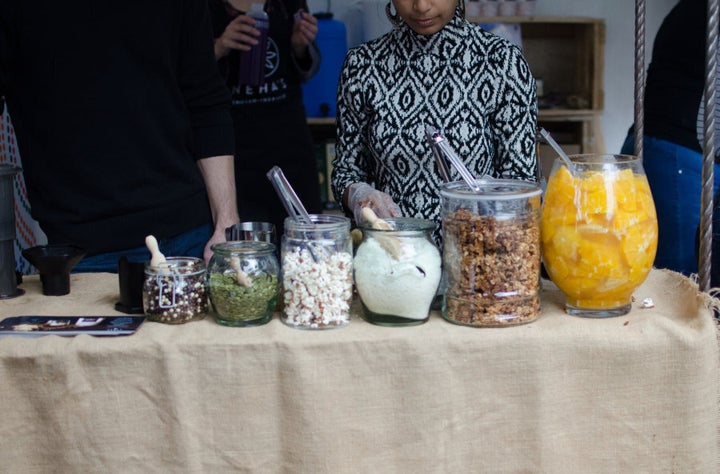 Reid Street Kitchen
Regional Flavours was dangerously full of incredible desserts, and the handmade cakes, muffins and slices at the Reid Street Kitchen stall were nothing short of jaw dropping.
The stall had a huge spread of lamingtons the size of your head, towering Snickers cakes and an aptly named Death By Chocolate cake (the best kind of food induced coma).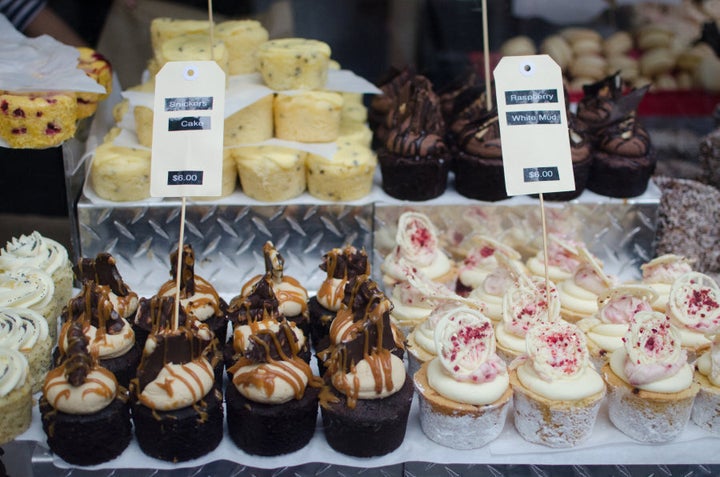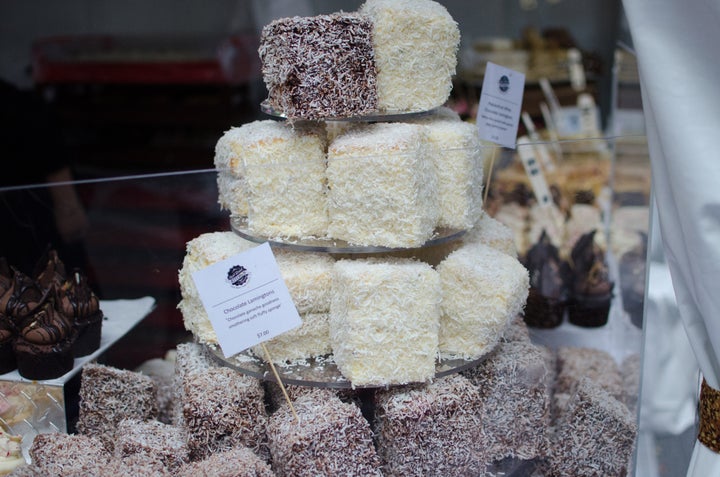 Sunrise Strawberries
To help balance out the day between desserts, Sunrise Strawberries were our fruit of choice. Grown on Chambers Flat in Loganlea since the mid 80s, these big, juicy, ridiculously sweet strawberries put supermarket ones to shame.
Apart from fresh strawbs, while at Regional Flavours the stall sold strawberry jam, strawberry vinegar and chocolate dipped strawberries.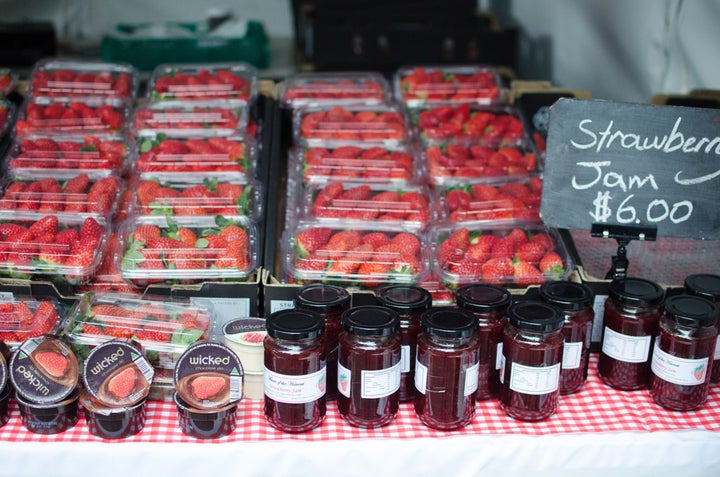 The Mason Baker
What's better than cake? Cake in a cute mason jar, of course.
The Mason Baker stall completely sold out after one day and with good reason -- their freshly made jar cakes in peanut butter, sticky date, raspberry white chocolate, cookies and cream, and salted caramel were too sweet to forget.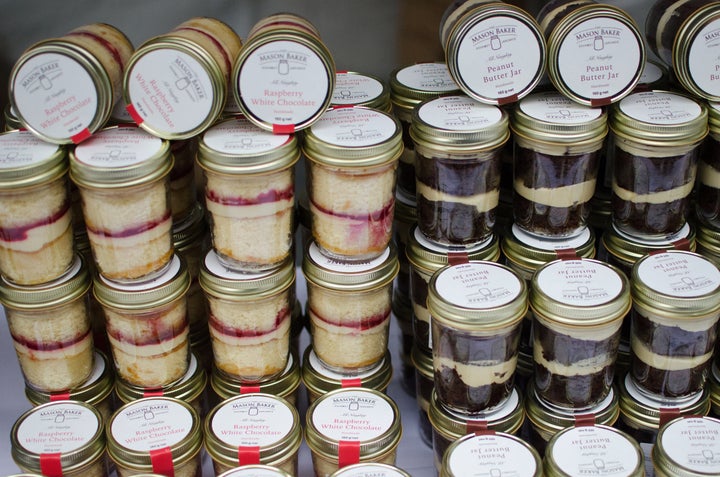 Kokopod Chocolate
Clearly dessert foods dominated this particular journalist's food festival agenda, but when in Rome, right?
Kokopod's artisan chocolates were a sight to behold. Imagine tables full of flavours such as butter toffee, nutty Nutella, dark macadamia, orange and almond, raspberry fever, delightfully Turkish with almonds, caramelised coconut, and hazelnut and cacao nibs... just to name a few.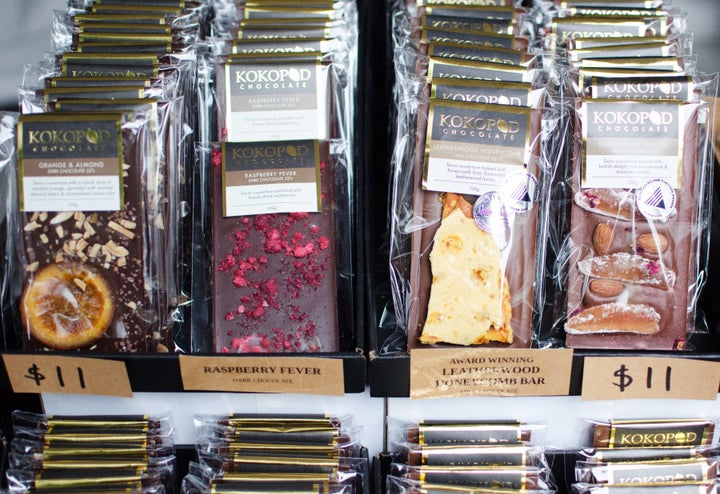 Pig and Kraut
Specialising in German sausages or 'Bratwurst', Belgium style frites and iced tea, the Pig and Kraut food stall offered a range of German goodies, from cheese kransky and chilli Wurst to classic Bratwurst and kraut onion balls. To top it off, you could enjoy your heavy meal with a refreshing iced raspberry, peach or vintage lemon tea.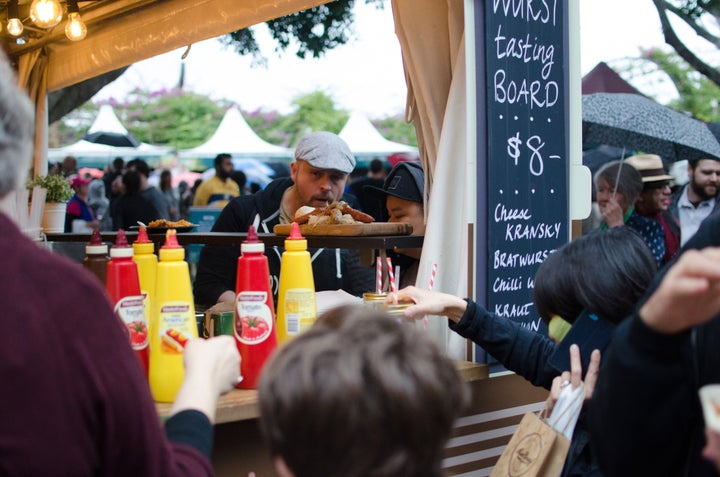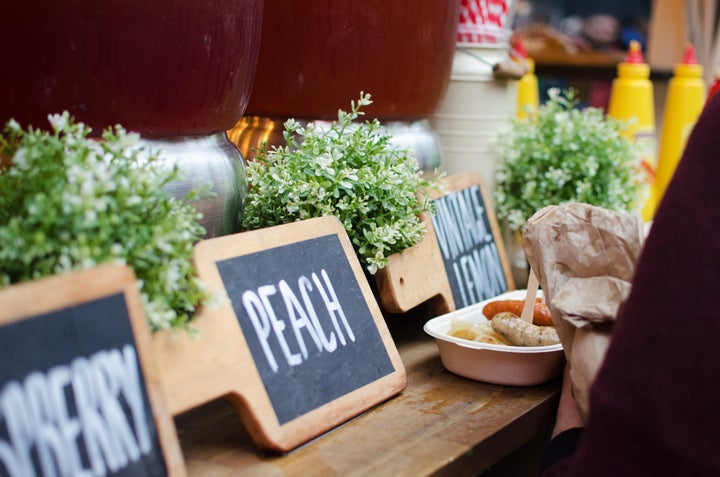 Olé Restaurant
Paella fans could get their Spanish fix at the Olé Restaurant food stall. They served up hot servings of chicken and chorizo paella with prawns and peas, as well as a vegetable paella which sold out fast.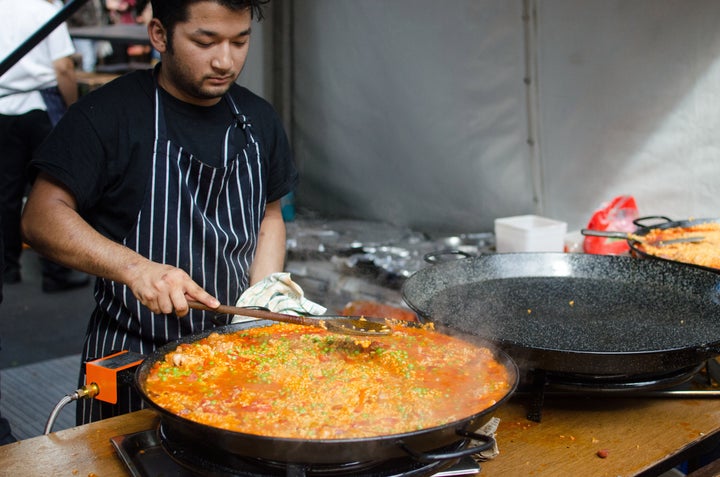 Carcamos Gourmet Caramel Apples
If you've ever tried a toffee apple and bitten into a powdery apple (and nearly broken your tooth on the hard coating), you need to try Carcamos Gourmet Caramel Apples. Their apples are made using plump, juicy granny smith apples the size of your hand and the freshest cream, butter, pure cane sugar and natural vanilla for the caramel.
Finally, they hand garnish the caramel apples with the highest quality Belgian style chocolate and toppings like Oreos, peanuts, Snickers, cashews, Tim Tams, M&Ms and triple chocolate.
Gin Gin and Dry
Last but not least is dried fruit masters Gin Gin and Dry, who were serving up all natural, preservative free dried strawberries, pineapple, apple, ginger and more.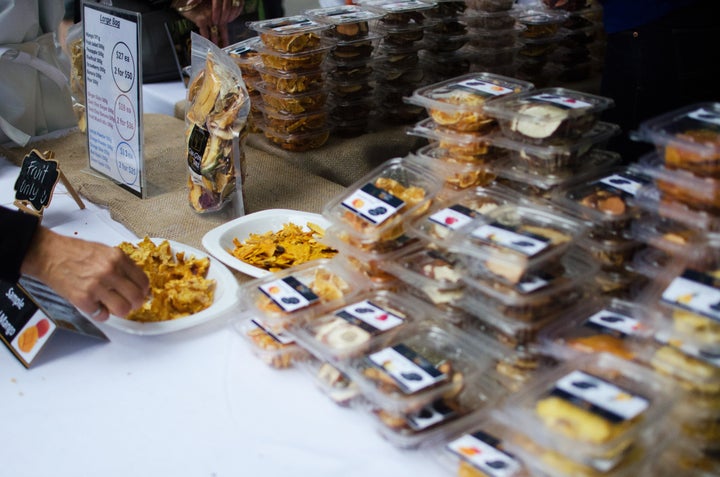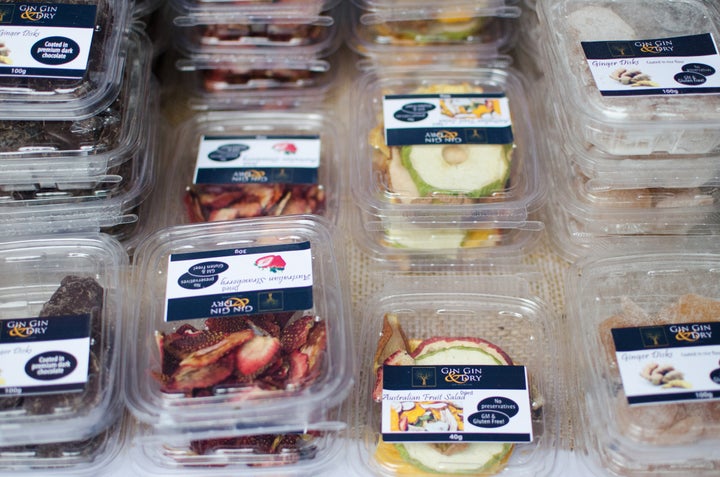 Other highlights include watching Lola Berry make a healthy black bean brownie and sweet potato crumble, Sian Redgrave from The Great Australian Bake Off make a naked cake with real honeycomb, figs and crystallised ginger, and Alastair McLeod showing off the beautiful Lockyer Valley produce in a beetroot and smoked goats curd salad.