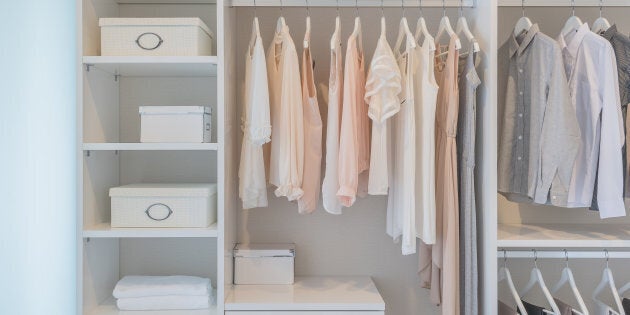 If you're over the age of 30 it's likely you're looking at all the 90s fashion in stores and on social media at the moment, reminiscing about when you actually wore them in the 90s. Those Levi's mum jeans could really come in handy right now.
Though it's not like we all have enormous walk-in wardrobes ala Mariah Carey, so storage is an issue. And therein lies the problem -- how do you decide what to keep and what to chuck when cleaning out your closet?
"If you've bought anything that's an investment piece, such as a designer bag or very high-end clothing, even if it is a of-the-moment trend piece, hold onto it. Designer items could in some way become a collectors item or at least retain some of their value," stylist Denis Todorovic told The Huffington Post Australia.
"Though, just because an item was expensive it doesn't mean you should always keep it. If you've never worn it or only work it once or twice, consider re-selling it to a new good home. With designer, if it's a classic or sentimental, keep it. If you're only holding onto it because it's a 'fancy' brand, it can go."
"On that, if an item is sentimental then that's a given. Don't part with it. Keeping a few key pieces that mean something to you from memorable events or milestones is important, though if you get sentimental over everything you might have to make some ruthless decisions."
Most of us don't have closets overflowing with piles of designer threads, so after you've worked through your special pieces it's time to tackle the rest.
"Assess everything else in your wardrobe from high-street or chain stores. If you haven't worn it in the past year, why are you keeping it? Usually the rule of thumb is six months, though seasons take 12 months to roll back around, so that's a better time frame," Todorovic said.
You know that dress you're going to have taken in or dyed another colour? You won't.
"Everyone has pieces in their wardrobe that need altering. Try not to fall into that trap in future. If you're in the change room and think you will have the piece taken up or taken in, don't buy it. Chances are you won't do it and it will just sit in your wardrobe. Often alterations cost more than you think, anyhow."
When it comes to cocktail or evening wear, hold onto the classics.
"You can keep dressy items a little longer. If the item is a classic colour or a classic silhouette, hold onto it. If it screams of a specific trend and that trend has passed, get rid of it. Ask yourself if you're only holding onto it because it's a designer label. If it was from Target would you keep it?," Todorovic said.
"The only prints you should keep in your wardrobe are stripes and animal print as they are always relevant. Digital and graphic prints are always reinvented when they come back as a trend, so it's advisable to get rid of those."
Todorovic emphasis that trends are one thing but it's important to stay true to your style and take into consideration what works on your body.
"Always take your person style and body shape into consideration. Just because a trend comes and goes doesn't mean you have to ditch it if it rings true to your personal style. For example, if a peplum really suits your body shape, keep wearing it if it makes you feel good, even if it's not in the stores at that time or technically 'on-trend'."
With regards to trend driven pieces, ask yourself why you're holding onto them.
"If they are designer (and you really love them) you can get away with it. But if they are flares or neon, for example from stores like Zara or H&M, you're more likely to buy affordable options again when that trend rolls back around rather than wearing your old stuff," Todorovic said.
"Accessories don't take up too much room so you can afford to be a little more lenient. When it comes to costume jewellery such as necklaces or earrings, keep your two or three favourites. Of course, always hold onto fine jewellery."
When it comes to shoes the first question you need to ask yourself is about comfort. Are they comfy? If they hurt or give you blisters, throw them away. You'll never wear them.
"If an item is very trend based and not reminiscent of an era, chuck it out. For example, when Isabel Marant did those wedge trainers -- nobody should still have those in their wardrobes. Keep shoes that are classic or that you really love. Shoes are a fun way to add interest to an outfit so if you have any unique pairs, keep them, too. If you have shoes that need to go to the cobbler either take them or chuck them out -- don't leave them in your wardrobe and tell yourself you'll do it later because you won't."
Playing favourites is fine, but let the item's quality decide if it's had it's time.
"If you're umming and aahing over a favourite, assess the quality. If it's still in great condition then keep it for another season. If it has started to pill, or fade, or doesn't look presentable, let it go. Fabrics like cashmere, good quality 100% cottons and silks usually wear well, so keep that in mind when shopping in the future," Todorovic said.
Todorovic's two top tips for a realistic wardrobe cleanse:
"When you do a wardrobe cleanse, create three piles. Have a 'keep' pile, a 'sell or chuck' pile and a 'maybe' pile. Then put the 'maybe' items at the front of your wardrobe for the next two weeks, and try to inject those pieces into our outfits. If you're left scratching your head, you know the answer."
"Another great way to get more out of your wardrobe is to choose five pieces on Sunday night that you want to get more wear out of. Leave them out and each morning, work an outfit around one of the items. You'll get ready quicker that way and it'll stop you from grabbing easy options at the front of your closet."
Once you've throw away the unwanted items it's time to organise the rest. Blogger Lauren Curtis offers great tips for arranging your closet. Check them out here.