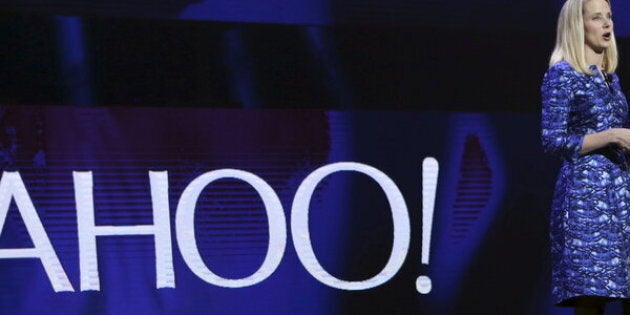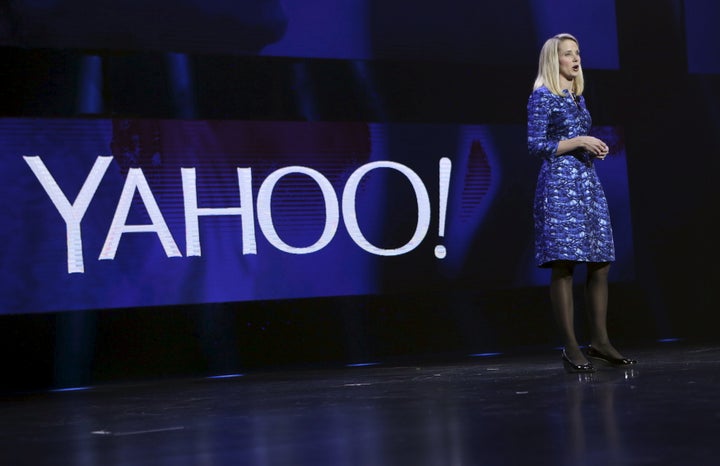 Verizon announced its long-awaited plan Monday morning to buy much of the ailing web giant Yahoo as the mobile behemoth looks to build an empire of media properties from the embers of the internet's biggest early players.
The deal, valued at $4.83 billion in cash, marks the end of an era for a tech pioneer that once entertained buying Google and Facebook, the titans that ultimately trounced it as the internet matured. The agreement, which now awaits approval, caps off months of high-profile speculation about the future of a company that CEO Marissa Mayer vied desperately to keep independent.
Yahoo will give Verizon, the largest wireless network in the United States, access to a popular search engine, online advertising tools, a widely used email service and high-traffic properties like Yahoo Sports. The deal is not dissimilar to the telecom's $4.4 billion purchase of AOL, The Huffington Post's parent company, last year.
"Together AOL and Yahoo, mobilized by the power of Verizon, will instantly create an entity reaching over [1 billion] people with an unrivaled roster of the world's most powerful brands," Tim Armstrong, AOL's CEO, said in an email to employees Monday morning. "We are charting the course to our 2020 goals of reaching 2 billion consumers and today's deal is a major and important milestone in that journey."
The deal leaves Yahoo as little more than a tracking stock for its most two valuable assets ― its 15 percent stake in Chinese e-commerce giant Alibaba and a 35.5 percent interest in Yahoo Japan.
Mayer, who was widely expected to leave the company when the deal went through, said she plans to stay on, though it's not clear in what capacity. Armstrong and Mayer, who were once colleagues at Google, have a checkered past, colored by rivalry and a philosophical divide over which side of the tech business should lead to triumph ― engineering a great user experience, or monetizing that experience, according to Vanity Fair. Mayer rejected Armstrong's repeated overtures to merge Yahoo with AOL before striking a deal with Verizon instead.
"For me personally, I'm planning to stay," Mayer wrote Monday in a blog post published on Tumblr, the service her company haphazardly acquired for $1 billion in May 2013. "I love Yahoo, and I believe in all of you. It's important to me to see Yahoo into its next chapter."
Yahoo's vast-but-shrinking stable of services ― once-popular sites, like the social linking site del.icio.us and the streaming service Yahoo Screen, have shuttered in recent years ― also includes a messaging platform and the micro-blogging site Tumblr. But the real prize seemed to be a handful of particularly successful media properties, according to Ali Mogharabi, an analyst at the research firm Morningstar.
"You look at Yahoo Finance, and Yahoo Sports ― especially with fantasy sports ― and Yahoo Mail," Mogharabi told HuffPost on Friday. "Those web properties and portals are still pretty popular. They still have approximately 1 billion users overall."
All of this is relevant to Verizon, as it searches for ways to serve its more than 141 million U.S. wireless customers with content and advertisements. In October, Verizon and AOL combined their advertising networks, essentially allowing the telecommunications giant to more efficiently track and target people based on their online activity.
As TechCrunch, an AOL property, put it last year:
Verizon uses what it calls a "unique identifier header" to track users — which has previously been dubbed a 'zombie cookie' or 'supercookie' given it can be used to respawn trackers even when web users opt out of being tracked and/or delete tracking cookies — while AOL uses browser cookies to keep tabs on what web and mobile users do. Other trackers used by both include ad IDs from Apple and Google, according to Verizon.
Yahoo users ― who might navigate the internet differently than AOL's ― provide yet another opportunity to expand the framework of that ad-targeting system. Consider for example how Google allows marketers to target people using their Gmail addresses: If you're using online services from a massive corporation, you'd better believe your data is being leveraged somehow. That's why those services are "free."
Verizon has also dipped its toe into the content business, launching Go90, a video-streaming and -sharing service, in 2015. In what some have criticized as a violation of net neutrality principles, Verizon allows its customers to stream video on the app without using their data plan ― which is not the case with competitors like Netflix, Hulu, YouTube and Amazon. That's yet another platform on which to serve users ads, and it can only be bolstered by additional content from Yahoo.
So, why is Yahoo so valuable to Verizon? Its properties still attract a lot of users. Both the properties and people who use them can be used to expand Verizon's ad network. When in doubt, follow the money.
"Yahoo gives us scale, that's what's most critical here," Marni Walden, Verizon's president of product innovation and new businesses, said on CNBC's "Squawk Box" Monday morning. "We go from being in the millions of audience to the billions. We want to compete, so that's the place we need to be."