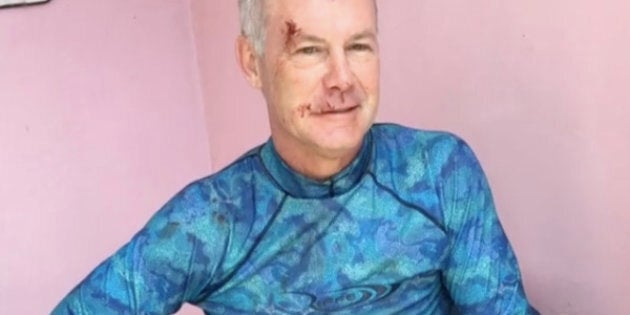 Even a lifetime of looking at teeth couldn't have prepared him for this.
A Texas dentist has revealed some serious battle wounds after coming face-to-face with a hungry bull shark that ambushed him as he was spearfishing in the Bahamas this weekend.
"My bell was kind of rung," said Dr. Steven T. Cutbirth of Waco, describing the shark's powerful blows in a video posted to Facebook just hours after the attack.
Cutbirth, 62, said he was catching hogfish off Green Turtle Cay Island on Saturday when both he and his guide's nephew caught fish within 50 yards of one another.
The shark was likely roaming nearby when it caught a whiff of their kills and went to investigate, only to find Cutbirth with a meaty 10-pound fish on the end of his spear, he said.
"I was coming up to the surface and all of a sudden what felt like a truck hit me in the face," he recalled while coolly displaying his bloody wounds ― the sight of which, below, might not be for the fainthearted.
"I was stunned and could not imagine what had hit me. I looked to my right and there was the white bottom side of the shark's mouth along with a wide open mouth and plenty of teeth," he wrote in a later Facebook post.
Not going down without a fight, Cutbirth said he released the fish and spear and delivered a similar blow with his hand to the shark's head.
"That knocked it back a bit, only to have it now in a full frenzy coming back at me, banging into my side and right leg, searching for the speared fish," he wrote.
Fortunately, he was able to get out of the water and into a nearby boat, where friends were able to help him address his wounds.
In total, Cutbirth sustained bites above and below his facemask on his forehead and his upper right lip and cheek. Down below, his right knee was slashed as well as his right outer thigh.
Because there was no physician on the island, he said, he was placed in the care of a local nurse, who was able to provide stitches.
"All in all, no complaints ― a very lucky person," he concluded. "All men should have a few well-placed scars on their face, don't you think?"
The Texas family has apparently been visiting the tiny island for 30 years. They say this was the first time they encountered a shark.
They further insisted that it was a random incident and that the shark merely wanted a bite of the speared fish.
"The ocean remains the shark's environment. We respect that, and only spear what we eat," Steven's wife, Sharron Cutbirth, wrote in her own Facebook post. "This was not the shark's fault, it was just a 'perfect storm.'"